Review: NetAtmo Urban Weather Station
The new obsession you've been waiting for
Monitoring the environment
The interior module does detect and plot one gas that could well become an issue: CO2. Again, the app information gives you guidance on typical levels. In my kitchen it was rarely above 500ppm but get the gas cooker fired up and it would easily double that in a trice. So now my new obsession was ventilation but as I noticed there wasn't much significant change during the week, another obsession took hold: the sound meter.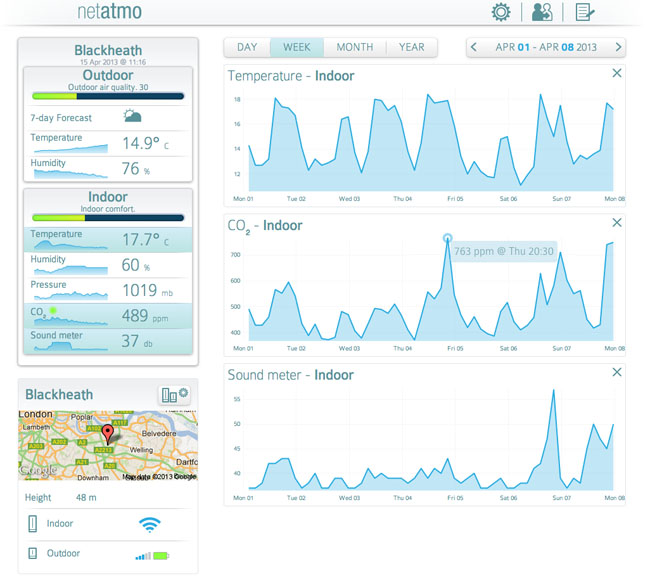 NetAtmo's revamped web interface also gives signal strength and battery condition info
You can set the Urban Weather Station modules to report extremes – for instance, when the temperature drops close to freezing or if an environment becomes too loud. So I configured the UWS to peaks in sound level but at a fairly low threshold. I was curious to discover any noises going on in my house during my absence – breaking and entering, exploding boiler, that sort of thing. Interestingly, when my nearest and dearest came and went during the day, it did clock up noise alerts. She thought it was a bit creepy – some kind of inverted stalking, but hey, I do live there.
And so there I am, sat on the train every morning, fidgeting with my phone and not really thinking about what app I'm going to fire up. I know I'll find something to amuse myself and, sure enough, I end up looking at the NetAtmo dashboard and discovering how cold it was outside last night. Colder than the night before. Not as humid mind, but then again the high pressure might have had something to do with it.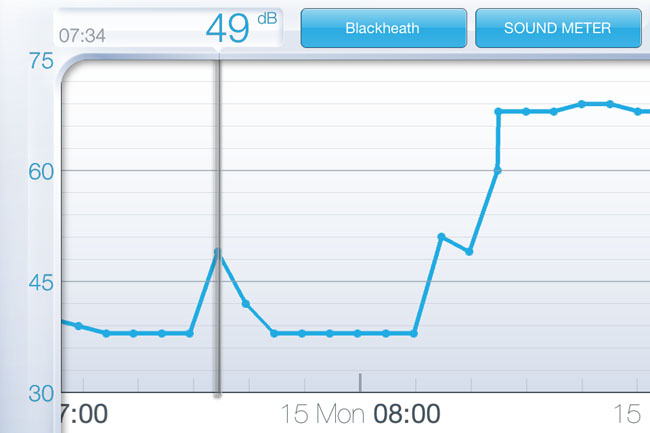 Sound meter chart: kettle on at 7.30am followed by general rummaging and the noise of the iRobot Scooba cleaning the kitchen floor
Rotating the phone to landscape view brings up the graphs – you make your choice from a drop down menu – and then pinch zoom to stretch out for blow by blow measurements roughly five minutes apart, spread across an hour or squeeze it all up to see weeks condensed into a chart showing two lines plotting the highs and lows.
Ah, that long unmoving humidity line at 90 per cent, that's when the outdoor module got soaked, you can see the temperature spike when I dried it out on the radiator and it started behaving again. This morning I mused over the temperature crossing the 20˚C barrier at the weekend. Man, that was a long time coming.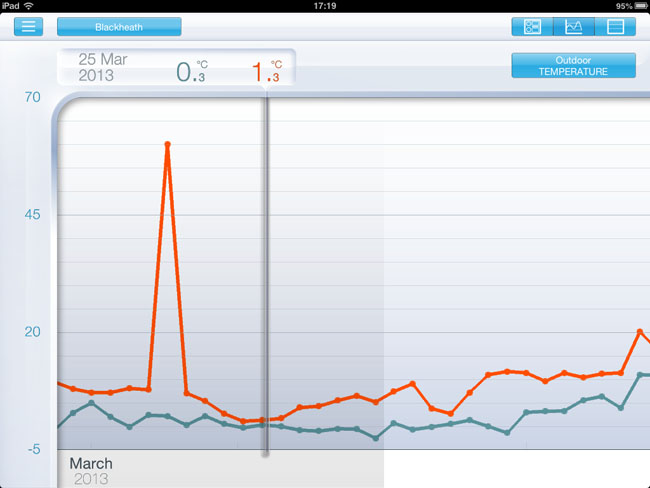 Outdoor temperatures between March and April – note the spike when drying out the wet unit
So what's wrong with this picture? Surely, as a Brit, it's normal to talk about the weather? Yes, but I'm having this conversation about the weather with myself. I'm not sure if that's playing the game. Audio features aside, her indoors (and outdoors) doesn't share my enthusiasm for the NetAtmo but beyond idle curiosity, it could be very useful in some areas if it remains within range. Have you valuables in the attic, a server in the shed or some hydroponic hedonism in the basement? Plumb in a NetAtmo Urban Weather Station and you can stay informed of any worrisome changes in those environments. At £139 though, it's a bit of an indulgence to keep you amused on the train. But then again, if you did manage to persuade an insurer to lower a premium based on this monitoring, then it could pay its way.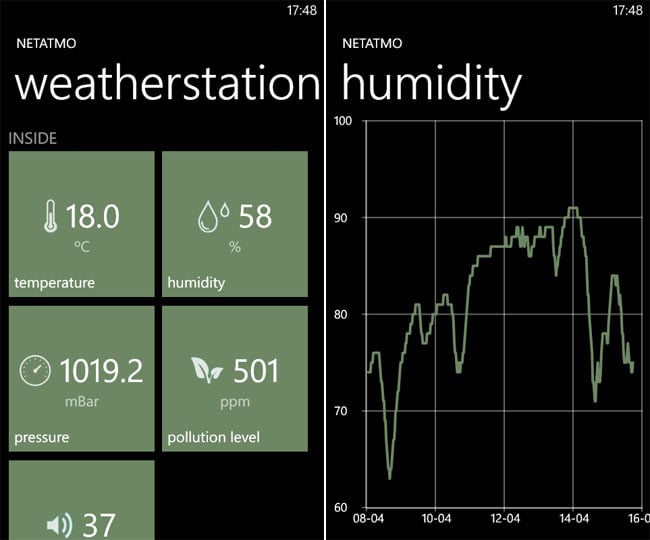 Windows Phone app
Furthermore, NetAtmo provides the means for its sensors to be used with other applications and you can export all or select data as either an XLS or CSV file. There are various apps and widgets out there to hook up with the NetAtmo with varied success. Admittedly, I gave up on Potsky's fragmented PHP widget and I don't know enough French to wade through the interfacing options at Box Domotique although it looks pretty neat. The OABsoftware's Windows Phone app is somewhat deceptive as it reports the CO2 as Pollution, and there I was thinking it would show more detail on those particulates. One obvious bug is that I couldn't switch between my Blackheath and West End NetAtmo weather stations, it defaulted to Blackheath.
The Reg Verdict
My initial impression of NetAtmo Urban Weather Station was it was another iOS/Android novelty device, which it does rather amount to in a domestic setting. Having to shelter the outdoor unit is a bit of a drawback too, but there are simple enough workarounds. Still, if you have sensitive environments to monitor or just workplace health concerns – from heat and humidity to noise and noxious gases – then these measurements provide reliable, accurate and easily accessible data on those conditions, within the limits of the available Wi-Fi. Yet given the £139 price tag, you either desperately need this information or you desperately need a new obsession. ®
Sponsored: Minds Mastering Machines - Call for papers now open

Review: NetAtmo Urban Weather Station
Wi-Fi savvy indoor and outdoor environmental measuring modules that can be monitored remotely from popular mobile platforms and desktops.