Review: Asus PadFone 2 phone-tablet combo
Can't decide on a tablet or a phone? Have BOTH IN ONE!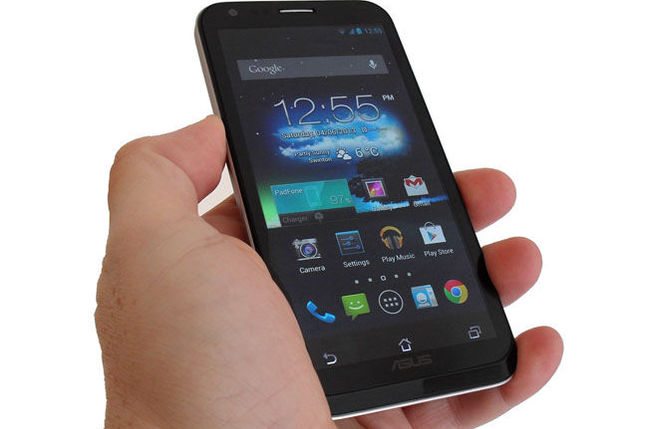 I thought the first Asus PadFone was a jolly good idea the moment I clapped eyes on it. Sadly it never made it to these shores but the PadFone 2 has. In a nutshell, what we have here is an Android smartphone that can be docked into a dumb tablet giving you not only a choice of two screen sizes but also the convenience of one data connection, and unified app selection and storage.
The phone part of the duo is solid, physically well proportioned and, at 135g, reasonably light. It looks thinner than its actual 9mm front-to-back measurement thanks to a tapering metal frame. There's a bit of chamfering below the off-screen capacitive buttons to add a touch of style, and it has a pleasingly tactile patterned back.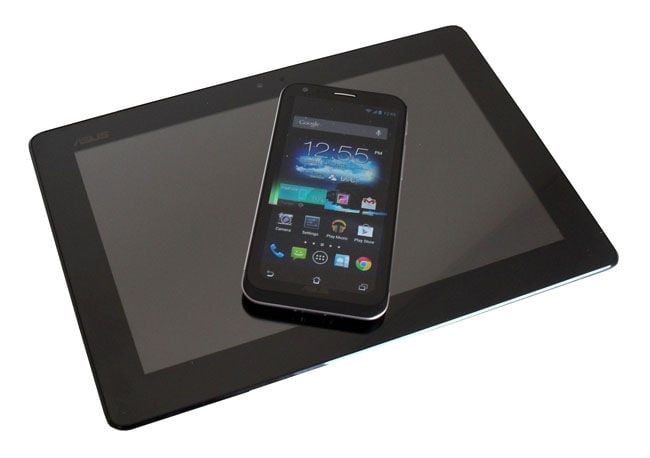 Asus' pad'n'phone: the PadFone 2
In fact, the PadFone's phone feels like Asus' take on the LG-made Google Nexus 4 and, thanks to the same quad-core 1.5GHz quad-core Krait-class Qualcomm Snapdragon processor, 2GB of Ram and a very similar 4.7-inch, 1280 x 720 IPS LCD display, that's exactly how it performs. Thankfully the Asus is less prone to overheating when working hard.
The tablet part of the equation - or "station" as Asus calls it - is just a battery and a 10.1-inch, 1280 x 800 IPS LCD screen. It isn't as pleasant to hold as the phone because it's made of plastic and has a rather sharp and obvious seam where the front joins the back.
The slight lip that surrounds the screen doesn't do anything to lessen the feeling that the tablet has been built down to a price. Still, at £599 for the lot, something had to give.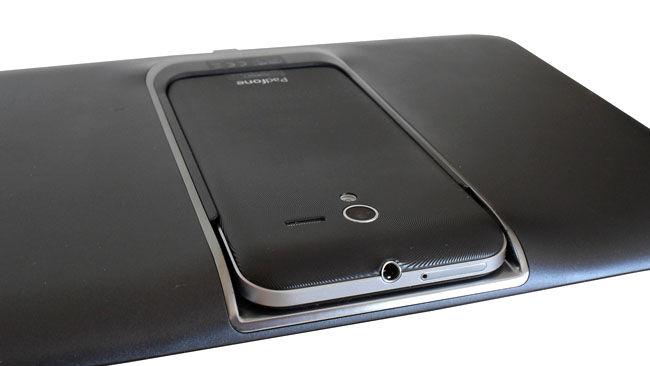 Docked
Docked the entire kaboodle weighs 649g which puts it between the 662g Apple iPad 4 and the 603g Samsung-made Google Nexus 10. The docking slot at the back adds a slight bulge to the design raising the centre profile from 9mm to 16mm but that has no impact on usability.
Both the phone and tablet screens are made from Corning Gorilla Glass and have an oleophobic coating, though the material sprayed on the tablet doesn't seem to do its job all that well. Other than that both screens cut the mustard, offering ample brightness thanks to a super-illuminated setting that Asus calls "Outdoor Mode".
Naturally with a pixel density of only 149dpi the tablet screen is noticeably less crisp than the 312dpi phone. It suffers in comparison to the likes of the Nexus 10 and iPad 4 too, but its still a resolution I could live with.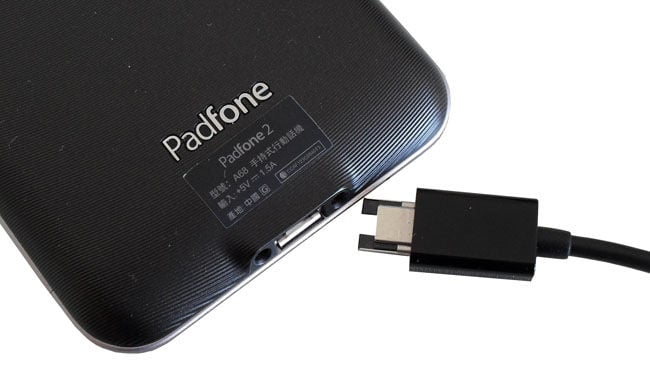 The phone and dock use a modified micro USB port
There's no need to worry about the phone not having the grunt to power the tablet because it returns an AnTuTu benchmark score of well over 21,000. Undocked you have a very powerful phone, docked you have a very powerful tablet.
That there is no storage expansion will be a dealbreaker for some folk and means you are stuck with the handset's 32GB or just over 26GB after system requirements. Talking of system, the PadFone 2 runs Jelly Bean 4.1.1.
At the bottom of both phone and tablet you'll find a modified micro USB port for charging, data transfer and video streaming. As well as MHL, the port also supports USB On The Go. Curiously you need to turn the USB connector over when you swap it between phone and tablet. You can use regular micro USB cables for both data connection and charging but they fit loosely and come adrift easily. That's a pain if you want to charge the PadFone and use it at the same time but don't have the special Asus cable to hand.
Sponsored: RAID: End of an era?