Manual override: Raspberry Pi beginners' books
Do the 'getting started' guides make your first slice of Pi more tasty?
Soldering on
Richardson and Wallace uniquely provide a guide to connecting the Pi up to the Arduino board, and they also detail some basic hardware projects that builds on their introduction to Python and pygame and is more involved than turning on some LEDs, which is as far as Easy Steps takes you. They spoil it a little with their rough, imprecise sketchbook illustrations. Not so the colourful, large size Raspberry Pi Owners' Workshop Manual - though its tactic of highlighting all the program code, the better to make it stand out in a two-column page format, actually works against its intentions. Still, Girling's projects are all well-illustrated - and there are a lot more of them than the other books offer, even though it's a shorter work than Raspberry Pi for Dummies.
Getting Started does present some nice beginners' projects, including a household lighting timer which is later expanded with internet connectivity, and a cute augmented reality project using a webcam. The Raspberry Pi Owners' Workshop Manual provides a more reference-style, bus-by-bus guide to the Pi's General Purpose Input/Output (GPIO) - how the User Guide does it too - though there's a nice Twitter alert project that ties into the Pi-Face add-on board. The User Guide takes in Fen Logic's Gertboard and a couple of others as well: Ciseco's Slice of Pi and Adafruit's Pi Plate.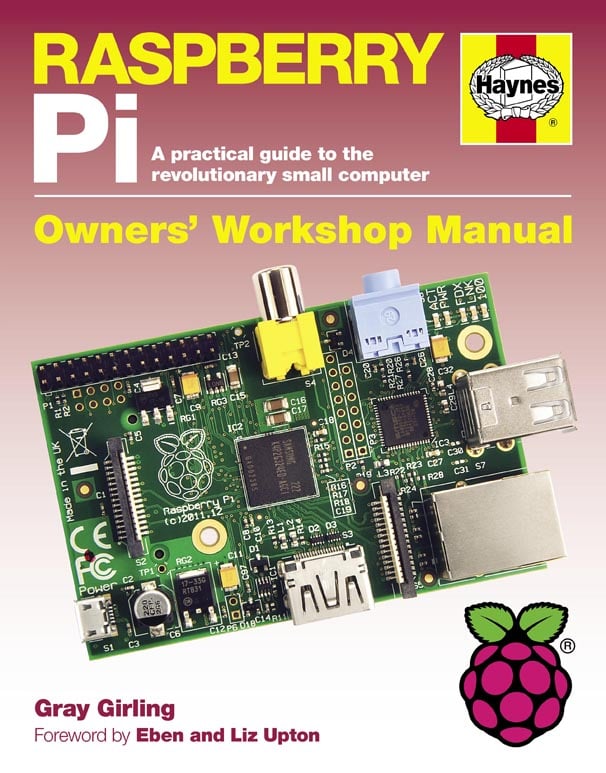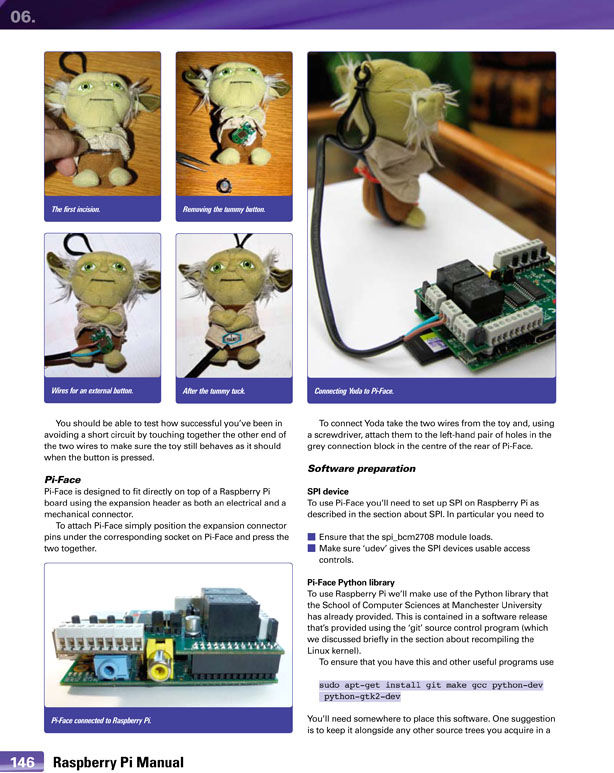 Not quite the Raspberry Pi bible, but the Raspberry Pi Owner's Manual is a good reference
Click for larger page sample
The project-centric Dummies, like Getting Started, takes a "here's what you can do" approach rather than the "here are what the pins do" perspective of the other books. It's comprehensive: you'll find a refresher on electronics theory and a guide to good soldering if you need one. It covers GPIO input and output through a pair of physical game units you can build, and takes you out into the analogue world too. It even has you building your own breakout board.
The Reg Verdict
Raspberry Pi in Easy Steps is very accessible, but I soon found its pared back approach too limiting. I wanted to know more than it's able to provide. Getting Started with the Raspberry Pi is a short book too but, unlike Easy Steps, you can read it - and you can dip back into it later when you want to refresh your memory on a point or two.
It's also honestly titled: it is a guide to get you started with the Pi and makes no pretence that it's a reference book too. This is a problem with the Raspberry Pi User Guide. It's a very readable getting started book too, but its name suggests to me it also contains information you can look up rather than read sequentially, which in fact it lacks. It's also quickly becoming out of date in many respects, which makes Raspberry Pi for Dummies - just out from the same publisher - seem even like 'User Guide 2.0'. The two books' structures are almost identical, though I found the User Guide a better read because of its straightforward style. Dummies is too exclamatory for me.
I have to admit I enjoyed reading the Raspberry Pi Owners' Workshop Manual less than some of the other books I've covered here, but that's mostly because of Gray Girling's academic style and because - to be fair - this isn't a book written for reading cover to cover. It's intended, I think, to be a more dip in, dip out work. But there's no question that Girling offers far more things to do, in much more detail than any of the other authors do.
This is a book I will return to, though I'd be even more inclined to so if it was available in digital form. All the others are. I'm a long-time Classic Mac OS and Mac OS X programmer, but I hadn't done any Python coding until I got my Pi. Getting Started with Raspberry Pi had me using the language quickly and gave me good understanding of the Python way of doing things, but the Raspberry Pi Owners' Workshop Manual offers me more ideas about things to try next - not that Getting Started is short of suggestions. Personally, I'll ignore many of the software projects it contains - I already have a media centre and I've no desire to run a web server - but I am interested in trying out the Pi's facilities for controlling connected hardware, and there are many starting points for such exploration here. Likewise Raspberry Pi for Dummies.
Girling crams a lot of information in too, though with so much data presented through tasks - and the book is, as it says, a manual - you miss useful things by not working through them. Of the five books I've looked at here, the Raspberry Pi Owners' Workshop Manual comes the closest to being the Raspberry Pi Bible, but it's not there yet.
True, there's a lot of this kind of information in Wikis, but I'm an old-fashioned kind of gent, and I rather like having that information at my fingertips in a format I can quickly flick through from index to entry. And one I can enjoy reading. Publishers, please take note. ®
Raspberry Pi Owners' Workshop Manual
Author Gray Girling
Publisher Haynes
Publication Date March 2013
Price £17.99
Format Hardback, 270 x 210mm, 176 pages
Ebook No
More Info Haynes
Raspberry Pi for Dummies
Authors Sean McManus and Mike Cook
Publisher Wiley
Publication Date March 2013
Price £17.99 (paperback) £11.99 (ebook)
Format Paperback, 344 x 185mm, 432 pages
Ebook DRM'd Kindle, ePub
More Info Wiley
Sponsored: Minds Mastering Machines - Call for papers now open