'Fastest storage in the WORLD' plugged into mighty boffinry Cray
Phwoar, get a load of these figures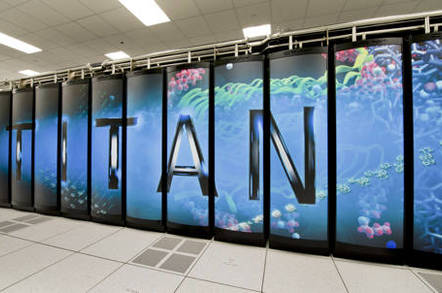 DDN claims it has sold the fastest storage system in the world to the Oak Ridge National Laboratory for its Titan superduperwhoopercomputer, shooting data out faster than 1 terabyte a second.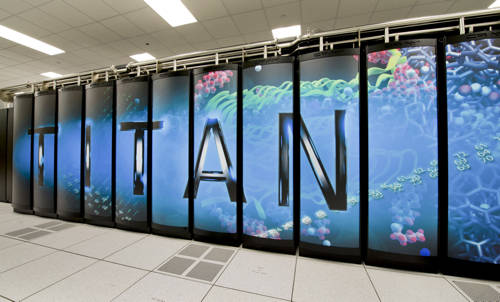 Colourful Titan storage racks
The Oak Ridge National Laboratory (ORNL) is a US Department of Energy facility managed by UT-Batelle. The Titan Cray XK7 super at Oak Ridge puts out a sustained 17.59 petaflops on the Linpack benchmark (2,143 megaflops per watt for energy efficiency fans) making it second in the Nov' 2012 Green500 supercomputer rankings. Titan uses a mix of 16-core Opteron 6200 CPUs and Nvidia Tesla K20X graphics co-processors.
Altogether it has 18,688 processors and 18,688 GPUs for a grand total of 560,640 cores. Its peak theoretical performance is 27.1 petaflops. Titan, which connects to other labs around the world using a 100Gbit/s Energy Sciences Network, should have completed acceptance testing by June this year.

Overall view of ORNL's Titan supercomputer
The storage needed to feed this ravenous computing beast is a 40PB monster built from 36 DDN SFA12K-40 systems (description here) and it is the platform for ORNL's Spider II, a file storage system, and uses the Lustre parallel file system. It features building blocks with:-
- 4U StorageScaler 8460 enclosures with internal Storage Fusion fabric with up to 160 X 6Gbit/s SAS lanes
- Overall 40GB/sec data rate
- 1.12PB of raw capacity
- In-Storage processing possible with X86 CPUs
- Max of1,680 2.5-inch or 3.5-inch disk drives with SSDs supported
- All models have FDR InfiniBand connectivity with 16Gbit/s FC and 40GBitE on some models as well

There are 36 DDN storage racks in total with 20,000 disk drives. DDN says this Spider II system will be six times faster than Spider I and have three times its capacity. ®