Data centers can't save Intel's first quarter
But they might save 2013 if Atom and Xeon chips take off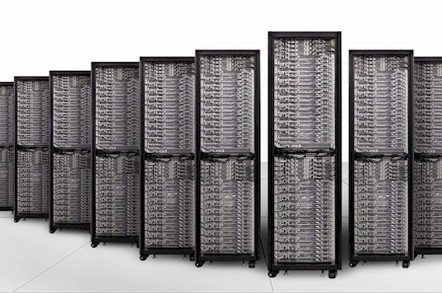 The "Sandy Bridge" Xeon E5 replacement ramp for servers is nearly a year old now and clearly hit its stride in the first quarter for Intel, which turned in some pretty sad figures for its PC chip and chipset business. It is a pity that the Data Center and Connected Systems business was not already twice as large, as Intel hopes to make it by 2016, because if it was then Chipzilla might have had a much better quarter.
The problem in servers as Intel looks ahead to the rest of 2013 is that the company has let the cat out of the bag about its future Atom and Xeon server chip plans and now everyone knows when to expect "Ivy Bridge" Xeon E5 and E7 processors.
That will probably means some customers will pause their purchases where they can and therefore Intel's server OEM partners will be hesitant to buy up scads of Sandy Bridge chips. Depending on the need for speed, the appetite for shiny new iron could just keep on being unsatiated or it could take a pause. No one really knows, including Intel.
In the March quarter, Intel pushed $2.59bn in processors, chipsets, motherboards, and other products in its Data Center and Connected Systems Group, up 7.5 per cent from the year-ago period. Sales were down 6.9 per cent sequentially from the fourth quarter, and this is not at all surprising given the normal fourth quarter bump and the issues with the US federal government budget and with recessions in several countries in Europe.
While revenues were up year-on-year, operating income was for the Data Center and Connected Systems Group was not, and this is perhaps more of an issue. Operating income for chippery sold for servers, storage, and networking were down 4.9 per cent. In his CFO commentary, Stacy Smith, who is a long-shot for the CEO job when Paul Otellini retires in May, said that unit volumes for the Data Center part of the company were up 6 per cent and that average selling prices were up 2 per cent.
That sounds good until you realize that in the first quarter of last year, Intel was not yet shipping Sandy Bridge Xeon E5-2600 parts, except on a special bid basis, after delaying their rollout from around September 2011 or so until March 2012. And the Xeon E5-2400 low-end chips for two-socket machines and the Xeon E5-4600 high-end parts for four-socket boxes did not ship until May.
It looks like Intel is having to do more wheeling and dealing to boost the top line and it is eating into the middle line for the Data Center group ­ and probably its bottom line, too.
Something is up, and it could be competitive pressure from AMD or it could be that the juicy, easy sales for Sandy Bridge parts is over and Intel is having to do more co-marketing with OEM customers. Intel's overall marketing costs went down a little in Q1, but research and development costs rose, and that may be part of the problem depending on how Intel allocates fab and other costs to the Data Center group.
In a conference call with Wall Street analysts after the market closed on Tuesday, Smith said that the Data Center group saw "significant growth" in both the cloud and high performance computing segments (which are getting more and more difficult to separate, to be honest).
He added that the new Atom and Xeon processors coming out in the second half of the year gave Intel confidence that it could pull off double-digit revenue growth for its data center business for all of 2013, mainly because Intel was anticipating that enterprise server buying (meaning not hyperscale cloud operators and not academic and national supercomputing systems) would pick up as the new chips come out.
That rollout will start with the "Haswell" Xeon E3 v3 chips for single-socket boxes, including microservers, tower and rack servers, and workstations, that are rumored to be coming in early June just behind the Core i7 Haswell parts, expected in late May.
"My suspicion is that we will start to see the enterprise segment growing again, just based on macroeconomic improvement," explained Smith. ®
Sponsored: Minds Mastering Machines - Call for papers now open