Huawei Ascend Mate lands in Australia
But where's 'Oz tax'?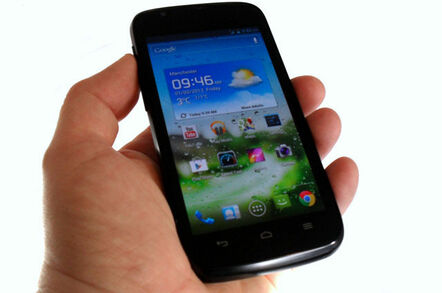 Huawei is clearly hoping that 2013 will be the year that it shakes off the "cheap" image, but its Ascend Mate, first seen earlier this year at CES, still sports a notable $AU429 price tag.
But a second agenda is at work, with the 1280x720 resolution, 6.1-inch Ascend Mate based on Huawei's own silicon and a custom UI – both of which the Chinese vendor hopes have given it enough differentiation not to get lost in a crowded market.
The stripped-down Emotion UI sitting on top of Android Jelly Bean 4.1 gives the Ascend Mate a non-Android feel, while the 1.5 GHz quad-core K3V2 silicon is designed to give it good video performance and smooth window transitions and app-swaps.
A big part of the interface effort has been to make the mini-tablet (or maxi-phone - Vulture South is trying to avoid the expression "phablet") amenable to being used with one hand. For applications like calling and texting, the user can choose a layout that puts everything important within reach of a normal thumb. The Chinese vendor is also making a strong globetrotter pitch, with a "works-anywhere" approach to mobile radio, with nine bands supported (UMTS 850/900/1700/1900/2100 MHz, and GSM 850/900/1800/1900 MHz). Given the combination of a severely Balkanized world 4G market and the need to save some real estate for things that people will see, the Ascend Mate is doing without LTE for the time being.
Its other key specs are 8Mp (rear) and 1Mp (front) cameras, Gorilla glass – sensitive enough, Huawei says, that it can be used while wearing gloves – and a 4500 mAh battery that the company says will last nine days on standby and two days of "normal" use.
The Ascend Mate ships in Australia on Saturday April 20. As far as The Register can tell at the moment, Huawei has been watching the Australian IT pricing debate well enough to avoid any egregious loading of the retail price merely because of location. ®
Sponsored: Minds Mastering Machines - Call for papers now open