Still pitching to CIOs? You're living in the PAST
Sales directors, office managers should be your new BFFs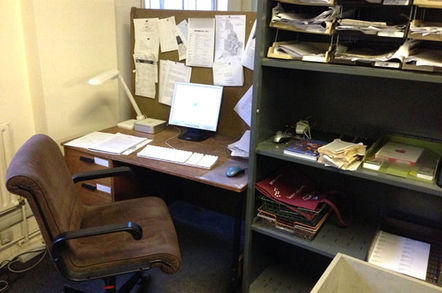 Within the next year, almost half of the cloud deals negotiated by value-added resellers will not have an IT team representative present when the technology decision is made, according to the latest predictions from top IT biz analysts Gartner and Forrester.
The consumerisation of IT - where biz bods introduce cutting edge tech into the workplace - coupled with the popularisation of "cloud technology", which has moved through the hype cycle and into reality, has led to a change in the way technology buying decisions are made. More and more people understand what cloud technology is and what it can do for them. These "change agents" are becoming ever more influential in the procurement process.
For example, a friend of mine is the office manager for a major payments company. She has been tasked to work out how deploying tablet devices could help the management team better cope with the demands of their day.
Her research will play a huge part in influencing which mobile device best suits the needs of her management team - as well as deciding which device is easiest for her to manage from a content perspective and offers the best mobile working facilities.
It's not just about a change in the decision-maker; it's a shift in conversation - along with a shift in audience for that conversation. According to the research from Gartner, it is increasingly likely that VARs (value-added resellers) will aim their pitches towards (for example) marketing directors who want to access presentations when visiting a potential customer, or a sales director who wants his sales force equipped with the latest technology.
What do you do? How much can you spend?
With these new influencers coming to the fore within businesses, the traditional "features and functions" conversation with the buyer is becoming less and less relevant; technology has become simply an enabler in solving business problems.
Take cloud computing as an example. In the last three years of talking about cloud computing I have never been asked about the size or speed of the servers being used. Instead the focus has been on what the cloud computing-enabled solution can do for the business. Managing directors of small businesses do not lay awake at night worrying that they are not on the latest version of a software suite; they worry about their numbers and how they can reinvigorate their sales force.
It is this type of business challenge that VARs are now tapping into; the value added by a reseller is much more than providing technology advice and now must include business advice to continue to be the trusted advisor.
To a certain extent this isn't new – small businesses have always been more concerned with solving business challenges instead of geek speak. However, as the Gartner research shows, the combined shift in conversation and "agents of change" influencing the technology decisions is having a real impact on channel players.
New softer skills are required to address these changes – and ensure that deals are still won. True, understanding of a customer's pain points, vision and goals is now a must, but in addition, VARs now need to understand the drivers behind the technology and the outcomes required within the customer's organisation.
Questions need to be asked to understand why the need for technology has arisen, and realistic goals must be set in terms of what the technology can do. In the case of my office manager friend, when she contacts her VAR for advice, the use of the simple "three Rs" framework (reason, relevance, revenue) would help ensure success in making a recommendation.
The three "Rs" in this example would be used to understand:
Reason – why is the change in technology required?
Relevance – how will it impact the business in its wider context?
Revenue – how will adopting this technology help the company to drive greater revenues?
The VAR which understands this business-driven methodology will be successful in closing the deal.
This need to evolve the conversation about technology in business is a challenge not just for the VAR but also for IT managers, IT teams and IT professionals. As more and more technology workloads embrace the benefits of cloud computing there will be a shift in the role IT resources play in business.
The resources required for patching and maintaining email servers is an "invisible cost" to the business. With email workloads moving to the cloud this resource can now add greater "visible value" to the business through delivering integrated archive and retention services, information policy management and even device management to control the expanding number of devices used to access email.
Working closely with IT teams to help transition from being an invisible cost to delivering visible value represents a great opportunity for VARs to expand their services into the area of "IT transformation".
By fully understanding the business vision and goals of the company, VARs can recommend and help integrate new technologies that will help their customers achieve their business goals and move forward.
Rather than simply providing fire-fighting tools, VARs can help position the IT manager as a thought leader with the latest tools, helping the company to achieve more with technology.
By doing this, not only are VARs raising the profile of the IT team, they are also showing the value of the VAR's own services, a scenario that should only help drive greater joint profitability in the long term. ®
Sponsored: Minds Mastering Machines - Call for papers now open