ExxonMobil's oil spill rids neighborhood of 'venomous snakes'
There's a silver spin lining to every disaster
On March 29, ExxonMobil's Pegasus pipeline – built in the late 1940s – ruptured in Mayflower, Arkansas, sending at least a million liters of Canadian crude oil and water into a residential neighborhood. That's the bad news.
The good news? According to an ExxonMobil update, that crude cockup is channeling Saint Patrick, ridding the afflicted community of life-threatening serpents.
Describing the critters affected by the spill, the update notes that "The majority of the impacted wildlife has been reptiles, primarily venomous snakes."
Not so, says the too-cutely named animal welfare group HAWK Center (Helping Arkansas Wild "Kritters"). "WE didn't receive any venomous snakes or calls about snakes at all," HAWK writes on its Facebook page, which details their clean-up efforts.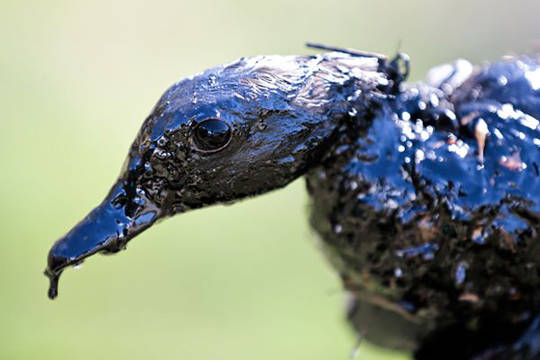 If it walks like a duck, quacks like a duck, and is covered in oil like a duck... (source: National Geographic)
"However," HAWK continues, "we are certainly concerned about them after Wildlife Response Services, the paid contractor brought in to take over rehabilitating oiled wildlife, told our director that they didn't want anything to do with the snakes and were simply not taking them."
HAWK notes on its Facebook page that they have been working to rescue and clean ducks and assorted other "kritters", Reuters reported on oiled birds and vomiting children, and ExxonMobil itself said on April 8 that 23 ducks, a river rat, and five turtles had died because of the spill.
The most adverse effect of the spill, however, may be to popular opinion about pipelines carrying Canadian crude. The proposed Keystone XL pipeline, intended to carry corrosive diluted bitumen – aka dilbit – 2,000 miles from its Canadian source to refineries as far away as Houston and Port Arthur, Texas, is currently being hotly disputed by energy companies and their friends on one side, and environmentalists and their friends on the other.
But who, pray tell, will speak for the serpents? After all, as HAWK writes, "Venomous snakes play a vital role in the ecosystem." ®
Sponsored: Minds Mastering Machines - Call for papers now open