Dell crams modular hybrid server and storage switch into 1U pizza box
Wraps switches in Active Fabric Manager v1.5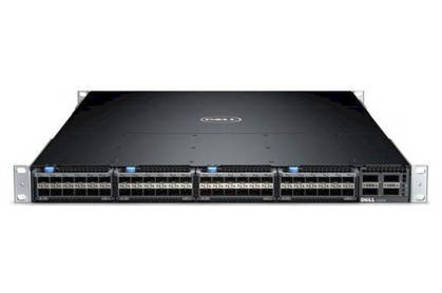 One of the bright spots in Dell's business these days is its networking unit, which doubled its sales last year thanks in large part to the acquisition of Force10 Networks nearly two years ago. Now Dell has to keep pace with its many competitors in the networking racket – which it has just done with the launch of a new modular switch that handles both server-to-server and server-to-storage traffic.

Dell's modular S5000 server-storage switch
The new S5000 converged LAN/SAN switch is not a big wonking thing like some modular switches – it comes in a petite 1U form factor. The box, which runs the FTOS switch operating system, has four 40Gb/sec Ethernet uplinks on the right hand side, which can be used as either fat uplinks to the access layer of the network or cut up with four-to-one splitters to turn them into up to sixteen 10Gb/sec Ethernet ports. That's the static part of the switch.
The modular part is on its left-hand side, and consists of four modules that slide into four bays. Each module has a dozen ports, which can be 10 Gigabit Ethernet ports for LAN links, or Fibre Channel links for hooking servers to SANs running at 2, 4, or 8Gb/sec.
Dell did not divulge which switch ASIC the S5000 is using, but the box has 1.28Tb/sec of switching bandwidth, 960 million packets per second of forwarding capacity, and 128,000 MAC addresses. That smells a lot like Broadcom's "Trident+" ASIC.
The S5000 converged switch has four queues, a 9MB packet buffer, and 2GB of main memory for the CPU that runs as an adjunct to the ASIC. The switch supports Fibre Channel Forwarder (FCF) and Fibre Channel over Ethernet (FCoE) protocols, so if you want to just have the 10GE ports talk to SANs, you can do that. The device also supports the NPIV Gateway and FIP Snooping Bridge add-ons for Fibre Channel.
Arpit Joshipura, vice president of product management and marketing at the Dell Networking division, says the converged LAN/SAN functions means that companies can deploy a pair of S5000s instead of a pair of top-of-rack switches linking server nodes together and a pair of Fibre Channel switches linking server to storage. You can just get redundant S5000s and cut the number of cables and adapters in half if you want to run FCoE.
You also have the option of running proper Fibre Channel within a single switch, if that floats your boat. Dell is obviously emphasizing its own Compellent SANs as the storage of choice, but the S5000s can link to any SAN that supports Fibre Channel or FCoE.
The S5000 will be available in July. The base machine comes with a base 10GE module and four 40GE uplinks, and costs $12,000. If you beef it up with 10GE and FC modules, you can drive the price up to $32,000 if you fill all four switch bays.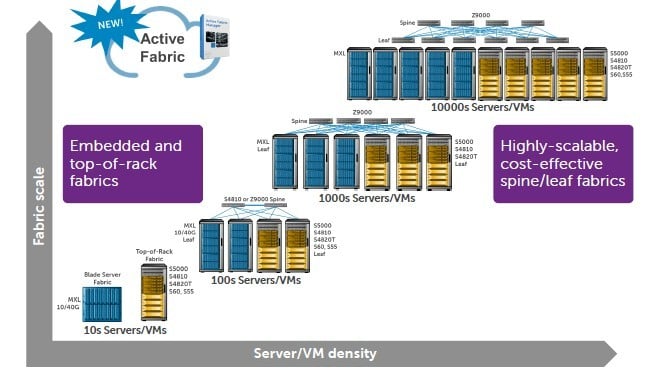 Dell has a fabric manager that spans from a single-blade chassis to massive spine/leaf networks
On the software front, Dell is rolling out a new bit called Active Fabric Manager, which was under development at Force 10 a year before Dell did the acquisition, and which Dell has been working to bring to market since that time.
The idea with Active Fabric Manager v1.5 is to make a graphical network management tool that a system administrator who is not acquainted with switch operating system command line interfaces can use to manage network links to servers and storage.
Active Fabric Manager is also designed to make it possible for server admins to configure the fabrics for anything from a single rack of blade server enclosures with tens of virtual machines, up to massive leaf/spine networks with tens of thousands of virtual machines all linked together. The Active Fabric Manager makes the links between particular servers, storage, and switches to configure the entire network act as a unit – hence, the word fabric.
Dell previewed Fabric Manager 1.0 last April when it launched its Z9000 distributed core switch and the XML 40GE switch for its BladeCenter chassis. This time around, it is adding Perl and Python scripting, which are familiar to server admins, as well as SNMP and a bunch of REST APIs. Active Fabric Manager also has a design wizard to help design a multi-path Layer 2/Layer 3 fabrics linking servers and storage.
Active Fabric Manager v1.5 will be available at the end of May. ®
Sponsored: Learn how to transform your data into a strategic asset for your business by using the cloud to accelerate innovation with NetApp