Quantum spring-cleans StorNext for file-hungry arty small biz
When you need to juggle 500 million docs on a modest budget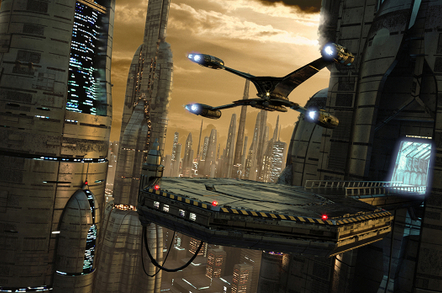 Storage biz Quantum had made its StorNext product suitable for small and medium-sized firms with a new metadata appliance, disk enclosure boxes and a low-end tape library.
StorNext stores files on primary arrays, in slower-access object storage arrays, or even slower access tape vaults. Its users don't need to know exactly where the files are located as they see just a single virtual file store. It's popular in the media and entertainment processing world where files can be large and segments from stored videos repurposed.
StorNext configurations can now include an M440 metadata appliance which scales up to 500 million files, has its own dedicated metadata array, supports ten SAN clients and has dual nodes for high-availability.
The M440 is a mid-range offering, fitting between the entry-level M330, supporting 60 million files, and the high-end M660, which supports 800 million files.
There are two new drive enclosures:
The QX-1200 has a dozen 3.5-inch drives in its 2U enclosure, with 36TB (made up of 3TB drives) of storage and 4TB drive support expected.
The QX-2400 has 24 2.5-inch drives in the same enclosure with either 14.4TB of 600GB, 10K SAS drives or 21.6TB of 900GB SAS drives, also spinning at 10K.
The QX-2400 will have a greater performance in IOPS terms with the QX-1200 being more affordable. Both are geared to small and medium businesses in the media and entertainment and corporate video markets.
Dot Hill has announced Quantum is OEM'ing its AssuredSAN 4000 line of products which come in 2U x 12 drive or 2U x 24 drive formats. It looks like this is the hardware in the QX-1200 and QX-2400 products.
Quantum's SVP for its file system and archive product group, Janae Stow Lee, said: "Dot Hill's solid, high-performance architecture provides high bandwidth and high transaction input/output for Big Data, and we're pleased to add them to our list of key suppliers."
Acer Europe is going to OEM Dot Hill's AssuredSAN product range as well, and Dot Hill has raised its forecast revenues for the next two quarters and its fiscal 2013 year as a result of the Quantum and Acer Europe OEM deals.
Returning to Quantum, it has also introduced a small tape library for StorNext: the AEL500 with two LTO-5 or LTO-6 drives and 20 slots in its 5U cabinet. It can be enhanced with Extended Data Life Management, Quantum's tape integrity checking product.
The letters AEL stand for Archive Enhanced Library and the AEL500 incorporates the StorNext Storage Manager product, with Scalar tape hardware, to move data between disk and tape.
Quantum's Laurent Fanichet, the product marketing manager for big data in EMEA and APAC, said: "In the media and entertainment space there is a real trend to repurpose content - look at old rushes and repackage them for a DVD with bonus features."
He reckons StorNext primary storage could use flash, such as SSDs, in the future for very fast data access with low latency.
LTFS, the file drag-and-drop folder-style access method for tape, is definitely part of the StorNext workflow. Quantum is supporting it and customers don't need backup software with StorNext. They could use StorNext's own data moving facilities or LTFS to move files to and from StorNext tape vaults.
An LTO-6 AEL500 costs around $59,950, with an LTO-5 one costing around $49,950. ®
Sponsored: Learn how to transform your data into a strategic asset for your business by using the cloud to accelerate innovation with NetApp