You know how your energy bills are SO much worse than they were?
Green.gov: It was gas prices! <Cough>Actuallyitwasmainlyus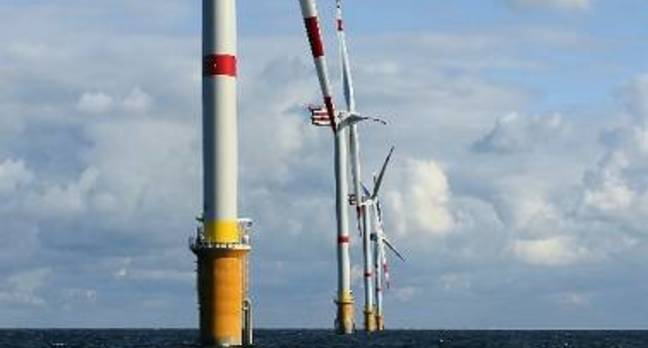 Analysis The government's Department of Energy and Climate Change, with the current minister as mouthpiece, has just pushed out a report claiming that its green policies are saving us money now and will save us even more in coming decades. Can it be true? We can save the planet - or anyway reduce carbon emissions - and it not only costs nothing, but puts money in our pockets?
In a word, no: of course not. If that was true there would be no need for government action, we'd be acting to reduce carbon emissions on our own. And indeed, once you skip the foolish tinned quotes and bogo-stats in the executive summary, the report itself (pdf) makes it very clear that in fact green policies are already to blame for most of the sustained climb in electricity prices we've suffered over the past decade - and that it's going to get a lot worse.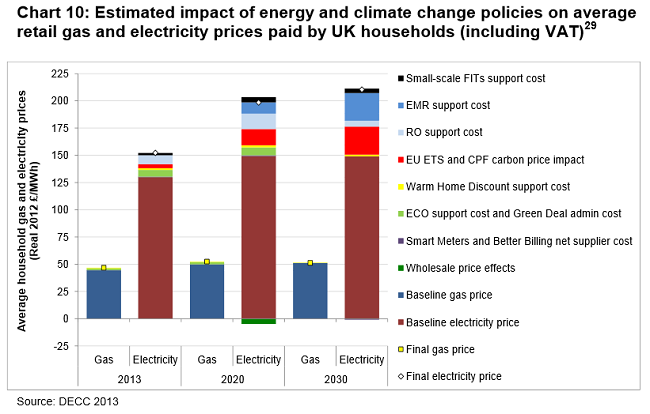 The blue and brown bars are what you would pay without green intervention. The rest is thanks to the greens.
So there you are, plain as day. The various green interventions in the UK and EU energy markets which have come in since the turn of the century are already costing you a hefty sum - the government have already forced up the price you pay for electricity today by nearly 20 per cent over where it would have been if they'd left matters alone. If they carry on as planned, by the year 2030 they will have managed to drive it up by more than a third over where it would normally be.
And in fact the green DECC mandarins who drafted the report are naturally seeking to cast themselves in the nicest possible light here. They admit the outright costs resulting from such things as the Renewables Obligation, which drives up electricity prices in order to pay for wind farms which - as they don't produce much power, and worse still can't produce it when it's actually wanted - would not otherwise be built.
But the civil servants don't include the indirect costs of such schemes. For instance, 23 per cent of your electricity bill is down to "network costs" - the price your energy supplier must pay to the National Grid to move your energy from the power plant to your meter. Funnily enough, we learn from the DECC that:
Electricity network costs have increased by around 20% in real terms since 2008.
That's an awfully big jump in just a few years, especially since we're actually using less power than in 2008. What could have caused that?
The DECC mutters rapidly, hoping we won't notice:
The cost of transporting electricity to consumers has increased due to ... new generation capacity being connected ...
In other words the National Grid has had to build many new power connections to wind farms in remote and inaccessible locations, up hills, on moorlands and offshore. This has pushed up the "network costs" part of your electricity bill. And as more renewable power appears, it will drive up network costs a lot more, too.
So, in reality, another four per cent (actually more, windfarms have been costing the grid extra money since well before 2008) of your electricity cost is down to Green policies imposed by the government, over and above what they admit in the chart above. Thus we see that the consumer price of 'leccy overall stands approximately 25 per cent higher today than it would have been if Whitehall and Brussels had left the UK energy market alone.
That's quite interesting, as the DECC mandarins also admit that total UK electricity prices have increased by approximately 50 per cent in real terms since the turn of the century. Simple mathematics, then (150 x 100/125) tells us that if the green interventions had never happened this increase would have been only 20 per cent.
In other words, the bulk of the electricity price rises ordinary Brits have suffered over the last twelve years have been caused by Green government policies. Not the evil gas markets, actually - it was mainly the government. And all for pretty much nothing: less than one per cent of the UK's overall energy comes from renewable electricity, with a correspondingly tiny impact on carbon emissions as nearly all the rest is fossil powered.
You don't need to be a carbon sceptic to see that this plan is painfully expensive, set to get a lot worse, and producing very little in the way of results.
And you don't need to be a carbon sceptic to see that the government is, bluntly, lying to us about this, either. It would be one thing to say "these massive price rises are mostly down to green policies" and then let us vote for whether we wanted them or not, but that's not what happens. Instead the report states early on:
The average impact of [green] policies is estimated to be a net saving of around 5% (including the impact of Building Regulations) in 2013 compared to what bills would have been if these policies had never been introduced ...