Flasheteer Nimbus breathes on its HALO, gives it a rub
Rival Pure hits it with double bod nab
Combat fraud and increase customer satisfaction
Nimbus Data has updated its all-flash array operating system, HALO, adding analytics, a REST API, and mobile phone access with HALO Mobile.
HALO is Nimbus' OS that powers its Gemini, E-CLass and S-Class all-flash arrays. The analytics features include:
- Real-time and historical monitoring and reporting capabilities with 200+ metrics tracked, including flash endurance, capacity utilisation, latency, power consumption, deduplication rates, and overall system health
- Detailed port, host, and session-level statistics, with trending over time and looks at specific data points at fine-grain intervals
- Customized dashboards highlighting areas of interest
- Built-in benchmarking to create IOPS and throughput workloads to validate system performance<br< - Statistics are stored in an industry-standard RRD format, enabling customers to utilise Nimbus or third-party charting tools to view the results.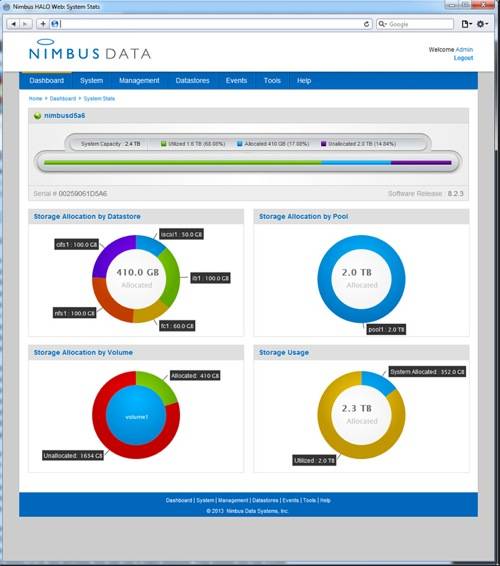 A HALO dashboard
The REST API, Nimbus says, "captures all available statistics to feed into existing management software and analytics tools. [It] lets anyone build application-specific plug-ins, even full management software."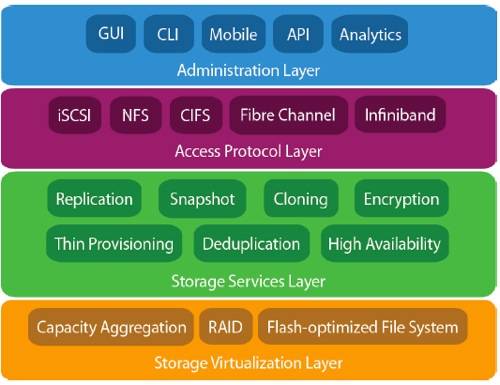 HALO 2013 features
HALO Mobile supports IOS and Android phones and is available in the iTunes and Google Play stores. It uses the REST API "to allow users to monitor system events [and] view dynamic live charts." Such smartphone interfaces are limited in usefulness, Vulture Central thinks, because of their small screensize.
Staff drain continues
Up and coming all-flash array competitor Pure Storage gained a pair of staffers from Nimbus. Nimbus senior systems engineer Dick DiRisio left, we understand, in January this year, and joined Pure Storage in March as an account executive.
Nimbus' eastern US sales region VP Mark Sullivan also joined Pure, in January we understand, to become its NE region sales manager.
Pure Storage has gained almost $100 million of venture capital funding and is spending some of that cash to build out its international infrastructure and develop its products. Its development is accelerated relative to self-funded Nimbus Data because of this funding.
HALO 2013 is free of charge to all existing Nimbus Data customers with active support contracts. ®