Televisions in living rooms now the fastest-growing internet platform
Focus gradually shifts away from porn? Presumably
The humble television holds the future of the interwebs, we're told: New numbers from Netbiscuits shows the lean-back experience more than doubled over the last six months and put other platforms into the shade.
Tablet use is also up, by more than 50 per cent, while smartphones have - it seems - plateaued with a meagre four per cent increase. However it's televisions and set-top boxes which take the first prize, jumping 138 per cent over the last six months as Smart TVs finally suck in some internet content worthy of the living room.
That's items of traffic served from the Netbiscuits platform, which is designed to work across platforms and thus likely to be used by services which expect clients of all sorts: but even making allowences for skew it's clear that internet content is increasingly being consumed on TVs.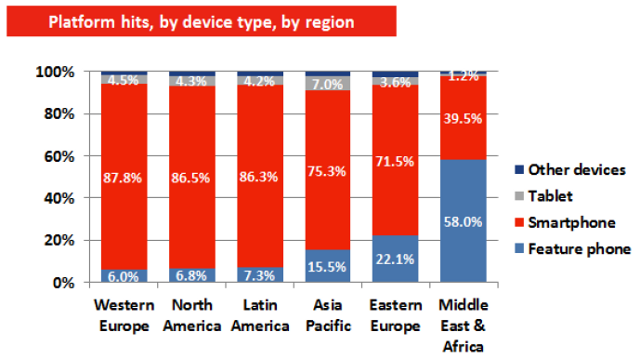 TVs are still a small player overall, filed under "other devices" on the chart despite the recent growth, but it's interesting to note that the TV browsing is in addition to computer and phone use, rather than supplanting it.
The only segment which has dropped, according to Netbiscuits, is feature phones which have declined 12 per cent, but that's almost certainly down to the growth of smartphones.
The full report (available in exchange for the usual personal details) includes Android broken down by screen resolution and manufacturer (basically showing screens getting bigger and Android as the dominant platform by aggregation). Apple continues to be the single biggest manufacturer, so no great surprises there. ®
Sponsored: Minds Mastering Machines - Call for papers now open