Oracle's new T5 Sparcs boost scalability in chip and chassis
Also aims brawny M4 – scratch that – M5 CPU at big-iron workloads
The M5 servers flash back to Enterprise 15K
The Sparc M5 processor is perhaps the one thing that might make it possible for Oracle to wean itself off Fujitsu iron and have a big memory system with lots of cores for heavy-duty in-memory processing and big SMP/NUMA jobs. We'll see once some benchmark tests are run and customers get a feel for the box. It's precisely the kind of chip that Sun should have been able to field for itself a decade ago.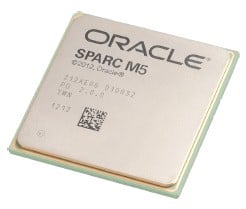 The Sparc M5 is a cache-heavy, core-light
variant of the Sparc T5
The Sparc M5 processor has six of the S3 cores on a single die, with exactly the same eight threads per core and exactly the same cache hierarchy as the Sparc T5 chip. One big difference is that Oracle has removed ten of the cores and plunked down another 40MB of L3 cache memory, for a total of 48MB, in the M5 chip.
Another big difference between the T5 and the M5 is that the on-chip coherency-control unit and scalability links in the M5 allow for as many as 96 processors to be lashed together as a shared-memory system. And yet another difference is that the M5 can have 32 memory sticks hanging off of each socket, twice that of the T5 chips.
At the moment, Oracle is shipping only one box based on the Sparc M5, with 32 sockets, called the Sparc M5-32 (obviously). Fully configured, this big-iron box weighs in at 192 cores, 1,536 threads, and 32TB of main memory. No one has as much memory in a single image today – not IBM, not Silicon Graphics, not HP, and not Fujitsu.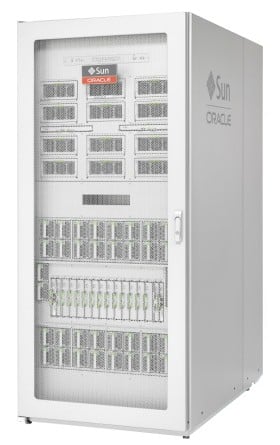 The Sparc M5-32 box puts Oracle/Sun back into big iron
"We look at M5 as being a major leap forward," says Choy. "This is the thing for really big workloads, with 1.4TB/sec of memory bandwidth, 3TB/sec of system bandwidth, and over 1TB/sec of I/O bandwidth." Financial services and telecommunications companies are among the early adopters of the Sparc M5-32 system, according to Choy.
The Sparc M5-32 system fills a rack and has 32 drive bays; you can use 600GB disks or 300GB SSDs. The system has 64 PCI-Express 3.0 x8 slots, up to 32 10GE ports, and a dozen 7,000 watt power supplies. Generally speaking, Oracle says that this M5-32 machine will deliver 1.5X better single-threaded performance than the Fujitsu-based Sparc Enterprise M series machines, and as much as 6X throughput on jobs that just love, love, love threads.
All of the Sparc T5 and M5 machines come configured with Solaris 11.1 Unix, which includes the VM Server for Sparc 3.0 hypervisor, which most of us still call logical domains or LDoms for short.
The earlier Solaris 11 Unix is also supported on the boxes, and you can use older versions of Solaris (8, 9, and 10) in Solaris zones. These are virtual private servers that can run on bare metal atop the Solaris operating system or on a Solaris instance running inside of an LDom partition. The old-style electrically isolated dynamic domains, which allow you to isolate CMUs from each other with hardware partitioning, are options on multi-socket M5 machines as well.
Pricing for the Sparc T5 and M5 machines was not available at press time, but we will circle back and see what these all cost and do the usual price/performance analysis once the data is available. ®
Sponsored: Minds Mastering Machines - Call for papers now open