Gartner magicians mumble, fling bones, scrawl new disk pentacle
None of woman born shall harm EMC, cackle midnight hags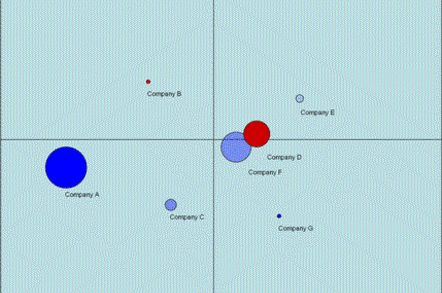 Gartner's magicians have thrown their animal bones and precious relics up in the air and discerned a new pattern in the way they landed; general-purpose disk arrays.
The magicians have invented a new Magic Quadrant (MQ) and say:
Improvements in scalability, availability, performance and functionality of midrange storage systems have blurred the boundaries between network-attached, midrange and high-end storage systems. This Magic Quadrant will help IT leaders understand storage vendors' strategies and market strengths.
Thus EMC's VMAX, VNX and Isilon offerings are included, as are NetApp's FAS and V-Series, Dot Hill's AssuredSAN, and Oracle's ZFS Storage Appliance and Pillar Axiom arrays, as well as X-IO's ISE and HyperISE products. Quite a mix; quite a stretch, even.
The boundaries have been blurred, Gartner says, because these three types of systems - modular, monolithic and scale-out - are each used to provide shared storage services to many physical and/or virtual servers running multiple databases, applications such as SAP, Exchange and Sharepoint, and virtual desktop infrastructures.
Gartner's magicians say the new MQ "will help IT leaders understand storage vendors' strategies and market strengths."
Here it is: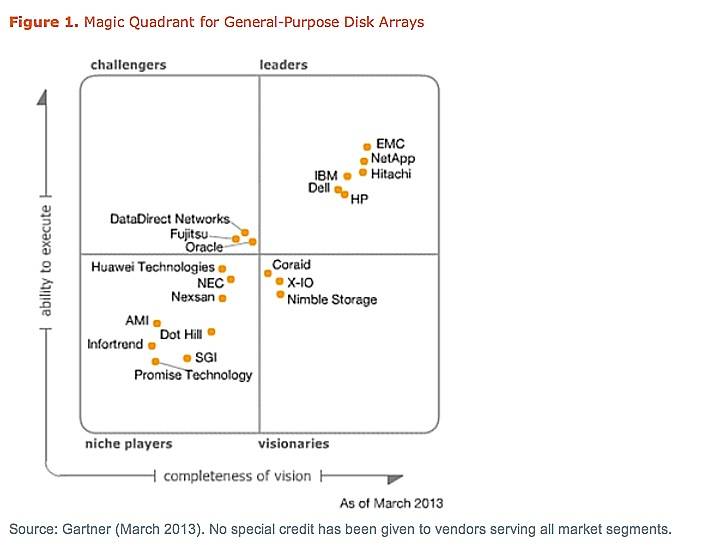 You can read the magicians' divinations about each company here with no registration or fee required; unusual for Gartner. We should thank EMC, which is coincidentally top of the right-hand corner in this chart.
The magicians give each supplier a potted overall description and then three bullet points for strengths and three for weaknesses cautions.
What can we discern? There are no all-flash array vendors included. We understand from Pure Storage CEO Scott Dietzen that an all-flash array MQ is likely to be delivered by Gartner by the end of 2013 though. That will be interesting to see.
This lack of all-flash array content, in the view of the Vulture storage desk, severely limits the applicability and usefulness of this general-purpose disk array MQ evaluation of "storage vendors' strategies and market strengths". Three cursory bullet points on strengths and not-weaknesses-but-cautions per supplier plus an intro paragraph that could be written by any half-decent hack makes the thing far too limited in scope and depth.
An MQ on general-purpose arrays would be equally shallow in its general content but would at least bring in the flash array dimension and give a more rounded view of the suppliers involved. ®
Sponsored: Minds Mastering Machines - Call for papers now open