Flash card latency: Time to get some marks on benches
Chuck out the slicks and platters, and MLC it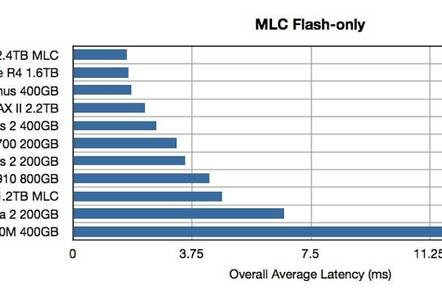 Fusion-io flash cards outperformed a slew of competitors in a Marklogic NoSQL benchmark reported by StorageReview - for which much thanks.
The benchmark rig is detailed in the article text and it notes that tested storage configs must have a more-than-650GB usable capacity, meaning individual flash devices can be bunched up.
Here's the chart graphing the overall latency results:-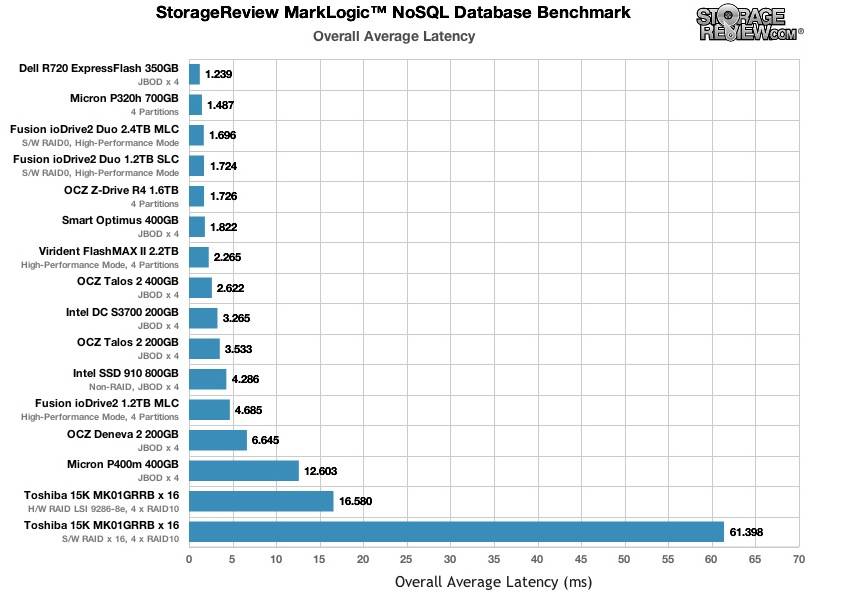 Hurts your squinting eyes? Click on image for instant relief.
The chart ranks various flash products in order of overall latency on a MarkLogic NoSQL database benchmark and it looks like the top two results show Dell and Micron blowing virtually everybody else out of the water, and so they should. Both of them use fast SLC flash and the Dell one is based on Micron's P320h SSDs. So let's discount these as all the others, except 4th-placed Fusion-io (FIO) ioDrive2 Duo, are all slower multi-level or layer cell (MLC) flash.
FIO's 2.4TB MLC ioDrive2 Duo rules supreme with the lowest overall latency, 1.698ms - not that much slower than the two faster SLC products actually.
The bottom two results use Toshiba 2.5-inch disk drives, one with hardware RAID and the other, the slowest one, with software RAID.
The graph bunches up the MLC flash products. If we toss out the SLC flash products and the two disk drives we can better see how the MLC flash products stack up, by lengthening the horizontal axis.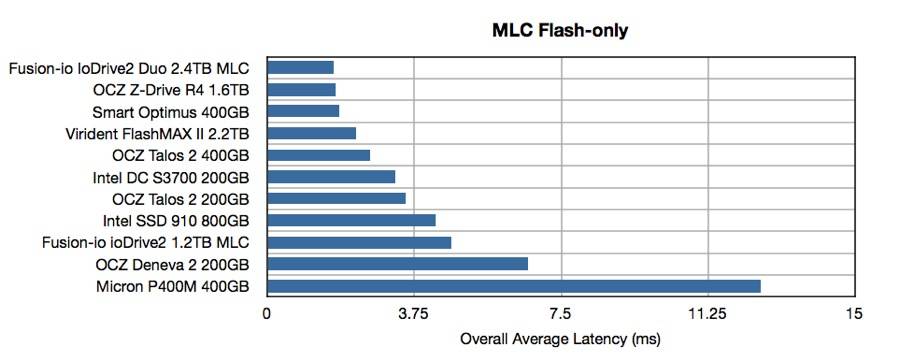 You know already; click on chart for larger view.
There is quite a degree of latency with the bottom four configs having at least twice the latency of the top three. The poor FIO result (third slowest) is based on the ioDrive2 and not the ioDrive2 Duo. The OCZ Z-Drive and Smart Optimus products do very well, better than Virident's FlashMAX II, which is unexpected. Intel does relatively poorly, as do the OCZ Talos and Deneva products.
Read the individual product reviews in the Storage Review article text for exhaustive discussions of the technology involved. Exhaustive I say - and that's me saying it! ®
Sponsored: Minds Mastering Machines - Call for papers now open