Review: Renault Zoe electric car
At last, an affordable, practical, decent looking e-car. WOOT
Power pact
If you want to venture further afield, all Renault main dealers will soon have free charge points installed. I don't have a breakdown of how many will get the faster 22kW and 43kW units though I suspect most will at least have the former. Incidentally, since the Leaf fast-chargers on Nissan forecourts use DC rather than AC, you can't use them to charge up a Zoe.
Looking to the longer term, Renault's battery lease scheme includes a clause that once the maximum recharge capacity drops below 75 per cent, or if the battery ever becomes "non-operational", Renault will fit a new one. The strikes me as a major advantage over the Leaf and removes the potential worry about lifetime battery degradation.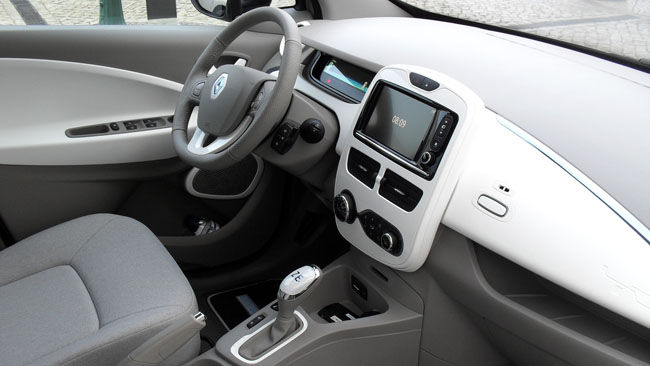 Cabin is airy and bright, the seats very comfy
When the time comes to sell your Zoe, the battery lease is simply picked up by the new owner.
To help maximise range, Renault has cooked up a three-part system called Range OptimiZEr, which includes a new and more efficient regenerative braking system when compared to the one in the Fluence, a heat pump that compresses and so heats air to warm the cabin, and new low-resistance Michelin EV tyres.
Whatever the energy saving characteristics of the tyres they seemed to have no untoward effect on ride, grip or handling, I'm pleased to report.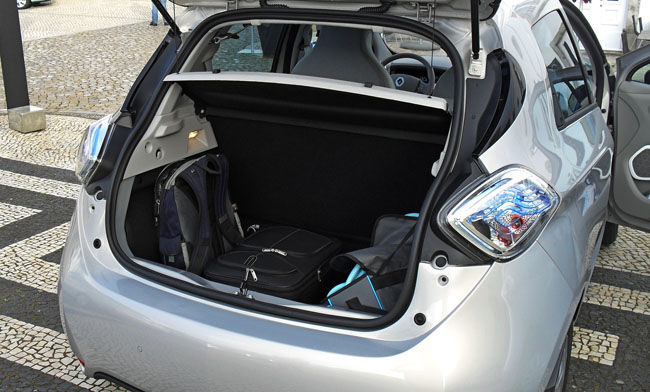 The boot is a good size. Oh, and note the details in light cluster
The cherry on the Zoe cake - and arguably its most important feature - is that it is genuinely affordable. In the UK the entry-level model is yours for £13,650 after the British government's plug-in car grant. On top of that you'll need to find £70 a month for the cheapest 36-month battery lease. That's equivalent to just over 50 litres of unleaded at pre-Budget prices.
Those numbers make sense to me. Assuming you pay cash on the nail and cough up the first 12 months' battery lease, you will still have change from 15 grand which is the same as you'd expect to pay for a similarly sized five-door hatch with a petrol engine under the bonnet.
The usual Doubting Thomases will by now no doubt have started to howl and moan about what they see as the Zoe's and, indeed, every other EV's fundamental impracticality. Quite why, I don't know.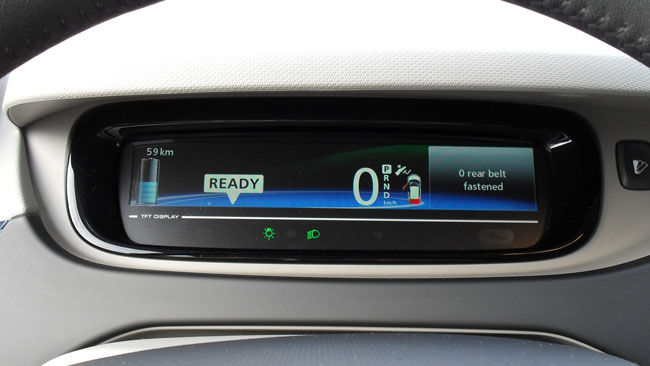 The display is simple and non-patronising
If you need a car that can travel further than 75-odd miles, the Zoe is quite obviously not the car for you. Bitching about it makes as much sense as complaining that you can't get a three-seat sofa and five fat blokes in a VW Up. Of course you can't, so don't buy one.
The same goes for people who question the practicality of EVs because they happen to live in a place where they can't have the (free) wall-mounted 13-amp charge box installed. That's not a problem for me, or my neighbours, or most of my friends, or a lot of other people. If it's a problem for you, that's just hard luck.
The Reg Verdict
As you should have surmised by now, my time with the Zoe left me impressed. Stylish, refined and a hoot to drive, it's a cracking little car and, thanks to the pricing structure, buying one isn't out of the question. Clearly a public charging infrastructure a little less medieval than the one in the UK would be handy, but even as that stands I could live with a Zoe on a daily basis as my only car and leaping between Renault dealers' chargers makes it possible to venture even further afield.
Of course, this review will no doubt draw the usual flak from libertarian yahoos who seem to object on principle to any product even partly inspired by the need to try to reduce the all too obvious causes of climate change. But much to their chagrin, and that of EV-haters in general, the Zoe makes a very convincing case for itself. Not a convincing case as an EV, mind - a convincing case as a car. ®
Sponsored: Minds Mastering Machines - Call for papers now open

Review: Renault Zoe electric car
Renault produces a great looking e-car that's reasonably priced too - and has a novel way of maintaining battery performance.
Price:
From £13,650 (with Govt e-car grant) RRP