Review: Renault Zoe electric car
At last, an affordable, practical, decent looking e-car. WOOT
Impressive interior
The dash is again Clio-esque but none the worse for that, and the seats are simply superb. I've never parked my backside on anything this comfortable in a B or C class car. All-round visibility is good too, making the Zoe very easy to drive down the narrow twisty lanes that crisscross Lisbon.
To drive the Zoe is little different from any other car with a good automatic gearbox: just get in, push the start button, snick the console-mounted gear selector into D and away you go. The dash is very easy to understand and mercifully devoid of excessively patronising eco signage.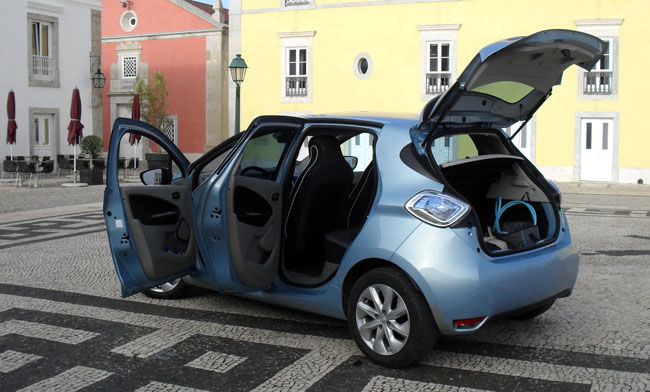 Looks like a three-door but has five
For navigation, entertainment and Bluetooth telephony, the Android-based R-Link touchscreen telematics system has been carried over from the Clio.
R-Link is a GSM-connected system and in the Zoe it also supports the My Z.E. Connect and My Z.E. inter@ctive (sic) systems, which let you monitor and, in the case of inter@ctive, manage your Zoe remotely through either a web browser or a smartphone app.
Interior space for both people and kit is generous and a major advance from the Fluence, which has a compromised boot thanks to the vertical battery pack designed to work with Better Place's quick-drop robotic battery swap docks.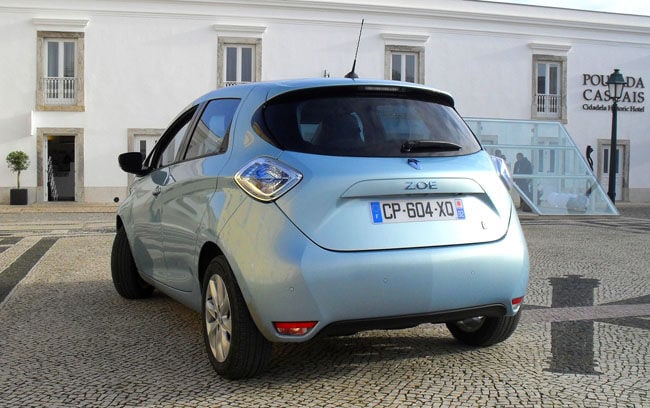 Electric blue exterior detailing shows its an EV
Renault's engineers told me that the Zoe has been designed with one eye on quick-drop so adding it as a feature in a mid-life refresh wouldn't pose too many problems should the need arise, though the system won't be compatible with Better Place's existing stations.
Under the large Renault diamond on the Zoe's schnoz is the now standard Type 2 power connector. It's what Renault calls a Chameleon charger, meaning you can connect it to a 3kW, 22kW or 43kW power source for standard, accelerated or fast charging.
The second and third options will charge the Zoe's 400V, 192-cell, 22kWh battery from near flat to 80 per cent of maximum capacity in 60 or 30 minutes, respectively. I've not tried a 43kW charger but the 22kW unit I used in a multi-storey car park in Lisbon worked exactly as advertised.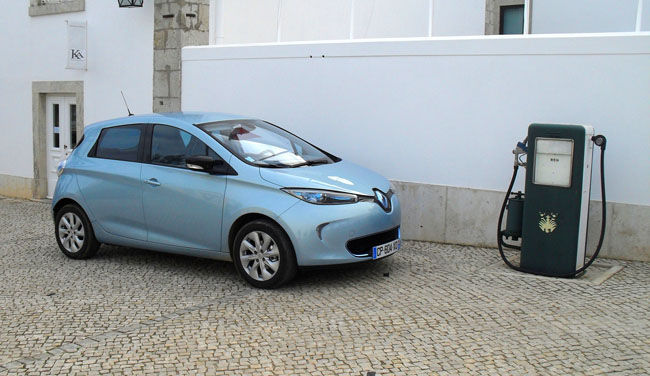 Don't need no steenkin' petrol pump
The standard test cycle maximum driving range of the Zoe is 210km but, as Renault makes clear, this is as irrelevant as an ICE car's fuel consumption figures. Renault's actual quoted range is between 100 and 150km.
Every time I pushed the On button on a charged Zoe I was shown a 125km (77 miles) range. No matter how I drove, the combination of distance covered and distance projected never dipped below that. Careful driving and use of the power-limiting Eco button saw the combined projection rise to over 145km (90 miles).
So despite the smaller battery pack my experience was that in everyday driving the Zoe has pretty much the same effective range as Nissan's Leaf: around 75 to 80 miles. A reliable indication of touring range is of course key to lessening range anxiety, and Renault seems to have cracked the problem with the Zoe. What you see on the dash is what you get.
Sponsored: Minds Mastering Machines - Call for papers now open