Virgin Media boss to Osbo: Bung city fibre cash into small biz
ISP boss reckons UK.gov should spend £75m getting offline firms online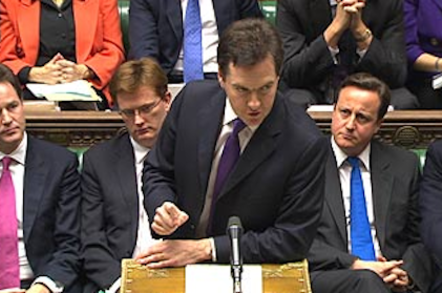 Analysis Virgin Media has said it before and it's saying it again: the cable company wants the UK government to take at least half of Blighty's £150m set aside for urban broadband rollouts and pump it into improving digital skills in small businesses.
This time, in a well-spun missive to Chancellor George Osborne ahead of Budget Day, today, VM's outgoing-boss Neil Berkett urged Britain's thin-lipped occupant of Number 11 to ditch a large amount of the broadband investment plans for major cities around the UK in favour of splashing around £75m on helping little firms to get to grips with the internet.
Virgin Media pointed out to The Register that Berkett was simply chiming along with chirpy Web2.0 darling and soon-to-be Baroness of Soho Martha Lane Fox, who has spearheaded the government's "digital-by-default" agenda to get public services online. An agenda with no provisions in place for the 7 million poor, disabled or elderly Brits who don't have any access to the internet.
Berkett's concerns apparently lie with building "economic growth through the expansion of digital skills across UK businesses" with a particular emphasis on supporting small companies in Blighty.
Using stats produced by Go On UK - a charity vehicle which counts TalkTalk and EE but not Virgin Media as some of its biz partners and has Lane Fox as a board member - Berkett argued in his letter to Osborne that the "most digitally mature" outfits were "three times more likely to have seen growth than those who operate entirely offline".
Berkett then warned that digital technologies were not being fully used by British businesses. He told Osbo:
Only two-thirds have a website and a third sell goods and services online. Both the government's own 'Digital Champion' and e-skills delivery body identify the central barrier to small businesses realising those benefits as a lack of practical, digital skills and shortage of resources to undertake digital training.

Seizing this opportunity to drive the UK's economic recovery will therefore require action from government to support small businesses to better understand and utilise the benefits of digital.
Virgin Media's chief - who will exit the telco once US cable giant Liberty Global swallows the firm this year - reckoned that the divvied up urban broadband cash could help SMEs "boost training and digital capability" among those companies. He noted that the cash could also be funnelled through existing programmes designed to jumpstart small businesses on to the web.
As for government investment in the fattening up of broadband pipes in cities, funds will be dished out to councils which will then select suppliers to bid for contracts to fit high-speed web connections for Brits.
Meanwhile, as for the countryside, the UK gov's £530m subsidy pot to fund new rural broadband connections was finally approved for use by the European Commission late last year, but BT is the only company to have bagged any of the cash. Fujitsu - the only other preferred bidder in the process - pulled out of the race, effectively leaving BT with a virtual monopoly.
The concern among some is that the urban broadband fund will - like the bumpkin cash splurge - eventually end up exclusively in the hands of BT. Which might explain Virgin Media's attempts to get some of that cash siphoned into the government's digital agenda.
Some politicos have had similar sleepless nights about Britain's national telco. Labour peer Lord Stevenson of Balmacara had this to say in Parliament on Monday during a debate about broadband in Britain:
Surely the government's central objective for broadband interventions in both rural and urban UK markets should be to create the conditions in which private-led investment and innovation can flourish. Yet the policy to date has suffered from what seemed to be fundamental weaknesses.

The rural broadband programme... has failed to stimulate private, competing investment and will be awarding £1bn of public subsidy to a single incumbent [BT]. The urban broadband fund risks critically undermining continued investment in broadband capacity by overbuilding existing networks, and not enough has been done... to promote usage.

It must be a real concern that the government have failed through their rural broadband intervention to replicate the conditions of infrastructure-based competition that have served the urban market so well.

Markets that benefit from infrastructure-based competition are better served in terms of innovation and penetration than those in which the incumbent is placed under no pressure to supply better, cheaper products.
Fujitsu has said that it will now chase urban broadband contracts by once again bidding for the government's cash at a local level. But the Japanese tech giant has its own problems to deal with given its "high risk" tag when it comes to pursuing new public-sector contracts. Perhaps it should give up and join Virgin Media by flattering Baroness Lane-Fox instead.
As for a soon-to-be £42m-richer Berkett, he may perhaps be fishing around for an advisory role within government once his tenure at Virgin Media comes to an end. ®
Osbonote
The Register will bring you full coverage of Osborne's Budget Statement later today.
Sponsored: Minds Mastering Machines - Call for papers now open