Upstart Starboard Storage cuts staff, looks to flog biz
Left turn for LeftHand founder's firm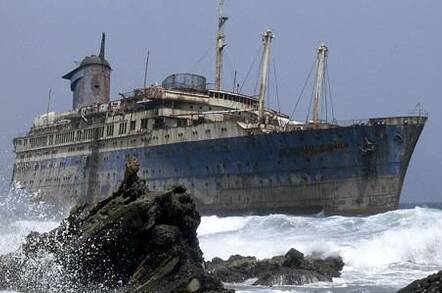 It's a crash, not a burn, but definitely a change of direction for startup Starboard Storage, which has put up a For Sale sign. The apparently rejuvenated Reldata counts none other than LeftHand Networks founder Bill Chambers as its CEO and exec chairman. But it appears staff have been laid off and the company is hardly selling any products. So what happened? El Reg storage desk spoke to Starboard, which confirmed the cuts and its interest in selling the company.
The company has put out a statement about its pursuit of "strategic options", including the potential sell-off of the business itself:
Starboard Storage, after inquiries by strategic players, decided to pursue a new business model and focus on these opportunities. The board of directors and the executive team believe that this is the best path to accelerate the adoption of our innovative products and technology, as well as serve the interests of our existing customers and continue to grow the customer base. This move coincides with a new investment from our existing investors. As a result of this strategic decision, we have restructured the business to focus on the engineering of our core intellectual property.
Starboard's president, ex-LeftHander Tom Major, told El Reg:
Yes, Starboard Storage has made staff cuts – We scaled back sales and marketing resources as we are dialing down external sales activity to concentrate on technology development.
As to how many staff have been let go – [Starboard is n]ot disclosing, but we have retained the engineering team and reductions were in sales and marketing. Most of the exec staff are still with the company: president, CEO, VP of product management, VP of customer service, VP of sales, and CTO. We continue to support our customer commitments, but are only selling new systems to well-qualified customers who understand the company direction.
The board is willing to sell the company. – We received approaches from strategic partners. This was coincident with looking at our next round of funding. The board decided that the best path forward was to pursue these approaches and to that end, our investors have added new investment so that we can drive our technology development and IP to support that objective.
Revenues have not grown fast enough to justify continued attempts to grow the company on its own. - We were getting strong interest in the products and were growing our channel and growing the customer base.
However, the market is crowded and even though we have strongly differentiated technology, the cost of rising above the noise to get the market penetration we wanted was high. Therefore, we have decided to start the conversations with partners that could help us take the technology to market and ensure that customers can benefit from the technology more rapidly.
Hybrid Storage is the right technology for the market and will deliver tremendous benefits to customers. At Starboard, we want to make sure that customers are exposed to the best technology and as a standalone entity that was going to be hard to achieve. We will be releasing a new version of the Starboard OS to our customer base in Q2 with significant new advances in SSD caching and efficiency.
It has taken just over a year to go from hoped-for boom to prospective bust. Starboard announced itself in February 2012, after emerging from the ashes of Reldata, whose unified storage technology it uses.
Reldata had a Sepember 2009 funding round from Grazia Equity GmbH, amount unspecified, when ex-Plasmon CEO Stephen Murphy became CEO. He didn't last long. There was a $13m B-round from JP Ventures GmbH and existing investor Grazia Equity GmbH in May 2012, after Starboard Storage was built on Reldata's remains. There has just been another funding round of an unspecified amount.
At the time of the May funding round, the then-CEO Victor Walker sai: "We will use these funds to expand sales, marketing and operations to support our rapidly growing customer demand." Exec chairman Chambers contributed his positive spin too: "Starboard Storage has great traction within the SME marketplace with more than 50 resellers … Starboard Storage is well positioned for success."
Apparently not. CEO Victor Walker went quietly went in October last year and is now interim president at Parallel Scientific. Starboard lists exec chairman Bill Chambers as its CEO now.
Things were still hopeful a couple of months ago, when Major became president along with a pair of other exec appointees to run engineering and customer service. CEO Chambers said at that time: "I welcome them to the team and I am glad to have such positive news at the beginning of the year. We made significant progress since the company was launched a year ago, and we will share more news in the upcoming weeks."
Indeed, and so he has... news that the company may be looking for a sale.
Chambers chairs a board consisting of a pair of advisors and two reps of Grazia Equity GmbH, Starboard's main funder. The other funder, JP Ventures, doesn't have board representation. It would appear that the board has pulled the plug and that the latest funding round has been made merely to keep the business going until it can be sold.
El Reg suspects that sales did not come up to expectations and Starboard was burning cash too fast, and Grazia pulled the plug, agreeing the latest funding round just to keep the leaky ship afloat until it can be bought into a nice harbour some place.
Grazia Equity will be looking for some recompense for the millions of dollars it has poured into Starboard Storage/Reldata, of, El Reg storage desk guesstimates, $30m or so overall, but is unlikely to make a profit on the deal.
Starboard implied its technology is still healthy, saying: "Starboard will be delivering a new version of the Starboard OS to our customers in Q2 that features advanced technologies, including enhanced caching algorithms, multiple write caches and cache compression, as well as many customer-led performance enhancements."
Let's hope IBM, NetApp or somebody else is enamoured enough of this and the basic tech to buy this rusty Reldata-based ship and keep it atop the waves. Then Grazia could kiss it goodbye and move on, as could Bill Chambers who must be regretting all the effort he's put in to build a follow-on to LeftHand Networks. Unfortunately Starboard Storage doesn't seem to be it. ®
Sponsored: Minds Mastering Machines - Call for papers now open