Review: Sony Xperia Z
The new flagship with tattered sails?
Portable powerhouse
Currently running the show is Android 4.1.2 though Sony is promising an upgrade to 4.2 in the near future. For hardware you get a Qualcomm S4 Pro 1.5GHz quad-core Krait-class CPU with 2GB of Ram and an Adreno 320 GPU. That's a combination that makes the Z go like a privy door when the plague's in town.
To put some hard numbers to that statement, the AnTuTu synthetic benchmark returned a score of 20,450 which is the highest I'd ever seen on a smartphone until the HTC One landed on my desk.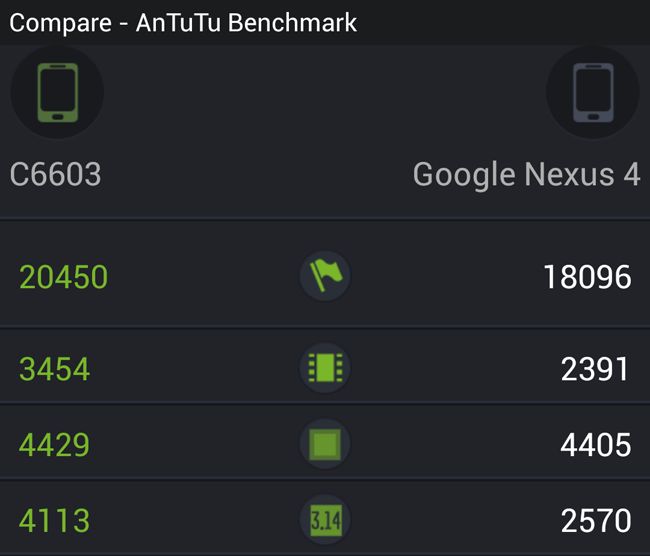 The SunSpider browser test produced a more average figure of 1328. Better than the Google/LG Nexus 4 but not as good as the iPhone 5 or Nokia Lumia 920. Chrome does seem to struggle a bit with JavaScript tests compared to Apple and Microsoft mobile browsers. Tested with BrowserMark 2 and Vellamo, the Z does much better.
Of course this being a Sony you get Android with a serious cosmetic make-over. Sony's rather aged launcher design - the icons look much the same as they did on the very first Android Xperias back in early 2010 - doesn't detract from the user experience but nor does it really add to it.
It's change for change's sake if you ask me and strangely the widgets and icons don't rearrange themselves automatically in the Sony launcher even though that is now a native feature of Android.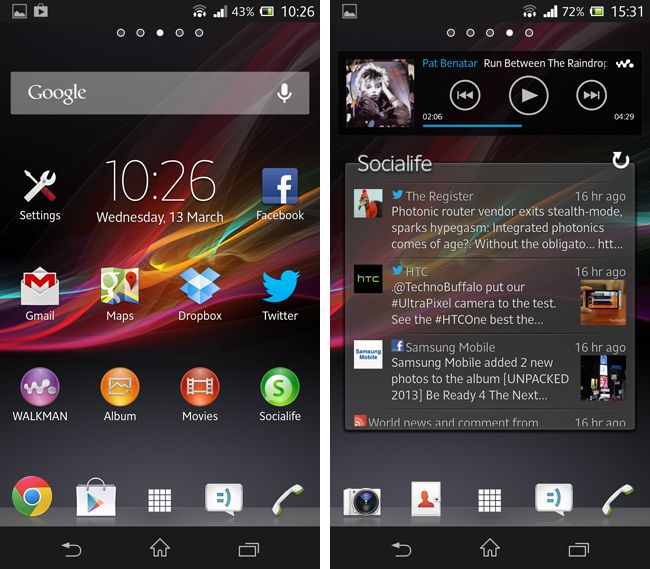 The Sony UI is looking dated
There are quite a few pre-loaded Sony apps which can't be removed unless you root your handset. Most, like the Walkman music player, picture gallery with built-in photo editor and excellent Gracenote-connected video player, are welcome. Others, including the various media stores and rather flaky Socialife (sic) social networker aggregator less so.
A flagship Sony with a half-arsed camera would be unthinkable so the Z boasts a 13Mp main snapper and a 2.2Mp webcam. The latter is a blinder and makes the Z a superb device for video chatting to any friends, relatives or inamoratas in remote places.
The Big Idea in the Z's camera is what's called Superior auto. It's essentially an automatic scene selector which changes colour saturation, contrast, light metering and such like depending on what it thinks it's looking at.
Most of the time the system interferes to the benefit of casual point and snap picture quality but flicking back to basic Automatic mode is a one-touch operation if you think it's got it all wrong. Image quality is generally pretty good if not exceptional while the LED 'flash' is the usual puny and near pointless affair unless you press it into service as a torch.
I'm old enough to remember when flagship Cybershot phones had Xenon flashes and hardware camera buttons. Those were the days.
In terms of wireless connectivity, the Z ticks all the boxes. It supports every GSM, HSPA and LTE band known to man, and comes with Bluetooth 4.0, 2.4GHz 802.11n Wi-Fi and NFC, the last offering one-touch DLNA screen mirroring with new Bravia TVs. Reception was solid across the board and thanks to wideband HD Voice and dual-mic active noise reduction so was call quality.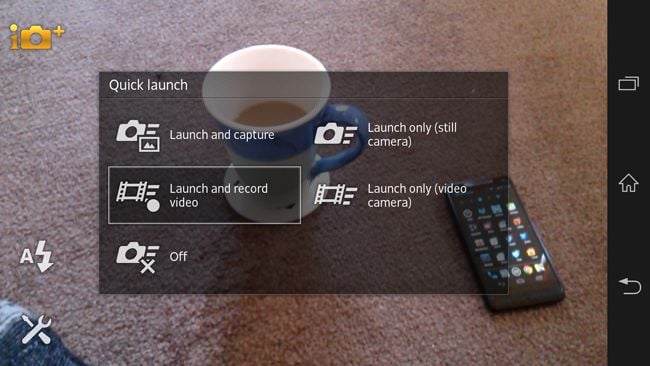 Does the Launch-and-Shoot feature actually work?
While most Android phones running 4.0 and above depend solely on the MTP connection protocol, the Z gives you the choice between that or MSC, which lets you access the memory card card in situ. This means an easier life for Mac and Linux users.
Sponsored: Minds Mastering Machines - Call for papers now open