Review: Sony Xperia Z
The new flagship with tattered sails?
How it must gall Sony to find that along with the likes of HTC, ZTE and LG it is now firmly in the second division of Android phone makers, floundering in the spume and wake of the global sales monster that is Samsung.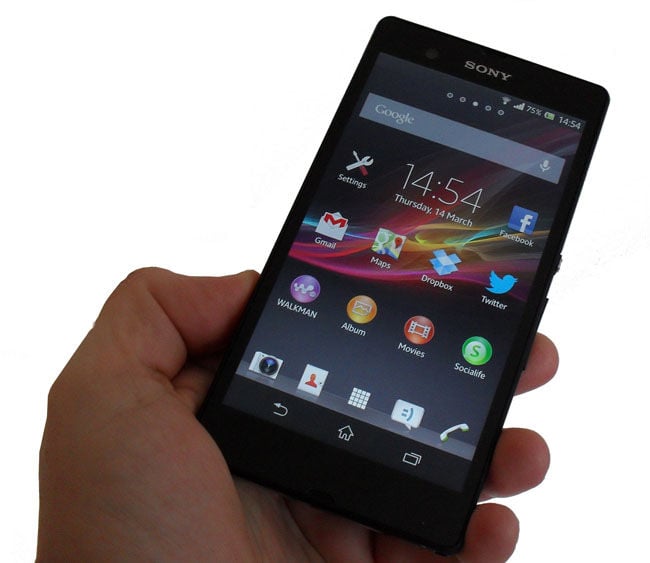 Xperia Z: a bit of a slab
Personally I blame a ludicrously complex model portfolio as much as lacklustre hardware. Can anyone list the current crop of Xperia handsets off the top of their head? No? Thought not. The opportunity to make things simple after the ditching of the Ericsson brand was squandered so it's back to the drawing board we go.
Indeed, the first thing you notice about Sony's new flagship, the Xperia Z, is that the firm's designers have ditched all the familiar Xperia design language in favour of something startlingly generic. The Xperia Z is frankly a bit of a slab.
Now let me qualify that by saying it's a very elegant and well proportioned slab. Any device that can house a 5-inch, 1920 x 1080 screen in a body that weighs 146g and measures only 139 x 71 x 7.9mm gets a thumbs up from me. Keep in mind that's only 0.3mm thicker and 12mm wider than the diminutive 4-inch iPhone 5.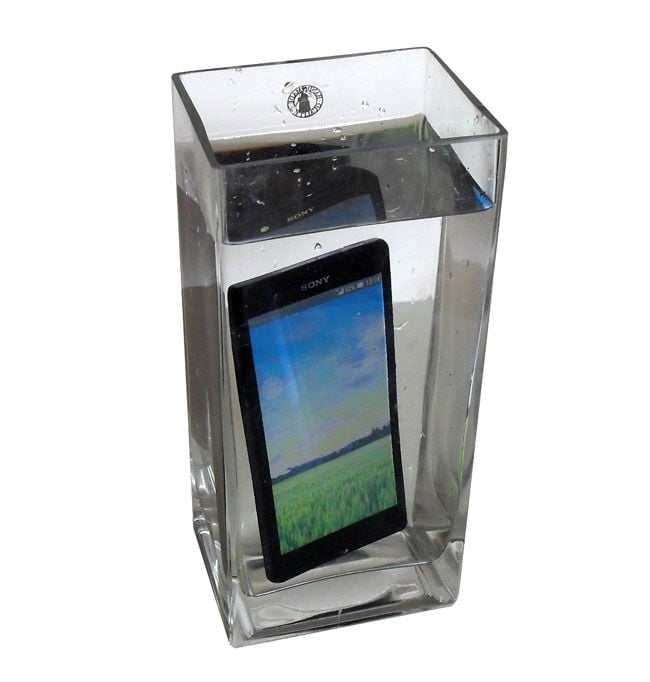 Yep, it's waterproof
As an exercise in packaging it's a top effort and Sony deserves kudos for the excellent placement of the large on/off button and volume rocker, which fall to hand very easily even when holding something this size.
But it is a tad plain and featureless when you look at it alongside the iPhone 5, the HTC One, the or the Nokia Lumia 920, let alone the Galaxy S4. Sony seems to have reacted to criticism that previous Xperias were overdesigned by underdesigning the Z.
And I'm a little worried about the narrow gap between the screen and chassis that includes the earpiece and mic cut-outs. It collects dandruff, dust and other nonspecific detritus.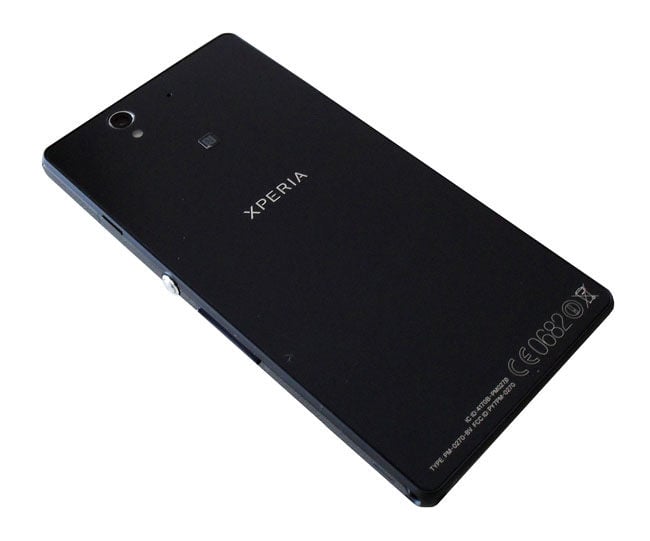 The back, like the front, is all glass
On the plus side, it's as solid as you could possibly desire a handset to be and it has IP57 certification for water and dust resistance. That means flaps covering all the ports and sockets but at least once you've prised them open you get an MHL-enabled micro USB port with USB host support and a micro SD slot to back up the 16GB of internal storage.
Like any handset covered with glass front and back - it's not Gorilla Glass but some other type of toughened, shatter-proof glass - the Z is a fingerprint magnet and can sometimes get to feel a bit sticky. Buy the black one and you'll be forever polishing it. I'd suggest going for the white unless you are happy looking like you have OCD.
The 441dpi screen looks very impressive. Put it alongside any 1280 x 720 Android or Retina iPhone display and I guarantee you will be impressed by the crystal clarity and ultra-sharp definition. The latest version of Sony's Mobile Bravia Engine further enhances proceedings by sharpening images and reducing noise when you are looking at still pictures or video.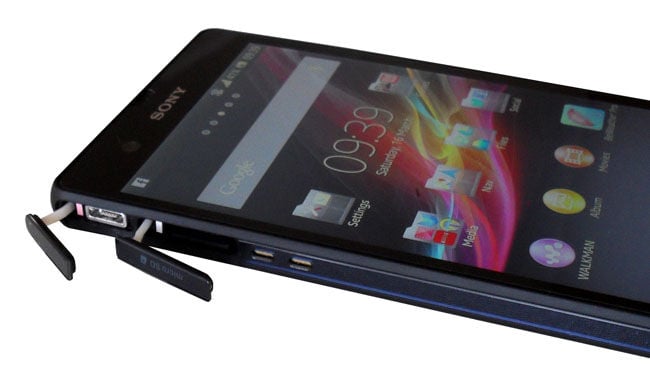 Covers keep the ports free of fluff
Reflections are kept impressively at bay too thanks to some jiggery-pokery concerning the way the various layers of the screen are bonded together.
COMMENTS
Re: watching video is surely one of the reasons you'd buy an Xperia Z
I've sat and thought quite hard and I'm struggling to figure out how a phone can ring, or play some fancy ring tune or MP3 or whatever to alert you to the fact you have a call/text/alarm/etc without the use of a built in speaker, unless you have the volume really loud or plug it into an external speaker.......
They gave me a free pie
I lost my phone a few days ago (sob sob) and so was thinking about what phone to get, when Sony turned up at my work showing everyone it and gave everyone a free pie. So when I was thinking of what phone I took the following into account:
- Well Samsungs newer model is a while away and I need one today
- Apple is yesterdays technology at tomorrows prices, in chrome
- All phones have different features, none of which I will ever use
- All phones are phones
- Sony gave me a free pie
I'll take the Sony.
My review...
It's doing ok, not tested the water feature, and probably never will. The camera is ok at stills but rubbish if the object is moving even slightly (even with their 'special' technology activated, the menu's are just as confusing as all phone menus, it runs android so all apps are fairly consistent, screen quality is good, the sound quality on calls is actually very impressive compared to the htc sensation and iphone4s i had in the past.
Oh and 3 days after buying it I found my old phone in the boot of my car under a box.
Re: Just Puked In My Mouth A Bit
You have posted on the wrong thread, this is for the Sony Xperia Z not the iPhone 5.
Re: watching video is surely one of the reasons you'd buy an Xperia Z
I agree with the comments here. I have never used the loud speaker for any length of time to watch a video. Just for showing a youtube clip to the wife so not really bothered about that.
Also - Why should I care that the screen doesn't so good when looked at from the wrong angle? I always watch videos with the device (usually a Nexus 7) pointed roughly at me. And the fact that the colours aren't all over saturated like on the Samsung phones also isn't a minus point.
I also agree with the point someone made about good support for custom ROMs due to Sony being good with open source stuff.
I'd be tempted by this phone if I could afford £500 but with a Nexus 4 available for £280, I'll have to stick with the cheaper option.
Re: "Currently running the show is Android 4.1.2 though Sony is promising an upgrade to..."
>Sony promising. Precisely why I wouldn't get one.
All of last year's Xperia phones have been upgraded to ICS, and most of them are receiving a Jelly Bean update this month. When I got my Xperia P, many of the online forums echoed the negative view you have just expressed re Sony's abandonment of 2011 models, so it seems they have listened and upped their game.
-http://www.techradar.com/news/phone-and-communications/mobile-phones/sony-starts-rolling-out-jelly-bean-for-xperia-users-1130304