Dot Hill in a dot hole: Disk array builder struggles to stem losses
What next for the mid-range drive vault biz?
Disk-array constructor Dot Hill's newly released financial figures for last year reveal a falling revenue trend and a struggle to reel in losses.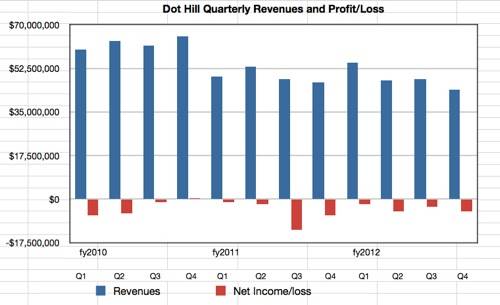 Dot Hill's quarterly revenues and losses (Click on chart for a larger version)
The company, which has offices in Basingstoke, UK, supplied hardware to Sun and Oracle, then NetApp and HP. Such vendor contracts rise and fall; it also sells through a reseller channel. The main product is its AssuredSAN array line which it punts at mid-range customers looking for performance, enterprise features and value - it's a rather traditional mix.
We wrote a year ago that supplying drive enclosures to mainstream computer makers is a mug's game. There are no startups here; they're all in the solid-state storage and cloud storage areas. But Dot Hill is wedded to vendors and has nowhere else to go.
And that's still pretty much the state of play today, a year later.
Apart from a near derisory $0.3m profit two years ago the Colorado-headquartered company has suffered a string of quarterly losses. The annual picture is no different; four years of losses and declining revenues since 2010.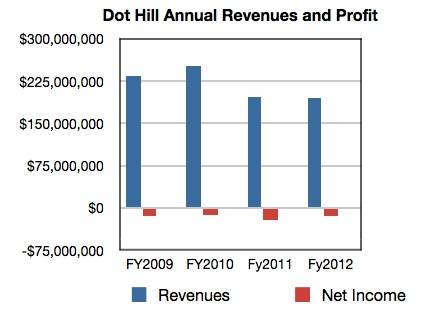 Dot Hill's annual revenues and profit/loss since 2009
With every quarterly report the CEO provides encouraging words of how the company strategy is working: there are signs of growth, yet the growth never really gets going and Dot Hill makes loss after loss after loss.
Look at the share price since 2006. The share price reached $7.10 on 31 March that year. It has never been up at such a giddy height since. The shares are now trading at $1.05. Investors have lost money. The company has lost money. The company is still losing money.

Google Finance chart for Dot Hill (Click on it for a larger view)
Rival Xyratex is moving into HPC arrays with its ClusterStor product. And LSI exited the private-label computer manufacturer drive-array business, selling off Engenio to NetApp. In El Reg's storage desk's opinion, Dot Hill is moribund, stuck in a swamp and going nowhere; it needs to do something decisive to get out of it. ®
Sponsored: Minds Mastering Machines - Call for papers now open