Build a BONKERS gaming PC
Money to burn? Put it to use building a monstrously powerful games rig
Mental memory
You'll need a decent amount of DDR 3 memory for your bonkers PC. In theory, you can populate every memory slot in a motherboard but this can cause instability even if the memory is guaranteed for that particular motherboard. If you want an easy life, use two modules in a dual-channel LGA1155/AM3+ motherboard and four modules in a quad-channel LGA2011 system.
Crucial has some superb tools on its website to suggest memory that will work best with your PC components, but the key point is that a dual-channel 16GB kit of 1866MHz DDR 3 will cost about £100 and a 32GB quad-channel kit will be double that. I went for the G.Skill RipJaws Z RAM set because it delivers very decent performance, the funky heat spreaders looks good and the price is fair.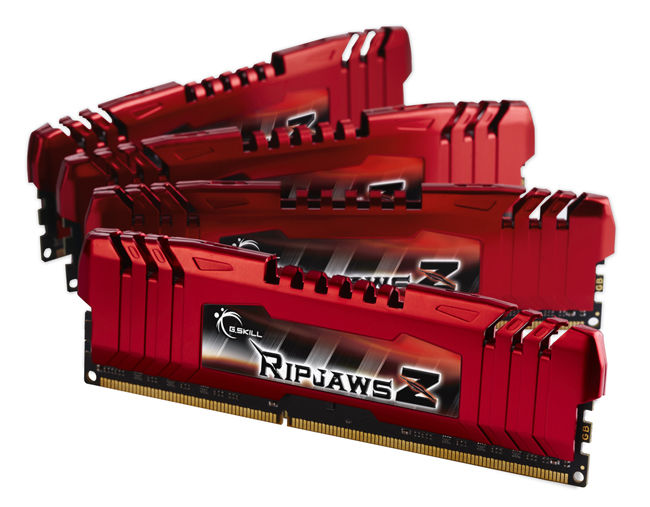 G.Skill RipJaws Z RAM memory
Off-your-conkers cases
The next step is choosing a case. A decent case is much more than a plastic, steel or aluminium box that holds the components, and will cost you about £100 without power supply.
The case needs to be large enough to accommodate your motherboard and graphics cards but other than that you have a clean sheet of paper. The features I look for are a decent opening in the motherboard tray to give access to the rear of the motherboard once it is mounted in the case. This improves cooling and it also allows you to swap CPU coolers and back plates without dismantling your PC. Cable management grommets allow you to feed cables around the PC without creating a tangled mess that looks ugly and restricts airflow.
You should look for a case that supports USB 3.0 ports as USB 2.0 is a thing of the past. The tower of drive bays will very likely accommodate eight or more drives which is far more than any of us need. The smart case designers break the drive towers into modules that you can remove to create more space inside the case for longer graphics cards. Plenty of cases offer near tool-free assembly. The side panels are secured with thumbscrews, the front and top panels pull off and the drives are secured with clips that pop into the screw threads on either side of the drive.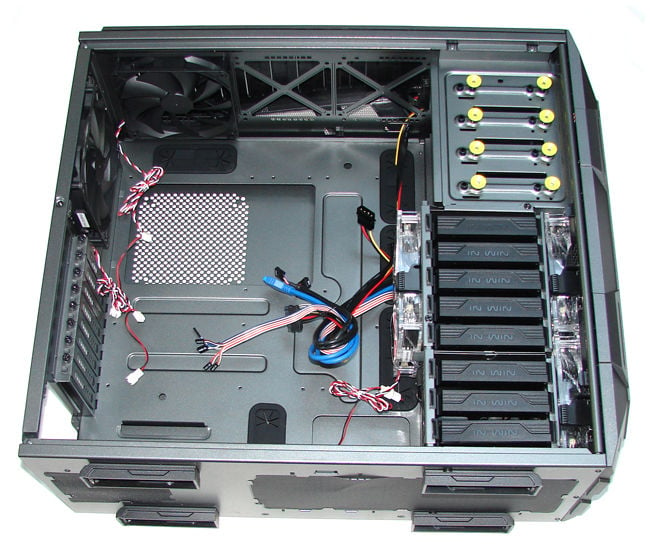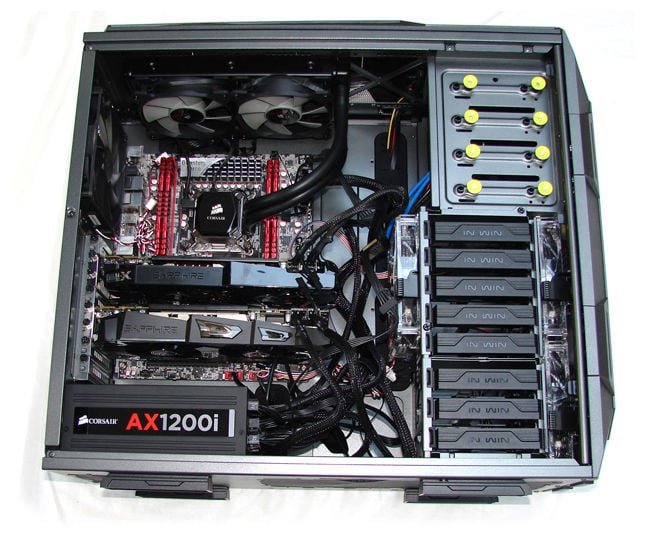 Easy access: In-Win's GRone 5 case empty (top) and full
Some people like to buy a case that offers the maximum potential for cooling, with two fans in the front, top, rear and the bottom of case, and these will be a minimum of 120mm in size with options for 140mm and perhaps a monster 200mm fan in the top of the case or the main side panel. I prefer to avoid buying a case that resembles a piece of Swiss cheese and instead choose one that offers discreet vents that allow the air to flow without too much noise.
Any decent case should include dust filters that prevent the innards of your PC from getting yucky.
Preposterous power supplies
When I tested the Sandy Bridge Extreme PC with three AMD Radeon HD 7950 graphics cards, the maximum power draw figure I saw at the mains plug was 500W so it seemed that an 800W power supply unit (PSU) would be more than adequate for the job in hand. I made a call to Corsair for an AXi PSU and was surprised to receive a monster 1200W AX1200i that costs a jaw dropping £265.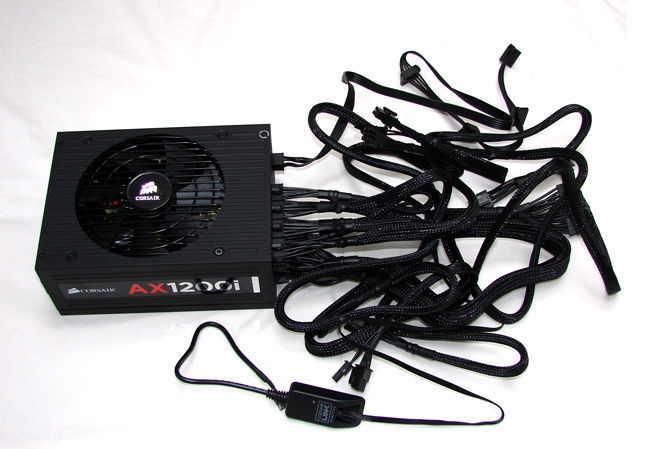 Corsair's cable monster: the AX1200i PSU
Unfortunately, the AX1200i turned out to be rather less extreme than I first hoped and is actually rather sensible. This 1200W PSU has detachable cables so you can plug in a selection of six peripheral cables, six PCIe cables and the motherboard power cables. In addition, the PSU has a self-test function and it is rated at over 90 per cent efficiency which is all very laudable but not exactly unique.
Where the AX1200i and its 760W and 860W brothers go completely off piste is the command and control technology. This is by no means a review of the AXi but it's worth noting that this PSU has integrated DSP (Digital Signal Processor) and a control cable that looks like it might be used for fan control. In fact, this is the Corsair Link USB adaptor, which hooks up to the Corsair Link software so you can, for instance, view your real-time voltage regulation and fine tune the amperage on your PCIe connectors in order to give more to the primary video card and less to the secondary card.
Sponsored: Minds Mastering Machines - Call for papers now open