Build a BONKERS gaming PC
Money to burn? Put it to use building a monstrously powerful games rig
Fruitcake form-factors
Once you have settled on a processor you need to give thought to the form-factor of your PC as that will drive your choice of motherboard and case. It's a fairly safe bet to plump for a regular ATX model - 305 x 244mm - but you might need to consider going a bit further if you want lots of graphics cards - and being a builder of Bonkers PCs, you do, don't you? In which case E-ATX (Extended ATX) is the logical choice.
WATX (Workstation ATX) can be safely ignored unless you plan on using two or more processors. You might like to take a look at the £560 EVGA SR-X dual-socket LGA2011 motherboard for a truly insane motherboard.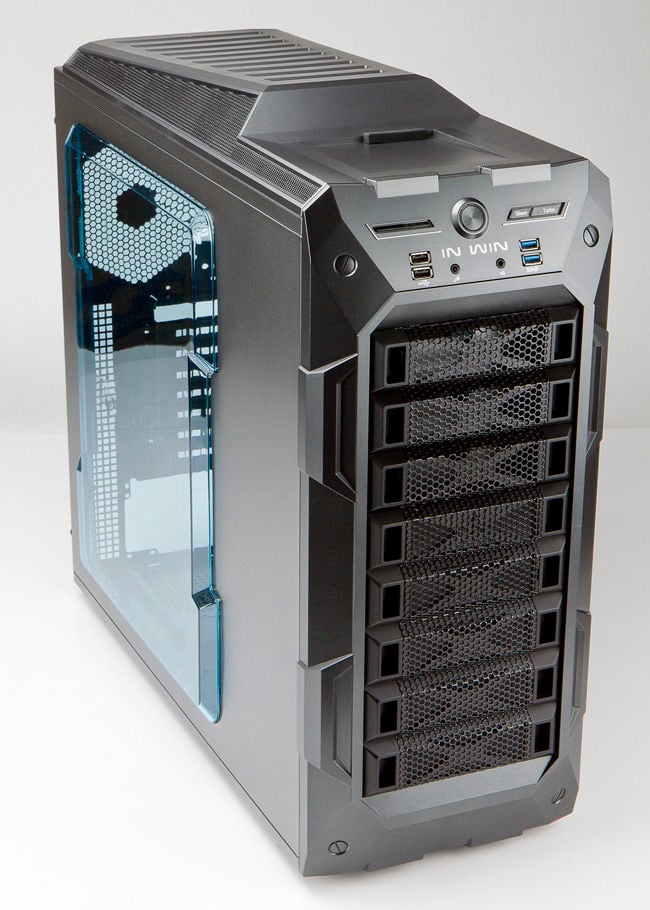 Case hardened: In-Win's GRone 5
Maniac motherboards
Time to select a motherboard. You need the correct chipset for your chosen processor and at the high end that boils down to Intel's X79 for LGA2011, Z77 for LGA1155, or AMD's 990FX for AM3+.
Problems are likely to arise if you feel a yearning for a beloved piece of legacy hardware such as a sound card or an obscure peripheral that demands a particular port or interface. There is a usually a solution to the problem, but once you start to add items to the 'Features I simply must have' list, you can rapidly find your choices become restricted. For instance, if you want to build an Intel LGA2011 system and need a PCI-X slot for a Raid card, you'll find your choice of motherboard is restricted to server motherboards, such as the Supermicro X9SRE-3F.
Or you might be smitten by the rather good Sapphire PURE Black 990FX motherboard and its six PCI Express (PCIe) x16 slots but feel unwilling to ditch your PCI Sound Blaster card, in which case you will have to change your plans.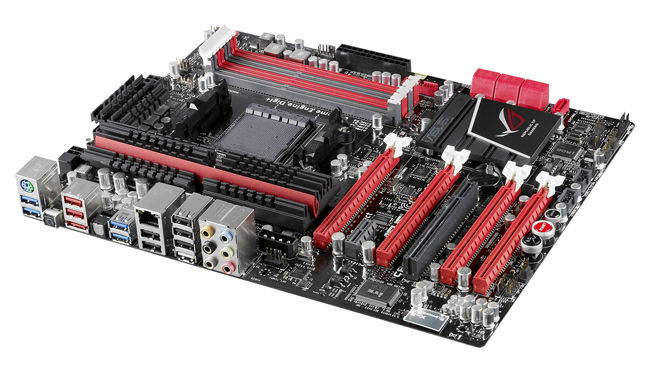 Asus Crosshair V Formula
You'll avoid these problems if you can start your build from scratch and do away with legacy devices such as IDE optical and hard drives. You should count USB 3.0 as your friend and ignore any expansion card that pre-dates PCIe.
The big four enthusiast motherboard brands are, in my opinion, Asus, EVGA, Gigabyte and MSI, with Sapphire right behind them and ASRock, Foxconn, Intel and Zotac bringing up the rear. I have had good experiences with every one of these brands but also occasionally look at a motherboard and wonder what the heck the designers were thinking.
I have never - that is NEVER - had a bad experience with an Asus Republic of Gamers motherboard and consider that to be the default choice for anyone who is prepared to pay top money for decent hardware.
The main features you need to consider when you choose a motherboard are the chipset, processor socket and the number of PCIe 3.0 graphics slots. If you want to use more than one graphics card, you should pay careful heed to the split of the PCIe lanes between the various slots. Some boards give 16 lanes to the primary slot and make the other slots fight among themselves for the remainder, while other boards split the lanes eight each between the first two slots. Premium motherboards should provide enough bandwidth for every slot.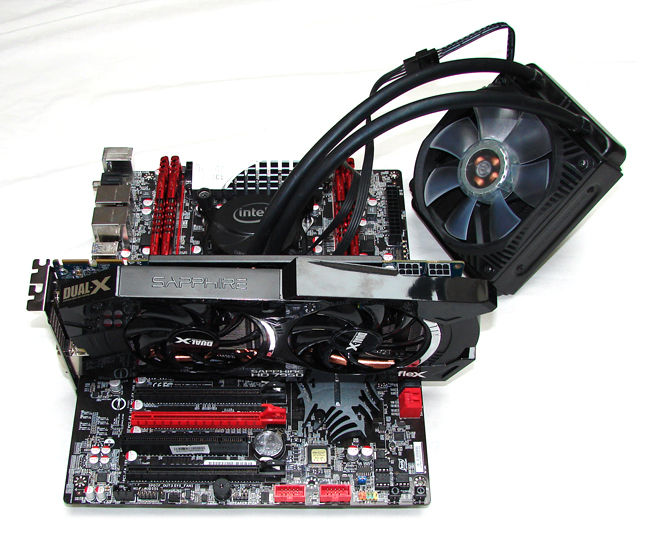 Foxconn's Quantumian-1 motherboard: good performer
Pay close attention to the headers, connectors, debug display and micro buttons and consider whether they will be available for use or covered over by your second or third graphics card. You shouldn't have any issue with the number of Sata connectors but would be wise to check that they are laid down flat, rather than standing vertically, to ensure the cables feed away from your graphics cards and can be easily connected.
Naturally you will want a decent number of fan connectors. Once you get beyond three connectors you have probably got enough cooling and most high-end motherboards now support five or six fans.
Sponsored: Minds Mastering Machines - Call for papers now open