Cloudfather Tucci meets with EMC clan, analysts to talk strategy
Storage control, SDN, flash and cloud editions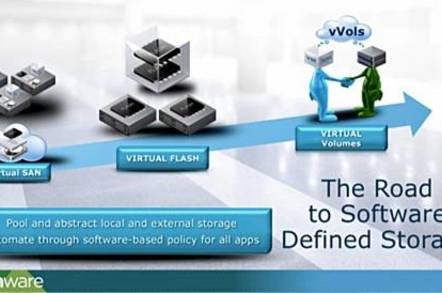 EMC and VMware held their so-called Strategic Forum - aka analysts' day - in New York yesterday with capo di Famiglia Joe Tucci setting out the overall stall and his lieutenants setting out their own strategic imperatives. We saw David Goulden for EMC - now called EMC II - and Pat Gelsinger for the cloud and software-defined-data centre-focused VMware. Paul Maritz was also there to discuss the life of PI - the Pivotal Initiative - in which he sits on a lifeboat on a sea of data and tames the Big Data tiger.
According to Stifel Nicolaus analyst Aaron Rakers, Goulden revealed a coming transformation in EMC's storage control software thinking and cast light on the relative costs of flash and disk. Here's what we gleaned from EMC's slides, webcast, and Raker's notes.
Flash and hybrid arrays
Goulden thinks that the price difference between flash and hard disk drives (HDDs) will still be an issue at least until 2016. He made the following points:
PCIe MLC flash is about 30 to 40 times more expensive than SATA - capacity-optimised - HDDs in $/GB terms, he expects this to remain constant through to 2016.
SSD flash is around 20 times more expensive than these SATA drives.
SSD flash is around 10 times more costly than 10K and 15K SAS and Fibre Channel disk drives and this should narrow to an 8X differential by 2016.
These differentials take HDD technology advances - such as helium-filled drives, HAMR and shingled magnetic recording - into account. EMC expects WD subsidiary HGST to ship 7-platter helium drives starting this year.
The only way is hybrid
EMC sees its traditional disk drive arrays evolving into hybrid arrays with around 5 per cent of capacity in flash and the remainder in the HDD tier, which will be capacity-optimised, meaning fat SATA drives. It also mentioned that its customer Goldman Sachs has seen nearly half of its array IOs (47 per cent) coming from a flash storage tier that only takes of 1 per cent of the array's capacity.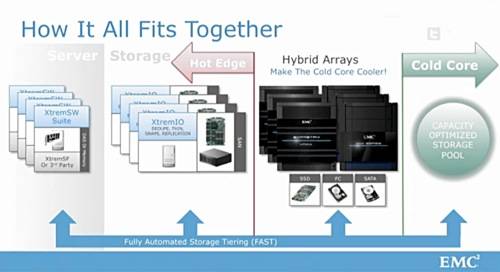 Click on image for larger version.
The chart above shows how the all-flash and hybrid arrays fit together. One of the first things that stands out is the way that EMC's FAST (Fully-Automated Storage Tiering) runs across the gamut of storage products: server PCIe flash (XtremSF, XtremSW); networked flash arrays (Xtremio); hybrid arrays (VMAX, VNX); and a capacity-optimised storage pool under the heading Cold Core - a hint that some other form of array is coming from EMC perhaps, unless it means Data Domain.
Goulden said EMC will launch new hybrid array controller technology, optimised to use flash well, that could deliver up to 1 million IOPS from a hybrid array. Are we looking here at a flash storage subsystem in a VMAX or VNX array with its own, flash-optimised controller layered underneath or alongside the main array controller?
While on the topic of arrays, Goulden said EMC will add VNX and Isilon Cloud Editions, similar to the VMAX Cloud Edition (CE) product with user self-service provisioning facilities from a set of storage classes.
He mentioned that Atmos, an EMC object storage array product, was doing well. There is a multiple tens of petabytes installation in China Telecom and eBay has billions of objects stored on Atmos.
Software-defined storage
The Bourne Project in EMC is coming to fruition, with its notion of storage control and data planes abstracted from the arrays and joining up with networking and server control to become a general data centre software control/data plane.
The general control thus presents the different types of hardware as resource pools at the disposal of some controlling entity, some kind of hypervisor, providing server, storage and networking resources for applications, plus a management layer as well.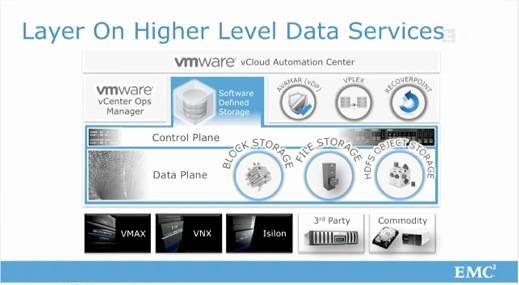 Goulden said: "This is a truly software-defined storage architecture. You will find people running around all over the storage industry saying they have software-defined storage, but you will find that they only do a portion of this."
The hardware classes become software-defined, as do the storage and servers. VMware with ESXi is EMC's play in the software-defined server market and Nicira is VMware's play in the software-defined networking market.
Now we'll have EMC providing a SW-defined storage equivalent to these two and combining the lot in an HDFS globally-distributed and scalable architecture which, by the way, is heterogeneous and could control third-party arrays - all-singing and dancing then.
Globally distributed sounds ambitious. In fact this whole superstructure of upper stack layers sounds an exercise in adding great complexity. Let's hope the benefits are worth it
Gelsinger on EMC's virtual reality
VMware CEO Pat Gelsinger said this year would see enormous steps made in extracting intelligence from storage arrays and stuffing it into ESXi. We should expect more news at VMWorld later this year.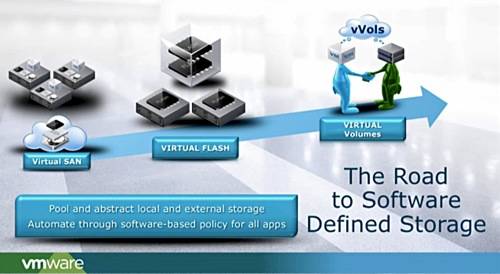 What happens is the arrays - VMAX, VNX, Isilon and Atmos too we presume ... but maybe not our old friend Centera - become willing tools of the storage control plane. The arrays accept directions from the controller for provisioning and recovering resources and delivering storage services across the data plane. We don't see them losing intelligence; instead the intelligence they have will be bypassed by the storage control plane.
We're told that EMC is abstracting the file system capabilities from Isilon, as well as the software from VMAX and VNX block-oriented systems to run in heterogeneous environments – creating a software-defined storage layer, the data-plane in this EMC SW-defined storage strategy.
If EMC's array customers adopt this then it becomes an effective lock-in providing a great barrier to entry for competitive arrays. Heterogeneity is intended to be a one way door leading to EMC domination of a customer's storage resources in our view.
El Reg wonders if we should conceive of OpenStack as having control and data planes and whether EMC will provide plug-ins for OpenStack adopters to use its arrays as storage backends for OpenStack applications. Open is as open does.
Hadoop Distributed File System
EMC confirms it has been building an HDFS object storage platform, designed for service providers and also designed to be enterprise-ready. Just think for a moment: Goulden talked about China Telecom and eBay Atmos deployments, so we should surely expect that there will be an Atmos-to-HDFS object storage migration path, because it sounds like HDFS object storage overlaps with what Atmos does.
We're told that this HDFS-using control plane is run on commoditised hardware with self-provisioning and management. Perhaps VMAX CE, VNX CE and Isilon CE are the first implementations of this idea. The control plane provides a common interface across block, file, and object storage. All this ties into vCentre and vSphere's Virtual SAN and we should see EMC launching these technologies over the next few months with a full suite available later this year.
As for the analysts, Rakers wants to know why EMC doesn't bite the bullet and bring VMWare in-house? If VMWare is so central to the new strategy, doesn't it make sense to put a stop to the semi-detached nature of VMware's operations and the notion that it is a separate and independent company. Perhaps there is an element here of EMC supremo Joe Tucci letting his top lieutenants scrap it out to see who emerges on top and becomes worthy of his crown.
New financial reporting structure
EMC also rolled out a new product segmentation at the event:
High-End Storage - VMAX
Unified storage and backup/recovery - VNX/VNXe, Data Domain, Networker, Avamar, Disk Library with software and services
Emerging storage, meaning scale-out NAS - with Isilon, Atmos, PCIe-based XtremSF and XtremSW, Xtrem arrays, and SW-defined storage
Other storage - third-party kit such as Brocade switches
Professional services
Security, meaning RSA
Content Management (Information Intelligence Group) - which includes products like Documentum.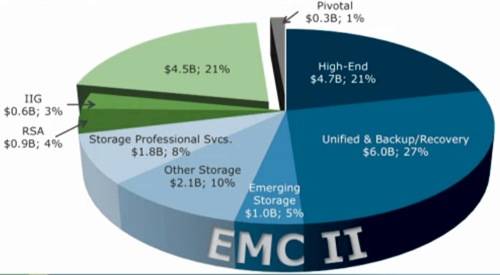 EMC fiscal 2012 revenues in new segments
The chart above shows EMC's 2012 revenues and percentages using these new reporting segments.
Finally, EMC reiterated its positioning of its product platforms to provide some overlap rather than none at all.
It was quite an analysts' session and the completeness of the storage vision and the way it is embedded into the SW-defined data centre notion will provide formidable competition to all of EMC's competitors. After all, we all know that SDN is the new cloud...
It's going to be interesting to see how they deal with it and, for example, how NetApp might respond at the storage level through relationships with other SW-defined data centre stack providers. NetApp's almost bound to play nice in any Microsoft effort, for example. ®
Sponsored: Minds Mastering Machines - Call for papers now open