Can VMware boost profits by expanding from data centers to clouds?
Gelsinger & Co. think so – and thus Virtzilla is born
Virtualizing, pooling, and orchestrating servers, storage, and networking
The software-defined data center is all about doing to storage and networking that VMware has done for compute and memory capacity on servers.
There's still some work to be done on the server virtualization front, of course, but Raghuram said in his presentation that both IDC and Gartner project that around 80 per cent of the workloads that could be virtualized on x86 servers will be virtualized by the end of this decade.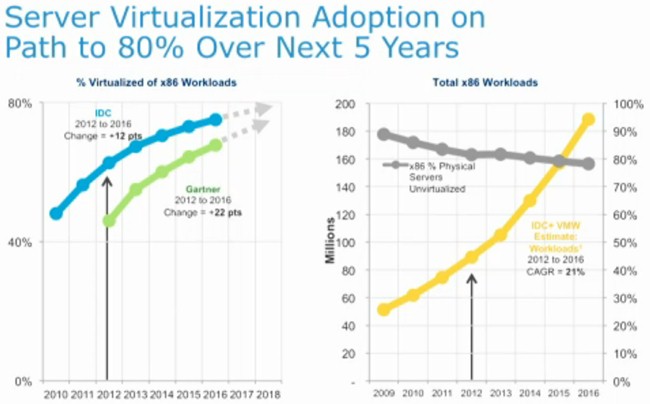 How VMware sees the virtual server racket shaping up
And the number of virtualized workloads (shown in yellow in the chart on the right) will exceed the number of physical servers that are unvirtualized around 2015 or so.
This is a very poorly designed chart, by the way, as well as being fuzzy. It says "x86% of physical servers unvirtualized" in the legend for the gray line in the right chart, but it counts x86 workloads on the axis to the left. If 80 per cent of workloads will be virtualized, how can 160 million x86 workloads be unvirtualized? But we digress...
When VMware looks ahead and counts by workloads – meaning distinct libraries of applications at all companies added up – the business is going to be driven by the virtualization (at all levels) and automation of traditional workloads such as ERP systems, which will grow from 83 million workloads that have been virtualized in 2012 to 141 million by 2017. That's an expansion of 70 per cent over the five years but not a compound annual growth rate.
In addition, one the next-generation of cloudy applications – in which frameworks and Hadoop and distributed computing with algorithmic control of that computing is done by the system, which is all likelihood may not have server virtualization even if it has network or storage virtualization –will see a factor of 7X increase from a mere 6 million workloads running in the world today to 48 million. (In this scenario, presumably Google's search engine is one workload.)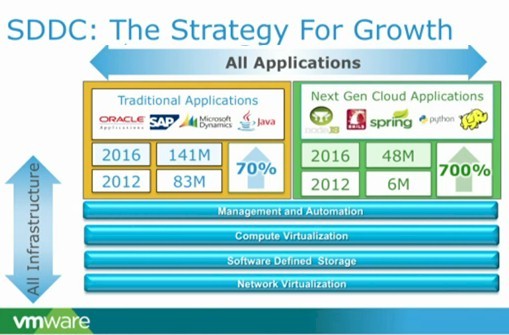 The SDDC opportunity that VMware sees ahead in its future
VMware is a bit vague about how it thinks its network virtualization technologies will drive revenues, and it is a bit sensitive about this after having spent $1.26bn on network-virtualizing startup Nicira last summer.
As El Reg previously reported, VMware will start monetizing Nicira's OpenFlow controller and Open vSwitch virtual switch for hypervisors in the second half of this year with a new product called VMware NSX that will mash up the best bits of VMware's hypervisor and the Nicira stack.
VMware has a long, long way to go with network virtualization, but the fact that servers now have more virtual ports than physical ones leads the company to believe that network virtualization, just like server virtualization, is an unstoppable force.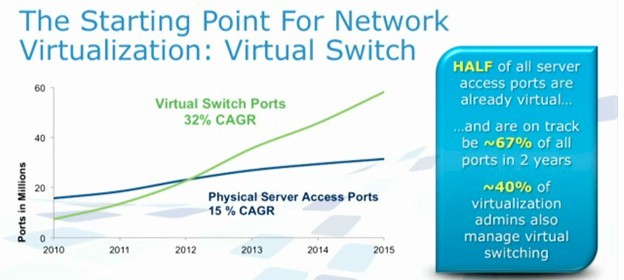 Virtual switch ports already outnumber physical ones among VMware's customers
There is no question that network management is currently too labor-intensive and too subject to errors, and that companies want to add all kinds of services to their networks without having being dependent on their switch and router vendors to provide them. There is also no question that sophisticated clouds have workloads that can change so quickly that the configuration of the servers, the network, and the storage is going to have to be automated to a high degree. VMware would love to automate the living hell out of all of this because that's how it wants to justify its existence and gain its profits.
A counter argument would point out that maybe it would be simpler to not let apps flit around all the time in their VM containers, and instead pay for some excess hardware and data center capacity and avoid some of the Virtzilla controller software tax. The real trick will be running those numbers to see how your enterprise can come out ahead by virtualizing just enough and not cloudifying too much. ®
Sponsored: Minds Mastering Machines - Call for papers now open