Can VMware boost profits by expanding from data centers to clouds?
Gelsinger & Co. think so – and thus Virtzilla is born
VMware fluffs up a public cloud
The last slice of the VMware TAM pie is the public cloud that VMware just announced this week, called the vCloud Hybrid Service. This public cloud will ship around the middle of this year and has been developed under the code name of "Project Zephyr."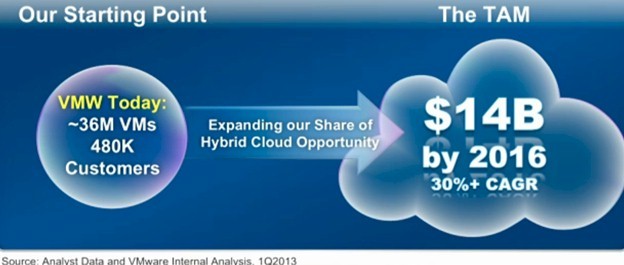 The addressable market that VMware is trying to chase with its ESXi installations
The basic idea here – and it is a valid one – is that companies that have invested billions of dollars in ESXi and related tools want a compatible set of public clouds (plural) to which they can burst some of their workloads out onto at least some of the time.
The problem is that public clouds, for the most part, as based on open source or homegrown code, and the ESXi and vCloud stack is most certainly neither open source nor free. And therefore, even though VMware can boast that its 220 service-provider partners have collectively built a public cloud that is second in size to Amazon Web Services in terms of the number of virtual servers installed, it is clearly not happy with their collective effort. (It's hard to verify that claim, made by VMware president and COO Carl Eschenbach.)
VMware's executive vice president of cloud infrastructure and management Raghu Raghuram said the issue was quite simple. VMware's 480,000 customers, who have over 36 million VMs running in their data centers, want a public cloud, and VMware was going to give it to them.
The presumption is that VMware is actually not happy with the progress that members of its SP channel have made to take on AWS, and therefore thinks it needs to do it itself. And Gelsinger's promise that service providers will be given access to any intellectual property developed for the VMware public cloud never said it would be for free.
So if you want to now compete with VMware, the odds are that you are going to have to pay more.
The problem that VMware faces is that it has to charge lots of dough for its software and support subscriptions and extract enough profits from them to make Wall Street happy. It's hard to say what price for the vCloud stack would be low enough to make service providers happy – zero dollars sounds about right – and the more El Reg thinks about it, the more we see vCloud Hybrid Service as an admission by VMware that it can't cut software prices to compete indirectly with Amazon through services providers, and instead wants to try to compete against Amazon (and therefore against its own service provider customers) and keep as much of the money as it can.
And hence, as Eschenbach explained in a presentation following the vague launch of the VMware public cloud, the 55,000-strong VMware partner channel that resells ESXi, vCloud, and other tools will be enabled to sell capacity on the vCloud Hybrid Service to chase the $14bn opportunity VMware sees for supporting ESXi shops who want a slice of public cloud to go along with their own virty data center.
So not only is VMware selling against its service provider customers, it is enlisting an army to help it do so. VMware's top brass were too clever to put it that way, and they also cleverly didn't give enough details or allow questions by the press in the first wave of the VMware public cloud announcement earlier this week for it to be clear that this is indeed the case. But after the other presentations were made, it has become abundantly clear this is the deal.
If that doesn't drive service providers into the loving arms of OpenStack, perhaps using a freebie version of ESXi and vCenter consoles, it is hard to imagine what will.
Everyone is in a tough bind on this one, with Amazon eating up all the oxygen in the room, and Gelsinger has now earned VMware a new name: Virtzilla.
Now here is the funny bit that is not going to make Wall Street happy. Even with all of this total addressable market for public cloud capacity, SDDC, and end user computing growing at somewhere on the order of 20-ish-plus per cent over the next couple of years, and even with expanding into new and adjacent markets, VMware's new CFO Jonathan Chadwick told Wall Street that revenue for VMware would accelerate in the coming years and that revenue growth in the 2014 through 2016 time frame would be on the order of 15 per cent in 2014 and accelerating up to 20 per cent by 2016.
That's lower than the overall growth in the VMware TAM, you will no doubt notice. Subscription and services revenues are expected to be about double the growth rate of software license sales, which probably made more than a few eyebrows go up. So did this chart: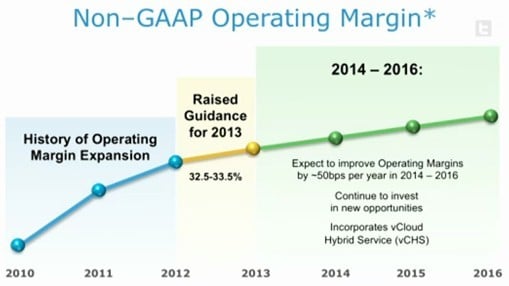 VMware is expecting margin expansion that is slower than potential revenue growth
With all that TAM and revenue growth, non-GAAP operating margin growth seems to be pretty modest – around a half-point a year. So VMware could be an $8bn company by 2016 with non-GAAP operating margins at around 35 per cent. What that says is VMware is going to be getting in a lot of scrappy fights for revenue share and spending plenty of dough on building that vCloud Hybrid Service.
Sponsored: Learn how to transform your data into a strategic asset for your business by using the cloud to accelerate innovation with NetApp