Samsung's new Galaxy S 4: iPhone assassin or Android also-ran?
Software distinguishes 'a life companion for richer, simpler life'
One size emphatically does not fit all
The Galaxy S 4's Exynos 5 Octa processor will likely outperform the iPhone 5's dual-core Apple A6 chip – we'd be gobsmacked if it doesn't – but to many users, pure processor power is not a game-changer since they use their smartphones mostly for email, simple browsing, casual games and ... oh, yeah ... phone calls. In that usage model, the Octa's Cortex-A7s are likely to perform as credibly as the iPhone's A6.
Then there's the Galaxy S 4's 5-inch, 1920-by-1080 pixel, 441ppi Super AMOLED display versus the iPhone 5's 4-inch, 1136-by-640 pixel, 326ppi "retina" display. We'll have to see the AMOLED's brightness, contrast, and viewing angles before we're able to adequately compare the two, but it's obvious that Samsung offers more display acreage than does Apple.
But is more always better? For many, yes, but for others a smaller, more-compact display is more easily navigable in one hand, more pocketable, and thus preferable. Many users have no need for a video screen nor a game machine.
Which leads us to overall size and weight. The Galaxy S 4 is marginally thinner and lighter than the S III, but still a bit heftier than the iPhone 5. There's really no big difference either way, to be frank, so we'll call that a draw. The iPhone 5 is lighter by about an ounce, but you'd have to be quite the delicate flower to really care.
Camera? The Galaxy S 4's main camera pumps out 13 megapixels, while the iPhone 5 is limited to eight. Here again, though, numbers can be deceiving. As any shooter will tell you, more megapixels are all well and good, but it's the lens assembly, image sensor, and image-processing firmware that make all the difference.
Until we see side-by-side, controlled comparisons of Samsung and Apple's image quality in a wide variety of lighting conditions, and in shooting scenarios that stress such geometry challenges as pincushioning, it's simply inappropriate to say that one camera is better than the other.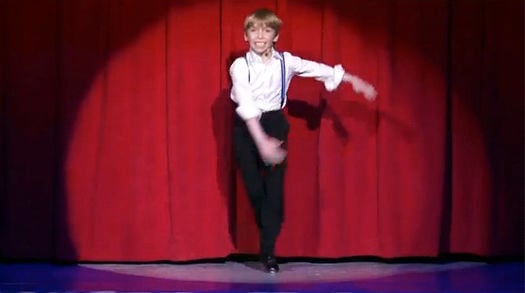 When planning a technology event, would you include a tap-dancing eight-year-old? Thought not.
Then there's software – both operating system and apps. Truth be told, we're of the firm opinion that as much as any fanboi or fandroid loves to flash their new shiny-shiny hardware to impress their friends, it's the software that makes a smartphone relationship last – that, and the amount of apps in which you have already have invested for your platform of choice.
After what we saw on Thursday, in terms of features and – to coin a term, "shareability" – the Galaxy 4 S makes the iPhone 5 look like yesterday's news. It used to be that we could confidently predict that the next version of iOS – that would be iOS 7, likely to be revealed mid-year – would be a solid step forward, but after recent relatively tepid releases, not to mention the oft-mentioned crap Maps app flap, we're not so sure.
But when all is said and done, software and "gotta have'em" features are simply matters of taste and preference. Sure, one can wave useability studies about, trumpet number-of-clicks-to-task statistics, or prattle on about nifty new features – even, in Apple's case, crappy ones such as Siri – but those who champion iOS over Android (and vice versa) are really championing their own personal taste over another's.
Your Reg reporter, for one, couldn't care less about the camera tricks that the Galaxy S 4 can perform. But you, dear Reg reader, might find the idea of a time-lapse Drama Shot the proverbial cat's meow. And we'd both be right.
So here's a radical thought, and one that's likely to generate a bit of heat in Comments: if you happen to prefer Samsung's offerings to Apple's – or vice versa – more power to ya. For chrissake, iOS and Android fanatics, it's just a frickin' phone.
As the late, great, megalomaniacal visionary Steve Jobs – on one of his better days – once said when Mac addicts fumed at Bill Gates, the Great Satan, "We have to let go of a few things here. We have to let go of this notion that for Apple to win, Microsoft has to lose." So it is with Android and iOS, Samsung and Apple, the Galaxy S 4 and iPhone 5.
Now if only that type of thinking would take hold in the executive suites of Cupertino, California, and Suwon, South Korea. ®