Samsung's new Galaxy S 4: iPhone assassin or Android also-ran?
Software distinguishes 'a life companion for richer, simpler life'
Now, about that software...
The handset's main camera has received an upgrade from that of its predecessor as well, with a bump up to 13 megapixels from the 8 megapixels of the S III. The new camera's capabilities lead us to the software features that Samsung's head of IT and mobile communications, J.K. Shin, assured his audience will make the S 4 "a companion that helps us experience life to the fullest; a life companion for richer, simpler life."
Hype aside, Samsung's camera-support software does offer a few interesting features. For one, a new Dual Camera function enables you to shoot video or stills using the front-facing 2-megapixel camera and the main camera simultaneously, and to switch between them at will. Similarly, the Dual Video Call capability allows you to use both cameras while making a video call – the person with whom you are videoconferencing can see both you and what you're looking at.
The camera's software includes a dozen different image-manipulation modes, including the ability to blend multiple images into a single time-lapse Drama Shot – nice if you're working on your golf swing – and an Eraser ability to selectively and automagically edit people out of images.
"So theoretically, if I were taking a picture of my wife and her mother entered the shot, I could get rid of her?" one presenter asked another. When told that he could, he snarked, "But I can only erase her from the picture, not from my house, right?"
That's the cymbal-crash level of humor that peppered the evening's event.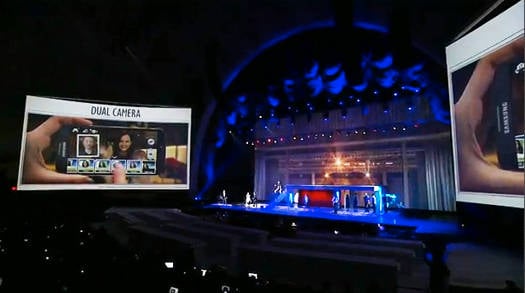 Just a small, intimate gathering among close friends
The camera and image-management software also allows you to create and share albums on the fly, or allow them to be automatically created by timeline, event, or geo-tags, and to order hard-copy albums through Samsung's partnership with Blurb.
Sharing was also emphasized in a demo of the "new and improved Group Play feature" that lets users of up to eight Galaxy S 4s share music, photos, documents, game-play, and the like from phone to phone without a Wi-Fi or cellular network connection. The Share Music part of Group Play even lets you distribute surround sound speaker-by-speaker among five phones – the subwoofer signal of 5.1 surround sound, presumably, would be patently absurd to attempt to play on a Galaxy S 4.
One other audio-centric feature of the S 4's software: if you have an internet connection, Wi-Fi or cellular, S Translator will provide a near-instananeous translation of what you speak or type into the phone, and will then translate the response of the person with whom you're conversing into your language. Both text-to-speech and speech-to-text are supported, and S Translator understands nine languages – "ten if you include American English and English with a British accent" – including French, German, Italian, Latin American Spanish, Chinese, Japanese, Korean, and Brazilian Portugese.
A related technology, Samsung Optical Reader, will scan a document and provide a translation. Or, for that matter, it can merely read the document itself and turn it into text for messaging and the like.
As The Reg reported last week, the Galaxy S 4 will also allow you to scroll pages by flcking your eyes down the display – Samsung Smart Scroll – and can pause videos when you look away – Samsung Smart Pause. When reading, you can choose to simply tilt your Galaxy S 4 to turn a page.
There's also proximity-induced Air View previewing of emails, images, and the like so that you don't have to actually touch the display, you merely need to wave at it. Air Gesture that lets you change music tracks, scroll text, or answer the phone by waving your hand – although exactly at what distance wasn't made clear.
All these features – plus Samsung Knox dual-identity B2B security, in-car–specific features, a pile o' accessories, health-monitoring doodads, IR remote capabilities, and more – demoed well, but long experience has taught us that demos are not to be taken as gospel. No new capability, however, inarguably catapulted the Galaxy S 4 over other top-end Android-based phones such as the HTC One, Google Nexus 4, or whatever phone you've chosen to grace your pocket or purse.
But a more interesting question in terms of the market-share wars is whether the Galaxy S 4 will enable Samsung to coax a hefty herd of users out of the iPhone 5's walled garden after it begins to ship in late April. The Reg's answer to that billion-dollar question is a firm, unequivocal, "It depends."
Sorry, but that's as unambiguous as we can honestly be today.
Sponsored: Minds Mastering Machines - Call for papers now open