Beijing IT biz taunts Microsoft: Show us your licence for Office 365
If papers aren't in order, it could end up on China's block list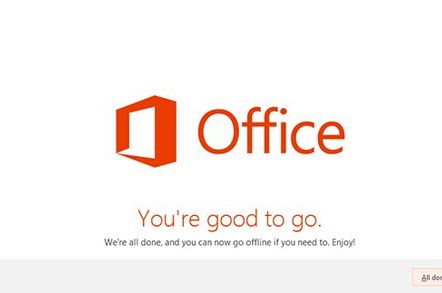 Microsoft Office 365 customers could be in for a tricky time in China after a Beijing IT company called on Redmond to prove it has the legal authority to operate in the country or risk being blocked.
Enterprise IT service provider and Microsoft customer Baihui Zongheng Technology made the calls at a press conference at the China National Convention Center in the capital on Thursday, according to local media reports translated by Beijing-based tech consultancy Marbridge Consulting.
The firm apparently called on tech businesses to "operate cloud computing services in compliance with the law", releasing an open letter demanding Microsoft provide proof of its legality.
The letter apparently asks that Redmond show evidence it has a license to operate commercial internet information services in China, as well as proof that it is allowed to operate a cross-border telecoms service.
Baihui Zongheng concludes by warning Microsoft that Office 365 may be blocked in the country if it can't provide such documentation, a scenario which would leave countless businesses in the lurch.
China is notorious for its bureaucratic patchwork of overlapping regulations, but it would be strange if Microsoft hadn't ticked all the necessary boxes before launching its cloud suite in the country last November.
In fact, the firm said at the time that it would offer customers in China two ways to access the service: either from data centres outside the Great Firewall, in Hong Kong and Singapore, or from local partner 21Vianet.
While it's conceivable that the former may come in for extra scrutiny, partnering up in China is usually done exactly to avoid the kind of problems raised by Baihui Zongheng.
Also in Redmond's favour is that, compared to arch rival Google, it has a fairly good relationship with the authorities.
IDC analyst moved to allay 365 customer fears, telling The Reg that "unless a Chinese customer takes the second option [served from data centres outside of China], there should be no risk of having access blocked".
"I reckon Microsoft would have double-ticked all the boxes before doing the 21Vianet deal. It's possible/probable there are others who have not been so diligent," he added.
"Also, in a month of constant news about hacking, China, and assorted scare stories maybe the Baihui speech was prompted by some government request."
However, if there was an investigation into Microsoft's provision of Office 365 from outside the Great Firewall, foreign multinationals in China would be worst affected, given they are the most likely to want data stored out of reach of the authorities.
Microsoft couldn't immediately be reached for comment on the news. ®
Sponsored: Minds Mastering Machines - Call for papers now open