Reg readers reveal MIGHTY DOMESTIC DATA CENTRES
Servers'n'sofas challenge reveals racks and stacks in the oddest places
Cloudy capers
Tom Davies' home lab is a cloud.
Davies told us the rig below is: "A CloudStack 2.0 implementation using a mix of equipment including Dell R900, R710, T610, R510, three 2850s and AX150 FC SAN, Equallogic PS6000, Power connect switches and a pair of Cisco firewalls."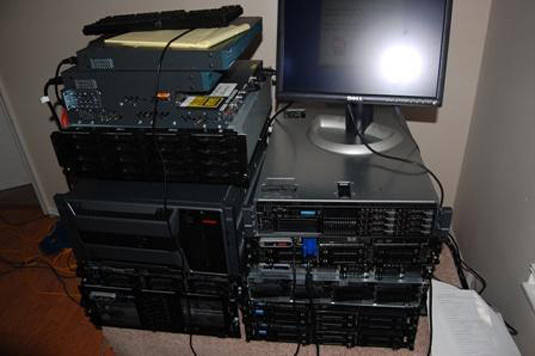 That's no pile of computers, that's a cloud station
"We used it to build a prototype public cloud," he wrote. And a rather fine prototype, too, we imagine.
Here's what Chris Prickett cooked up in his lab:
1 x Dell 170L as a domain controller and VMWare management/licensing server. 3.2GHz P4, 1GB RAM, 1TB storage.
1 x Dell GX280 (out of shot) as a domain controller. 3.2GHz P4, 1GB RAM, 80GB storage.
1 x Sun Ultra 40M2 as VMWare host. 2 x 3GHz AMD Opteron Dual Core 2000 Series, 16GB RAM, 16 TB storage.
1 x Dell PowerEdge 2700 as VMWare host. 2 x 2.4 GHZ Xeon, 6GB RAM, 2TB storage.
1 x HP DL360G3 as VMWare host. 1 x 3.0 GHz Xeon, 2GB RAM, 600GB storage.
1 x HP DL580G2 as VMWare host. 2 x 2.8 GHz Xeon, 12GB RAM, 1.2TB storage.
1 x Lenovo R52 (out of shot) Windows 7. 1 x 1.7GHz Pentium M, 2GB RAM, 80GB storage.
"I don't imagine it'll win any awards," Chris wrote. "But it was very special to me because it let me learn VMware ESX at zero cost to anyone."
At last, a spot of domestic data centre greenery
"With the HP kit, my company have been very supportive and generous over the years and frankly I can't thank them enough. The Sun kit was donated by a friend who works for a hedge fund outside the UK.
Nothing in the rig was new, but Chris says it has nonetheless "been incredibly useful to me over the years".
Edward Alekxandr says one important element of his lab, which he uses to "learn (and play!) with VMware vSphere [as] we didn't have budget for a test lab at work, is "one very tolerant partner!"
There's a fair bit to tolerate, as he details the contents as follows:
1x Dell 2900 28GB RAM, 8x500GB SAS drives
1x Dell T610 40GB RAM, 8x500GB SAS drives
1x Mac Pro 20GB RAM 2x256 SATA drives
3x HP MicroServers 16GB RAM and 4x1TB drives
1x HP Itanium rx2620 16GB RAM and 3x160GB drives (running OpenVMS 8.3-1H1)
2x Cisco SG200-10 switches
2x Cisco ASA 5505 firewalls
1x Cisco 2811 router
1x ReadyNAS Pro with 6x1TB disks (worst purchase ever!)
....Plus Sky Router, Vodafone Suresignal and Apple AirPort Extreme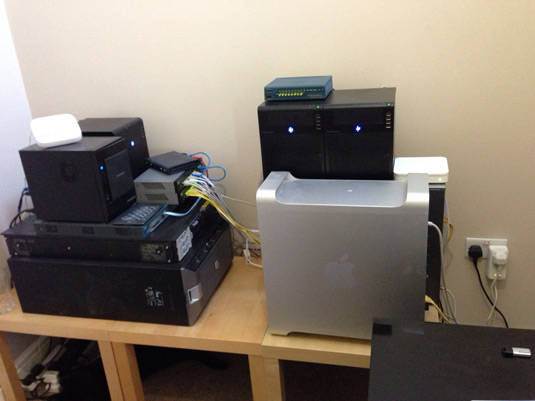 Ed's lab exists to give him "a sandbox to play around without breaking stuff at work".
Edward says the lab: "Kinda expanded to host some apps for my brother-in-law for his car garage as well, but mainly to give me a sandbox to play around without breaking stuff at work."
What kind of stuff? "I've used it to test out upgrading our exchange server to 2010 before doing it for real, and could we replace our fileserver with Solaris 11 zFS (turns out yes!) and de-duplication," he wrote.
Sponsored: Are DLP and DTP still an issue?