Reg readers reveal MIGHTY DOMESTIC DATA CENTRES
Servers'n'sofas challenge reveals racks and stacks in the oddest places
The travelling lab
A reader named Elmars asked us not to use his surname, but we can't leave him out because his story is remarkable: kit on the rack you see at right was acquired in the Baltic countries and eventually shipped to the USA where Customs became rather interested in X-Ray images of its UPS batteries.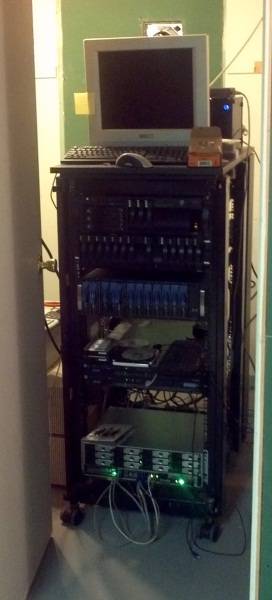 Elmars' Home Lab
"I am a senior systems engineer running a much larger VMware farm for a cloud-based product for the printing industry," Elmars wrote. "VMware certification is very expensive and I have yet to find an employer willing to stump up the >$5k for the required courses and certification. They are much more willing to throw me a decommissioned server or other gear - sometimes accompanied with the phrase 'knock yourself out'. With at least one supervisor, I was never really sure if it was meant figuratively or literally.
"All told, probably about $3k in my own money invested and it has brought me a lot more benefit than a piece of paper titled 'Certified'."
What's in the rack? Here's Elmars' list and explanation:
An ancient IBM dual P3 server (933MHz eServer x340) with 4GB RAM attached to a 1.5TB SCSI storage shelf, and 1TB internal SATA array. A dual-port Intel gigabit NIC makes sure the network floods the backplane at will.
A SATA storage shelf that is a work in progress.
Two VMware hosts licensed for Essentials. V5.1. The hosts are IBM x3455 machines with two sockets and four cores each and 48GB RAM. "These came out of an HPC shop in Texas for cheap," Elmars says. "They replaced a pair of first generation IBM x3950 machines I had picked up in Germany. It was cheaper to replace the x3950 machines than to power them as they together ate 1KW just to run at idle and don't support ESXI 5.x."
The last machine at the bottom is an old Rackable box with 8GB RAM and a pair of 2nd generation Opterons serving as OpenFiler NAS providing the data stores for the ESXi hosts. Elmars adds: "35MB/s sustained write speed is good enough for me."
"An HP switch I don't even remember where I picked up."
Home-lab building makes me... thirsty
Kiwi reader Andrew Gall says his lab only looks a little messy because when he took the shot below he'd lived in his current home for just two weeks.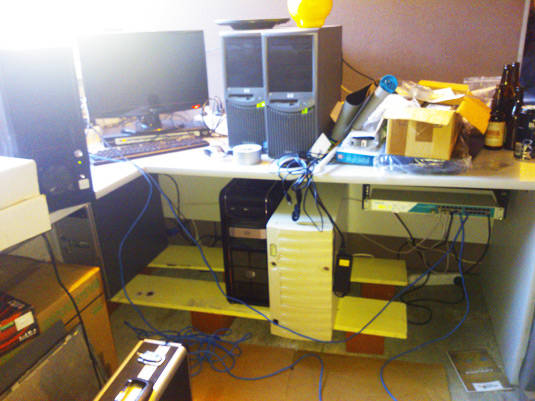 Would your home lab look like this 2.5 weeks after you moved into a house?
He's done rather well, we think, to stand up the following:
ESX1 Host 1, Quad Core, 8GB RAM, 3TB storage
8 port KVM + 21" LCD, keyboard & mouse
Old HP ML330 G3, Dual Xeon 4GB RAM
Another old HP ML330 G3
ESX2 Host 2, Quad Core, 16GB RAM, 4TB storage
Media server, not technically part of my training lab but storing a few Linux ISOs
Windows Server 2008 Hyper-V Host, Quad Core, 16GB RAM, 2.5TB storage
24 port 10/100 switch
The lab "mainly gets used for me to learn new MS skills/technology, and to play around with things that I'd be hesitant to try out on a production network," Gall told us by email.
Sponsored: Minds Mastering Machines - Call for papers now open