Apple's marketing honcho Schiller attacks Android, Samsung
Iffy data right before Galaxy S IV intro? What a coincidence...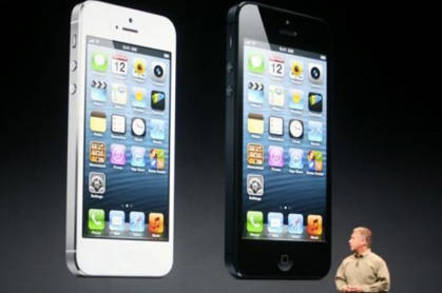 When a company says that it's not worried about a competitor, it's a safe bet that it's worried about a competitor. And when that company is the notoriously close-mouthed Apple and its competitor, Samsung, is about to release a new version of its successful Galaxy S smartphone, you can double-down on that bet.
"At Apple we know that it's not just enough to have products pumped out in large numbers," Apple's marketing headman Phil Schiller said in a rare interview with Reuters on Wednesday. "You have to love and use them. There is a lot of data showing a big disparity there."
The data to which Schiller was referring could have come from the JD Power customer-satisfaction survery of May 2012 which ranked the iPhone number one for the seventh year running – but that survey was conducted well before the iPhone 5 debuted in September.
Times have changed. In a satisfaction survey of over 95,000 US smartphone users conducted by London's On Device Research and published this February, the iPhone 5 ranked fifth behind four Android phones, two from Motorola and one each from HTC and Samsung – although the fourth-place Samsung phone wasn't the Galaxy S III, but instead the stylus-equipped Galaxy Note II.
In the UK, however, the iPhone 5 climbed nearer to the top, ranking number two behind the HTC One X and ahead of a trio of Samsung Galaxies: the Note II, S III Mini, and S III.
But Android's popularity wasn't the only target of Schiller's brickbats. He also leveled criticism at that oft-cited Android failing, OS fragmentation.
"With their own data, only 16 per cent of Android users are on year-old version of the operating system," Apple's head pitchman said. "Over 50 percent are still on software that is two years old. A really big difference."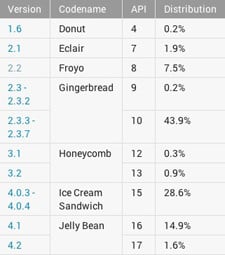 Android OS distribution as of March 4, 2013
Those figures are from Android's developer site, which surveyed Android devices for 14 days ending on March 4 of this year, and found that 16.5 per cent of Android-device users are running versions 4.1 and 4.2, aka Jelly Bean. Versions 4.0.3 and 4.0.4, Ice Cream Sandwich, accounted for 28.6 of users, while various other Googly snacks filled in the other 54.9 per cent, with versions 2.3.X, Gingerbread, accounting for a hefty 44.1 per cent.
"And that extends to the news we are hearing this week that the Samsung Galaxy S IV is being rumored to ship with an OS that is nearly a year old," Schiller said. "Customers will have to wait to get an update."
As a reporter who is forced to sift through the rumor mill's leavings to divine The Next Big Thing, it's somewhow comforting to know that even a corner-office resident such as Apple's putative El Número Dos must also base his judgments on rumors.
But we do want to point out that Schiller is bending his figures a wee smidgen: Jelly Bean 4.1 was released in July 2012 and 4.2 in November. Our calendar tells us that those release dates were eight and four months ago, not a year. The Galaxy S III, by the way, currently runs runs Android 4.1.
Whatever. Schiller's main point, it appears, is that iOS users are more likely to have up-to-date operating systems – he said that more than half of all iOS users are running the latest version of that system.
He also cited Apple's own internal research that says that four times as many customers switch to iOS from Android than the other way around. Those figures, of course, can't be cross-checked.
Samsung, however, appears to be luring the lion's share of new smartphone users – a market that IDC says will squeak past half of all handsets sold globally this year. That same research group reports that for all of 2012, Samsung garnered 20.8 per cent of the "smart connected device" market to Apple's 18.2 per cent, and that in the fourth quarter of last year, the smartphone sales were 29 per cent Samsung and 21.8 per cent Apple.
Those trends are enough to give any company's head marketeer pause – and to put him out on the interview beat. But Schiller does have one exceptionally important bit of data on his side: according to the analysts at NPD, Apple accounted for 19.9 per cent of all consumer-electronics spending in the US during 2012.
But that was last year. Our calendar also tells us that it's now 2013, and our watch tells us that Samsung's Galaxy S IV will be released in about four hours at a gala New York City event.
Stay tuned. ®
Sponsored: Minds Mastering Machines - Call for papers now open