Groupon deal spam slapped by Australian regulator
When 'unsubscribe' means 'we'll still send you email'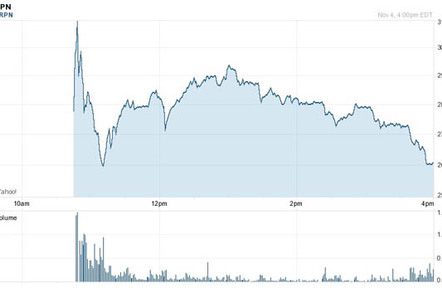 Groupon's troubles just got a little deeper and more widespread, after Australia's Communications and Media Authority (which likes to be called 'the ACMA') issued a "formal warning" that the floundering group buying outfit needs to get its email house in order.
The ACMA issues formal warnings as a prelude to unholstering its legal arsenal, which allows it to impose fines of up to $AUD$1.1m a day.
Groupon earned the warning because of its practice of signing customers to multiple newsletters, but only offering the chance to unsubscribe one by one.
"Complaints to the ACMA indicated that individuals who attempted to unsubscribe from the newsletters were only unsubscribed from one of them, and continued to receive other Groupon newsletters regularly every day or week," the Authority's notice about the warning says.
"The ACMA considered information provided by Groupon left it unclear what individuals were unsubscribing from," the notice says. But "In the ACMA's view, it was reasonable for individuals to expect they would be unsubscribed from all newsletters unless they were advised otherwise."
Tardy action on unsusbcribe requests was another issue, as Groupon failed to strike punters off its lists within the five days required by Australia's Spam Act.
Groupon will doubtless be pleased to have avoided a fine, but in Australia, as elsewhere, things aren't looking up for the company. Local group buying rivals may have floundered, but among those still alive are outfits backed by Australia's outposts for Yahoo! and MSN. Those operations have access to substantial lists of punters. Groupon, by contrast, now makes it all-but-impossible to visit its Australian site without handing over an email address, as the pop-up requesting one has no obvious way to cancel it and proceed to the main page.
That popup does at least now have clearer wording explaining just what Groupon Australia will do with your email address, a change made at the ACMA's behest.
That change does not mean Groupon is out of the woods. Australia's consumer regulator has also circled the group buying sector after consumer complains about dishonoured deals. Merchants have also cooled on the concept, often finding that group buying may bring new customers through the door, but mostly bargain-hunters looking for a cheap experience rather than a longer-term relationship. ®
Sponsored: Minds Mastering Machines - Call for papers now open