Pi-BX

Asterisk, the well-known open source telephone tool, will quite happily compile and run on an RPi, handling up to ten calls (or conference participants) without apparent strain. Getting your landline connected to your RPi may take some fiddling, and you'll need some external hardware. There are also options for ISDN connections. Just remember, you're saving on the PC hardware. But if you're just trying it out, you can configure it to use SIP instead. Before you know it, you'll be configuring voice-gaol, caller id, and cheesy country and western hold-music.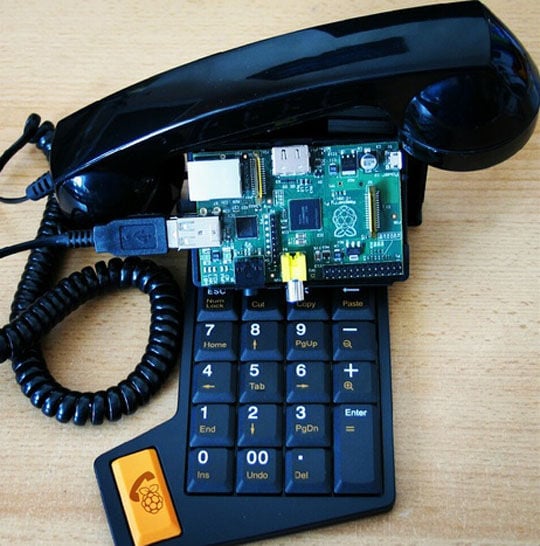 Source: Binerry
Difficulty Level (1-10)
5 - issues will likely be Asterisk related
Extra cost
Under £100
Shopping List
For hooking up to a landline, the Cisco SPA3102 seems to be the popular choice. Handsets?
Approach
Pi-wise, it's a case of downloading the latest RasPBX image. Then the Asterisk fun begins.
Take it further
If you do manage to hook up your RPi to the POTS line, you can even run a fax-to-email service. Very cool.
Online Help
There's a dedicated site for all things RPi-Asterisk related, with regular updates, and a helpful blog. Asterisk wise, there are also plenty of fora out there as well as a thriving community.
FM radio transmitter

Here's one just for the non-UK brethren, clearly. Turns out that with some pre-compiled C and a short piece of wire, you can trick the RPi's GPIO pin four into broadcasting FM Radio. How cool is that? So why aren't we being swamped by teenager pirate radio stations? It's certainly illegal in the UK. With a decent 75Ω aerial, a no band-pass filter and a following wind, the mighty calculations say you're looking at a signal strength somewhere in the 9-14mW range, well over the 50nW UK limit. Hey ho.
Difficulty Level (1-10)
2 - easy as (sorry, statuary required cliché ahoy) pi
Extra cost
Next to nothing - beyond the price of a flight overseas (or an Ofcom fine) at least
Shopping List
200mm of wire, breadboard, overseas travel ticket.
Approach
Download the module, connect GPIO 4 to a 200mm piece of wire as an aerial, and you're off.
Take it further
As written, it plays .WAV files, but you might try hooking up a microphone to turn it into a live transmitter. Set up two on different frequencies, and use it as a radio link between your non-UK shed and your non-UK kitchen.
Online Help
Straight from the horse's mouth, the Imperial College Robotics Society. African branch, obviously.
Get Cracking!
There should be something here to whet the appetite. It's clear that there's more to RPi than vegging in front of a XMBC enabled TV, and a plenty of areas to interest the non-scriptkiddie in your house. Who'm I kidding? I'm off for an IKEA coffee table. ®
Got a great Pi project of your own you'd like to share with fellow Reg readers? Let us know in the comments
COMMENTS
Re: Is that it? @Jason
I get the impression you are a glass half empty type of guy. If you had spent more than 3 seconds thinking about this, you would have realised that these are just some of the projects you can do. It's not an exhaustive list! Yes, you probably could do some of them using a cheap PC, but GPIO would be a problem, as would power consumption and size.
I suggest Google, and some thought.
My project...
At the moment, I'm working on a rPI intelligent thermostat. The rPI is going to be attached to the wall next to the boiler and will handle the mains switching to switch the boiler on and off.
The thermostat itself is an Arduino with an LCD display, telling you the temp and when it's next going to switch on, also the target temp. The temperature sensing is done with an LM35 temperature sensor, at the moment it's all hooked up with USB/Serial ports (and not to the boiler, yet) but will use xbee.
The rPi runs a mysql database and the system as a whole will allow rules based heating configured from web or the thermostat, such as:
On for an hour, on all day, off for a week, minimum house temperature (frost protection), daily scheduling etc. I'll be storing all the temperatures in a database and hoping to use this more intelligently in future...
Wife acceptable
I have set up RasPBX on a Pi at home. I initially used the SPA3102 but could not get rid of the echo so I changed to an OBi110 which at about 35GBP is cheaper and much better. Now voicemails are attached to e-mails instead of hiding behind 1571, we can divert international calls straight to voicemail (as they are pretty much all nuisance sales calls) and with an additional Sipgate trunk and some Zopier soft phones we can have multiple simultaneous phone calls. Amazing for a little toy computer.
Pi-BX looks like a great little project.
My only obstacles to little projects are wife based.
Re: Is that it? @Jason
PCs are typically small or cheap but not both. The PI takes both to a new level. It's like an AppleTV or Roku in this regard. You can try to make PCs smaller but then you end up with a $1000 Steam Box or a Mac Mini. It's also nice that the PI achieves it's cheapness without being some ancient thing you retrieved from a dumpster.
Who wants their cool project to fail because it's made of parts that finally decided to die of old age?