Cloud server

Is he having a laugh? Nope, thanks to apps like OwnCloud and BarracudaDrive, you too can jump on the latest bandwagon for under £30. Yes, you really can run a cloud server from your RPi. Why would you want to? The sales pitch is that it avoids the possible privacy issues of Box, Dropbox, iCloud and their ilk, but it also helps to get around over-enthusiastic firewalls at work. Plus, turns out a cloud server on the local network is really just a self-important NAS server. Who knew?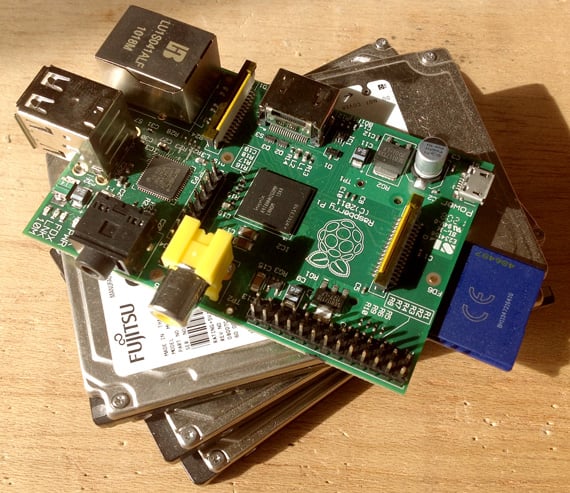 Difficulty Level (1-10)
2-5 - some compiling, fiddly disk formatting and network config required, possibly
Extra cost
Dependent on your approach
Shopping List
Powered external USB drive, a fixed IP address and a properly configurable router are both 'useful to haves'.
Approach
BarracudaDrive has a pre-built image to download, and clear instructions for getting things up and running. OwnCloud needs some fiddling with the innards of PHP to get the best out of it.
Take it further
Set up RSync over SSH to provide secure offsite backup of your data to another RPi setup at a friend's house.
Online Help
Both sites mentioned in the Approach section offer the usual setup workthroughs, plus there are forums available.
Pi scales

As someone clearly on the mortally-wounded side of morbidly obese, I have found it personally upsetting that one can't as yet purchase a set of speak-your-weight bathroom scales featuring a choice of 'No coach parties, please'-style repartee. A niche market missed, I think. No matter. It is but the work of a moment (ahem) to whip up a RPi connected set of scales, and some Python scripts to play and display the appropriate (health warning) message.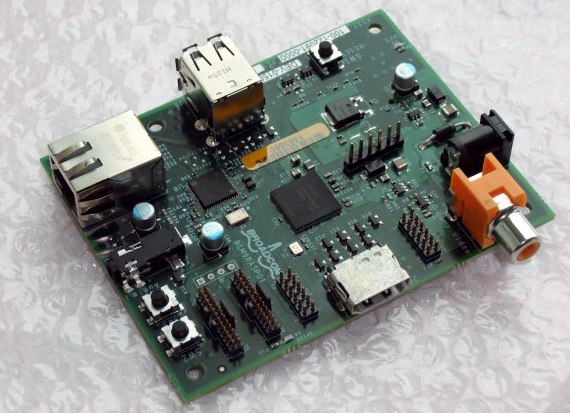 I speak your weight
Difficulty Level (1-10)
5-8 - yep, you'll at least need a soldering iron or possible some carpentry skills for this one
Extra cost
Approach dependent
Shopping List
Approach dependent, but certainly a post-success cream tea
Approach
Homebrew: (hard) tie some load sensors via a Wheatstone Bridge to your GPIOs and write some code; (easier) canabalise an existing set of digital scales and use the guts from that; (easiest) get some cheap USB postage scales, and employ the law of levers to build a mechanical multiplier.
Take it further
Script a Facebook update for your daily weigh-in, or take up bee-keeping.
Online Help
Help comes from strange places: tracking weight over time (as well as the weather) is important to bee-keepers.
COMMENTS
Re: Is that it? @Jason
I get the impression you are a glass half empty type of guy. If you had spent more than 3 seconds thinking about this, you would have realised that these are just some of the projects you can do. It's not an exhaustive list! Yes, you probably could do some of them using a cheap PC, but GPIO would be a problem, as would power consumption and size.
I suggest Google, and some thought.
My project...
At the moment, I'm working on a rPI intelligent thermostat. The rPI is going to be attached to the wall next to the boiler and will handle the mains switching to switch the boiler on and off.
The thermostat itself is an Arduino with an LCD display, telling you the temp and when it's next going to switch on, also the target temp. The temperature sensing is done with an LM35 temperature sensor, at the moment it's all hooked up with USB/Serial ports (and not to the boiler, yet) but will use xbee.
The rPi runs a mysql database and the system as a whole will allow rules based heating configured from web or the thermostat, such as:
On for an hour, on all day, off for a week, minimum house temperature (frost protection), daily scheduling etc. I'll be storing all the temperatures in a database and hoping to use this more intelligently in future...
Wife acceptable
I have set up RasPBX on a Pi at home. I initially used the SPA3102 but could not get rid of the echo so I changed to an OBi110 which at about 35GBP is cheaper and much better. Now voicemails are attached to e-mails instead of hiding behind 1571, we can divert international calls straight to voicemail (as they are pretty much all nuisance sales calls) and with an additional Sipgate trunk and some Zopier soft phones we can have multiple simultaneous phone calls. Amazing for a little toy computer.
Pi-BX looks like a great little project.
My only obstacles to little projects are wife based.
Re: Is that it? @Jason
PCs are typically small or cheap but not both. The PI takes both to a new level. It's like an AppleTV or Roku in this regard. You can try to make PCs smaller but then you end up with a $1000 Steam Box or a Mac Mini. It's also nice that the PI achieves it's cheapness without being some ancient thing you retrieved from a dumpster.
Who wants their cool project to fail because it's made of parts that finally decided to die of old age?