Pi/Kindle Chimera

You're locked in the server room; you could email for help, but there's no terminal to hand. WWMD*? Yup, time to whip up a portable terminal using your jailbroken Kindle and trusty RPi. Actually, when you think about it, it's not so bonkers. For terminal work, e-paper is just about usable. And it'd make a change from paperclip lockpicks.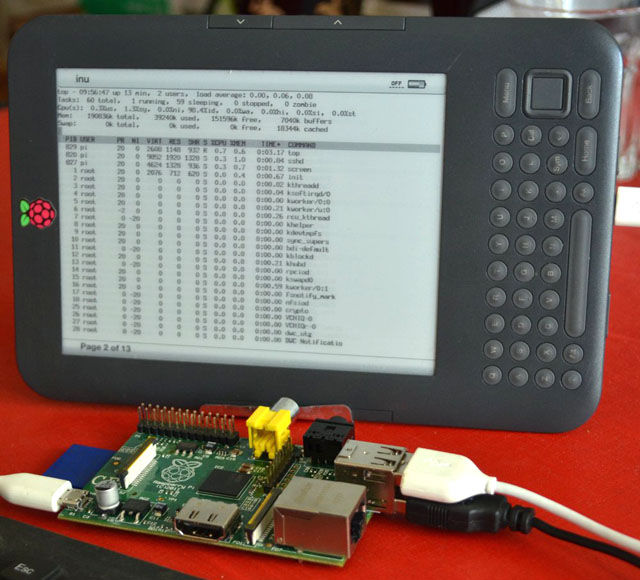 Source: Damaru
Difficulty Level (1-10)
3 - You can do it in software, but, DISCLAIMER that's a jailbroken Kindle, which can be easily bricked. So, yes, I will be building one, but only when I can get to my mother-in-law's, and not using mine...
Extra cost
£60
Shopping List
Kindle, USB keyboard, Micro USB-to-USB cables
Approach
Install a terminal emulator on the Kindle, and USBNetwork. Cable RPi to the Kindle, add a keyboard, and then login to the RPi from the Kindle. Then (the trick) use a terminal multiplexer to share the RPi's session from the Kindle. Voila, external keyboard works, and Kindle = display.
Take it further
At the risk of spoiling the next idea, stick it in a case and run it off a battery.
Online Help
Damaru offers a workthrough for the aptly named KindleBerry Pi
Pi Netbook

Here's your chance to re-create the Osborne 1. Only in colour. With networking. And no chance of shoulder dislocation. Thanks to the recent explosion in hobbyist electronics - Adafruit and Arduino, I'm looking at you! - the availability of small off-the-shelf HDMI capable LCDs with driver boards has blossomed. There's a variety to choose from 1.5in up, so a Nintendo-scale 'nanobook' isn't totally out of the question.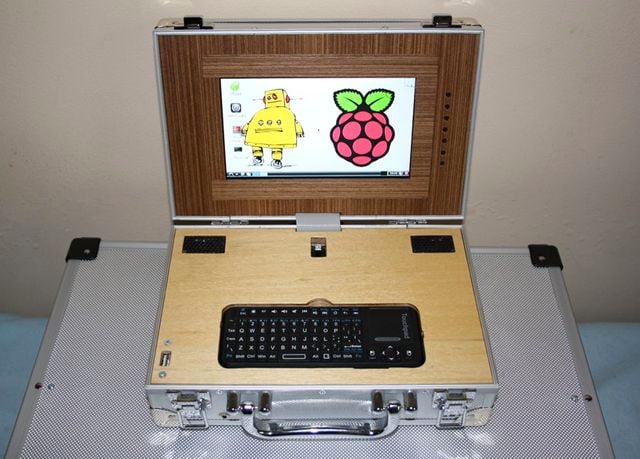 Source: Silver Jimny
Difficulty Level (1-10)
7 - OK, you'll definitely need to break out the soldering iron for this
Extra cost
You can easily manage it for under £150
Shopping List
Small flight case or (!) cigar box, an RPi breakout/expansion board, assorted panel mount connectors for peripheral/external connections, keyboard, batteries, LCD
Approach
Really this is about building the peripherals needed for an RPi into your choice of case.
Take it further
How about LiPo rechargeable batteries? Or adding a wireless support and/or GPS. You know you want to.
Online Help
Don't limit yourself to just RPi sources: there are lots of easily adapted self-build laptop workthroughs. There are plenty of RPi-specific examples of this in the wild. For example, the RPi Challenge runner can be found here.
*What would MacGyver do?
COMMENTS
Re: Is that it? @Jason
I get the impression you are a glass half empty type of guy. If you had spent more than 3 seconds thinking about this, you would have realised that these are just some of the projects you can do. It's not an exhaustive list! Yes, you probably could do some of them using a cheap PC, but GPIO would be a problem, as would power consumption and size.
I suggest Google, and some thought.
My project...
At the moment, I'm working on a rPI intelligent thermostat. The rPI is going to be attached to the wall next to the boiler and will handle the mains switching to switch the boiler on and off.
The thermostat itself is an Arduino with an LCD display, telling you the temp and when it's next going to switch on, also the target temp. The temperature sensing is done with an LM35 temperature sensor, at the moment it's all hooked up with USB/Serial ports (and not to the boiler, yet) but will use xbee.
The rPi runs a mysql database and the system as a whole will allow rules based heating configured from web or the thermostat, such as:
On for an hour, on all day, off for a week, minimum house temperature (frost protection), daily scheduling etc. I'll be storing all the temperatures in a database and hoping to use this more intelligently in future...
Wife acceptable
I have set up RasPBX on a Pi at home. I initially used the SPA3102 but could not get rid of the echo so I changed to an OBi110 which at about 35GBP is cheaper and much better. Now voicemails are attached to e-mails instead of hiding behind 1571, we can divert international calls straight to voicemail (as they are pretty much all nuisance sales calls) and with an additional Sipgate trunk and some Zopier soft phones we can have multiple simultaneous phone calls. Amazing for a little toy computer.
Pi-BX looks like a great little project.
My only obstacles to little projects are wife based.
Re: Is that it? @Jason
PCs are typically small or cheap but not both. The PI takes both to a new level. It's like an AppleTV or Roku in this regard. You can try to make PCs smaller but then you end up with a $1000 Steam Box or a Mac Mini. It's also nice that the PI achieves it's cheapness without being some ancient thing you retrieved from a dumpster.
Who wants their cool project to fail because it's made of parts that finally decided to die of old age?