Attention, CIOs: Stop outsourcing or YOU will never retire
Youth must have its fling, says biz forum chief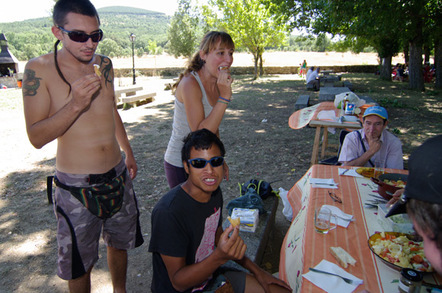 Walk down the hall. Look into the IT room. How old are the people in there? How are they getting on? Or are they just getting on? Would you trust them to keep the server lights on in a couple of years? Is there anybody actually in there at all?
If there isn't, your company may be part of the problem that's keeping John Harris and his colleagues at the Corporate IT Forum awake at night: who's going to take over from today's IT workers when the time comes for them to log out for good.
Essentially, the UK is in danger of losing a generation of tech-sector professionals, and by extension the people who will be leading IT operations, even running companies, five, ten, 20 years from now.
And while the forum points its finger at the usual suspects - school IT courses and computer-science degrees that have little to do with the real world, and a government that listens to US-based vendors more than it listens to UK Plc - British industry can take a large share of the blame itself.
This is due to the industry's woeful inability to convince young people that working with the insides of computers can be a satisfying, even well-paid, career. The sector's tendency to exacerbate this by sending the jobs overseas is also under fire. Not convinced? Well, that just proves the point.
By day, Harris is the vice-president of global enterprise architecture at Aimia Inc, the worldwide customer-loyalty firm that, among other businesses, runs the Nectar points scheme. Before that he was chief architect and veep for global IT strategy, innovation and learning at GlaxoSmithKline.
So, he was speaking from experience when he declared: "There are really interesting IT jobs - they're not being highlighted in schools."
"I think what's really happening in the profession is misunderstood," he added.
Whether or not that last point is true, the world of IT in the UK certainly has some big problems. In its recent report titled The Early Years, the forum's Education and Skills Commission stated that a quarter of businesses believe the biggest bar to developing future IT leaders is "too few opportunities to gain experience due to outsourcing to other economies". A larger proportion, 27 per cent, said outsourcing to other economies needs to be tackled to address the skills gap, while a third say it's the university courses that need to change to plug that gap.
Too many grads, not enough skills
Intriguingly, the report points out that the pool of computer-science graduates is shrinking each year, yet 17 per cent of university-leavers were unable to find jobs in 2011. This is a market in which the demand for qualified IT staff has increased by 23 per cent since 2010, and bosses at 59 per cent of ICT-dependent businesses said their firms are experiencing an IT skills shortage.
Delving a bit deeper, 57 per cent of companies complained of a shortfall in technical abilities, while 26 per cent said it's business skills that jobseekers are lacking. Executives are struggling to fill the following roles: enterprise architects, product-specific jobs, solutions architects, application development and security.
This bizarre talent crisis is set to get worse over the next five years, exacerbated, according to the forum, "by outsourcing, rapidly changing skills requirements and a lack of consistency within in-house IT departments on the skills required for established job titles".
Confusion over job titles is hardly surprising when tech courses, and education in general, is at odds with what employers actually need. Computer science nous and digital literacy - not necessarily the same thing, the forum is keen to point out - are essential to UK Plc's success well beyond the IT department: whether it's using big data so that the marketeers are not just working on hunches or gut feelings, or top-quality reports so that finance bods have a clue, or high-performance computing to underpin medical or engineering projects.
These are the jobs that Harris is talking about, and they're not necessarily anywhere near the server room.
The forum cited research by the Confederation of British Industry - which lobbies on behalf of businesses - which concluded that two thirds of employers point to "problems in IT skills" among school and college leavers. And that's the ones that bother to take technology lessons.
In ten years, the number of students securing an A level in computing has dropped 60 per cent; ICT A levels are down 34 per cent. Unsurprisingly, applications to study computer science are down 60 per cent since 2000. The number of comp-sci graduates is down 27 per cent. All of this is amid an attitude that "learning to use a computer, and learning computer science have become indistinguishable as far as students are concerned".
It's easy to blame the education system and the students themselves, and Harris does criticise both albeit in a diplomatic way. But he also scolds the industry for failing to explain to youngsters why they should actually seriously consider an IT career.
Sponsored: Minds Mastering Machines - Call for papers now open