VMware vSphere Enterprise Plus: An El Reg deep dive
Trevor Pott feels the big business end of virtual machine giant
The widgets you cannot live without - and why
Once over the initial install hump, the functionality you get from these applications is enormous. vCenter Server is non-optional; this is the widget you need to make all the other widgets work. In vSphere 5.1 it comes with a Single Sign On (SSO) server; this is absolutely critical considering how many applications make up the vSphere stack.
The SSO server can provide you either a centralised authentication system against its own database, or (far more realistically) it can integrate with Active Directory. This gives you a robust and reasonably granular means to lock down administrative permissions within the vSphere suite of applications by tying permissions to extant Windows security groups instead of individual users.
I have a site with 13 hosts to upgrade to vSphere 5.1 next week and I cannot imagine doing this without Upgrade Manager. Half the hosts don't have IPMI, and I am not fond of the idea of jabbing USB sticks into things while standing in a freezing server room. Even for my small deployments, Upgrade Manager is more civilised; it is absolutely essential if you plan to do anything at scale.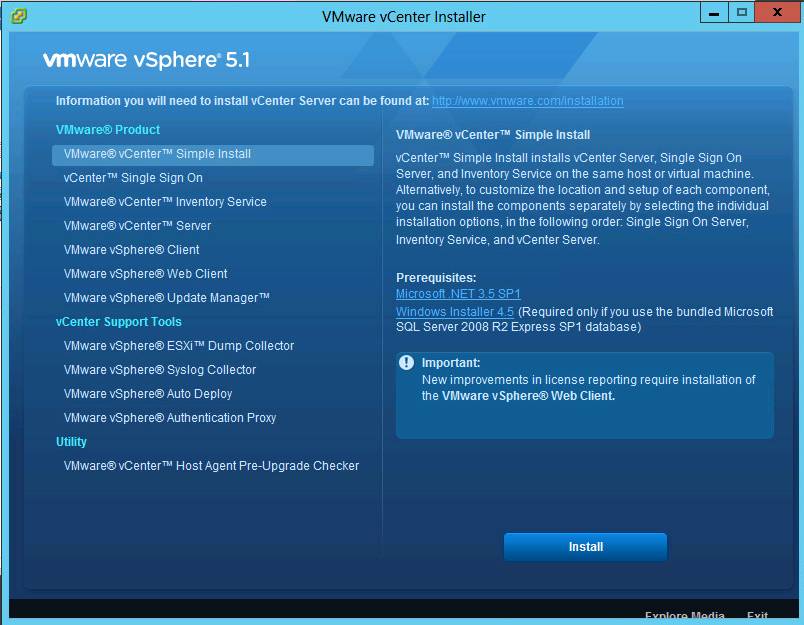 Install all the things (click to enlarge)
vCenter Orchestrator seems pretty niche to me; it lets you create "workflows" which are essentially macros relating to the spawning and configuration of VMs. That's neat – especially if you are doing Things As A Service – but I feel it has a few rounds of evolution to go before it is intuitive enough to replace my extant workflows. The bigger your data centre, the more it is likely to appeal to you.
vCenter Operations is a touchy subject. It's a decent monitoring app; it is filled with intelligence and contains valuable features ranging from chargeback to cost metering to capacity management and prediction. Despite all the awesome features, it is still – at its heart – a monitoring app. Monitoring apps are miserable, finicky, time-consuming things to configure. To really get all your gizmos working with the thing can be the stuff entire careers are built on.
Operations is a good product. It's even worth considering as a replacement for your existing software if that time has come. Like Orchestrator, however, it is only going to be the selling point in a minority of cases. It is the core functionality of the vCenter Server itself that most of us really care about and that is what I'll dive into below.
High availability, fault tolerance, data protection and replication
VMware's take on high availability (HA) – if a host dies, the VMs that were running on it are restarted on another host – is something I consider today to be the minimum entry into "proper" business computing. The folks at Stratus and I have had some disagreements about this, but I ultimately trust VMware's HA over most alternatives. The new is phased in with the old; we run heterogenous systems in the real world and so software HA such as that provided by VMware has become critical.
HA works with every bit of hardware and software I have thrown at it so far, and nothing I oversee is truly so vital that people will die if there are a few hours of downtime for VM reboots over the course of the year. That said, HA isn't without faults. When a host dies, everything in RAM is lost; the VM comes up the same as if it were a physical system that had been unexpected rebooted. That's bad for databases.
For those needing a little bit more stability, VMware offers fault tolerance (FT). Where HA simply boots the crashed VM back up on a new host, FT is a "continuously available" technology. Essentially, two identical VMs are created on different hosts and are kept in RAM/storage lock-step.
The last time I really got into this was with vSphere 4.0. FT back then was finicky regarding the combination of OS and hardware, and ultimately it was kind of crap. vSphere 5.1 seems to have solved this; I haven't been able to break it yet. The downside to vSphere FT – and it's a doozy – is that any FT VM is limited to a single core. Ouch. Mind you, I still can't do native FT on Hyper-V at all yet, so a bonus point for VMware here. (Though Stratus has a widget for that.)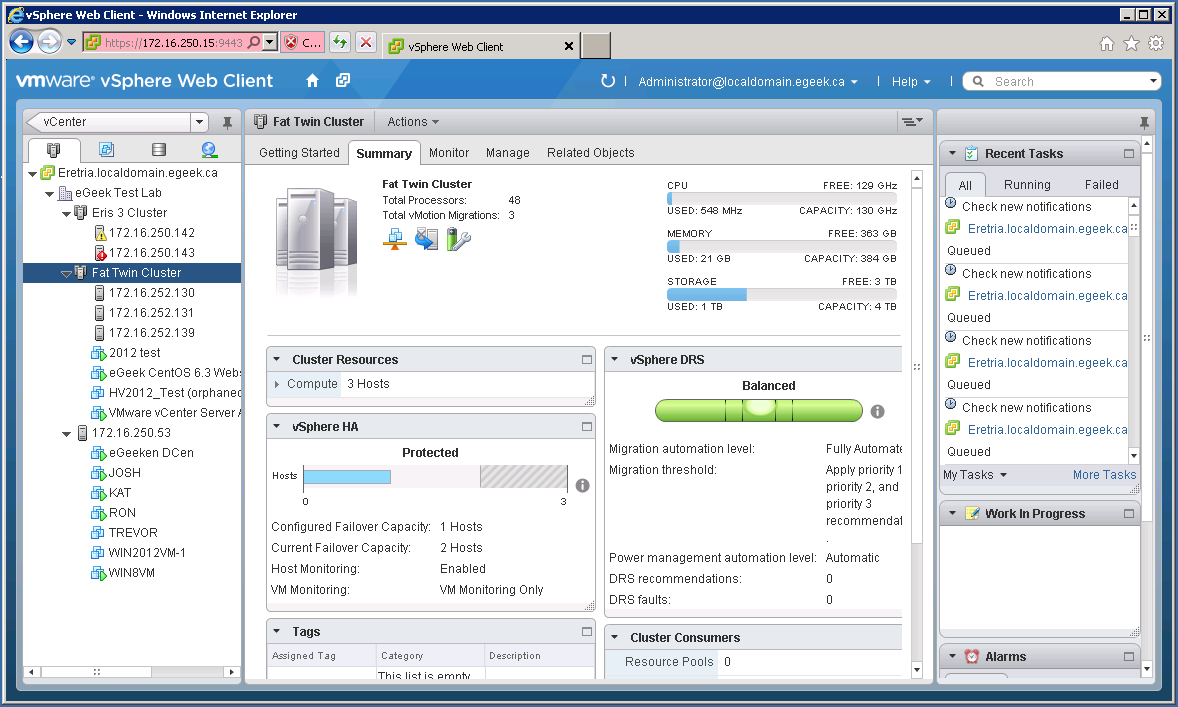 Summary view of a small cluster (click to enlarge)
There's also vSphere replication to be considered; designed as a WAN technology, this replicates a VM from site A to Site B with no more than 15 minutes of lag. Replication allows me to back up VMs that don't change much: typically web servers or VDI master images. These are the kind of things that connect to a centralised file store or database anyway; for the workloads, replication and snapshots works just great as the lazy man's offsite backup. While databases need to be kept in lock-step, that is typically done at the application level, not the hypervisor.
For real backups, VMware offers vSphere Data Protection (VDP); it's EMC's Avamar without the blue crystals. It works quite well; the deduplication levels are amazing. If you want application-level integration for SQL and Exchange and so forth, you'll need the advanced version.
All in all, vSphere 5.1 seems to offer functional availability and backup technologies for just about every scenario you can imagine. What's more, this is all standard fare now; if all you are buying is vSphere Standard, you can still do all of the above. If time is money to your business – and it is for most – then the argument for vSphere Standard has just been made.
There are, however, limits to how far you should be trusting in the "hypervisor on commodity hardware" approach to the world. If lives (or lots and lots of money) depend on the availability of your network, then it really is time to talk to Stratus. They can overcome the FT single-core limit and they work closely with VMware to do more than VMware can do with the hypervisor alone. VMware will run everything from a technology website to an oil and mining operation just fine. Your 911 call centre or millisecond-sensitive stock trading system still needs Stratus' special sauce.
Sponsored: Minds Mastering Machines - Call for papers now open