Enormo-display Apple iPhone prototype surfaces
'You call that a big-screen phone? This is a big-screen phone!'
For you iPhone users who drool over the large displays of such Android handsets as ZTE's 5.7-inch Grand Memo or Samsung's 5.5-inch Galaxy Note II, cast your eyes on what could have been: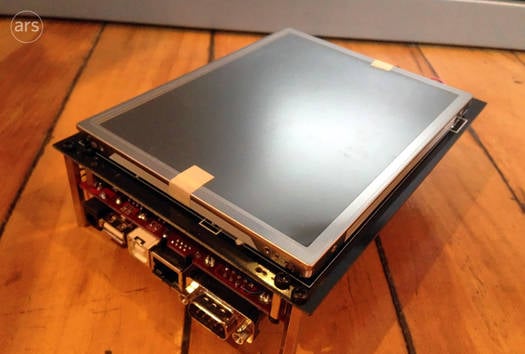 The iPhone that could have kept RS-232 relevant for another decade (source: Ars Technica; click to enlarge)
The beast pictured is an iPhone prototype circa 2005, photos of which were presented to Ars Technica by a former Cupertinian who "declined to be named out of concern for retribution from Apple."
Ars notes that the device is around five by seven by two inches. With the help of the Pythagorean Theorem and a little subtraction for frame width, that'd put the display at about eight inches, diagonal. The display of today's iPhone 5 is four inches, and the iPad mini slots in at just under eight – 7.85 inches, to be exact – which would match it with that of the prototype.
Hmm... Maybe they had a few tens of millions of displays left over after Apple's engineers finished their testing.
Of more interest to our geeky selves than the utter non-pocketability of this device – it's just a prototype, after all – is its collection of ports: USB A and B, Ethernet RJ-45, and even a 9-pin male pinout that looks for all the world like it could be a RS-232 serial connection, complete with bolt holes.
The Ethernet port and probable serial port were likely used for test purposes, but having both a USB A and a USB B port is a bit of a mystery. The original iPhone, of course, did eventually prove to be a USB device, using the same 30-pin connecter that debuted on the third-generation iPod in 2003.
More photos of the big-screen machine and pix of some more-finished prototypes released as a result of the Apple-Samsung patent fight can be found in the Ars story. Highly recommended. ®
COMMENTS
RS232 is still relevant
Its used worldwide for a massive range of products in industry. It's simple, cheap and plenty fast enough for sending commands or telemetry. Plus it is just a level-shift away from TTL serial, so it can quickly be turned into 485/422 for longer range- or stuck over a fibre. It's also very easy to build into embedded systems where there isnt room for a full TCP/IP stack or the like.
Long live RS232!
More likely
It has all those extra ports because it is based on an off-the-shelf prototyping board.
This is how that thing happened:
One morning Mr. Jobs walks through R&D and sees one of the minions with an "i <3 Alan Kay" T-shirt. He goes up to him and says "Have you ever met him?", and the techie says "Yes! I sat through a few of his lectures, he's a genius! Think of all his ideas!" So Steve says to him "You know, if they were all that good, he'd be richer. But nonetheless, he did think up a thing called Dynabook somewhen in the 70's that never came to anything. If you think he's so great, then build me one; You have 3 days and $2000. I see you on Friday.". As Mr. Jobs word is law the techie toddles off and turns up on Friday with this thing. Steve has a play with it and is somewhat intrigued. He calls the guy and tells him: "Now make it flatter, here's $200.000, I see you in 3 months."
The rest is known.
I've been saying for years...
...that the iPad wasn't a hugely innovative breakthrough, so much as a clever re-packaging of whatever prototyping platform they used to develop the iPhone.
Vindicated, finally!
GJC
Type A and B ports
Being an apple product, I imagine having both type of ports would be useful - simply plug both ends of a standard printer cable in at the same time and watch it disappear up its own arse.
Seriously though it's an interesting point whether a tablet is seen as a host or a device. Surtace has a USB A so it clearly thinks it's a computer you plug devices into; most other tablets have a mini or micro USB meaning they consider themselves devices that can be plugged into a host.