Intel's Centrino notebook platform is 10 years old
The brand and the technology that made the world mobile
Chip off an old block
The Haifa team also produced the Intel Mobile 855 Express chipset family to support Banias with memory control and I/O logic, with USB 2.0 support and the ability to manage up to 2GB of 266MHz DDR among its features. Two forms of the chipset would debut with Centrino: the 855PM and the 855GM, the latter with Intel's Extreme Graphics 2 core on board.
The third component was the Wi-Fi adaptor card. Intel executives had already noted the arrival of Wi-Fi, the wireless networking technology based on the 1999-ratified IEEE 802.11b standard, itself derived from work by NCR and AT&T and released under the WaveLAN brand. By 2003, Wi-Fi was becoming more widespread, albeit slowly, thanks to its use of unlicensed spectrum in the 2.4GHz band. During the early part of the decade, early adopters were kitting out homes and offices with Wi-Fi base-stations. On the back of broadband connections, enterprising businesses were offering free or cheap internet access to the public in order to encourage visitors to their shops and sites.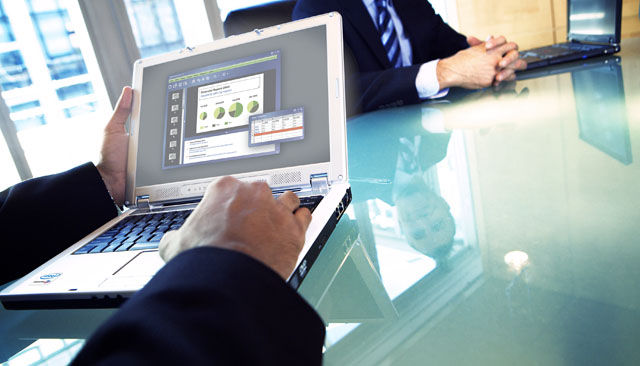 Centrino made laptops thinner, a little
Apple was one of the first notebook makers to embrace Wi-Fi, though it initially pitched its 802.11 support with a brand of its own, AirPort. It launched its first AirPort devices in the summer of 1999: an add-in adaptor for the iBook laptop and a base-station to feed it. By 2003, the adaptor was being offered as an option for all of Apple's laptops and desktops, and would some become part of each machine's standard build. Early that year, Apple upgraded AirPort to the recently approved 802.11g standard, which upped the theoretical peak throughput from 802.11b's 11Mbps to 54Mbps.
Apple's engineers were quicker than Intel's - or rather the third-party suppliers of its Wi-Fi adaptor cards were. Intel's first Wi-Fi mini-PCI board, codenamed Calexico, but brought to market as the Intel PRO/Wireless 2100, was an 802.11b offering. Centrino would get plenty of stick in the early days for lacking this leading edge feature.
Intel paved the way for Centrino first by briefing journalists and developers during its Intel Developer Forum conference at the end of February 2003. An ad campaign, 'Unwire', followed on 3 March 2003. It was devised by New York agency Euro RSCG MVBMS, now called Havas Worldwide.
Unwired
"Centrino mobile technology is designed to enable wireless capabilities in smaller, lightweight PCs and make them truly mobile," said Pam Pollace, then vice president and director of Intel's Corporate Marketing Group. "To help illustrate the freedom and flexibility that Centrino mobile technology brings, the 'Unwire' ad campaign humorously depicts people moving their work to surprising and unusual locations."
The ads presented businesspeople computing from their desks in unexpected places - such as a diving board, an airport 'people mover', a golf course driving range and an open-air sightseeing bus - surrounded by crowds unaware of the odd presence of a desk un-tethered from its office. Each concluded with the pledge: "On March 12, Intel will not only change how you work, but where you work."
Come the 12th, and Intel's then CEO, Craig Barrett, took the wraps off Centrino. The launch, he said, heralded a new way of working for computer users, "allowing them to communicate, be productive or be entertained wherever and whenever they want.
"Our focus on integrating all the elements of mobility allows Intel Centrino mobile technology to deliver an outstanding wireless computing experience and marks the first time we've put a combination of technologies under a single brand. This breakthrough innovation, together with industry-wide investment and Wi-Fi hotspot deployments, brings new computing and communications capabilities to businesses and consumers, adding value to mobile PCs."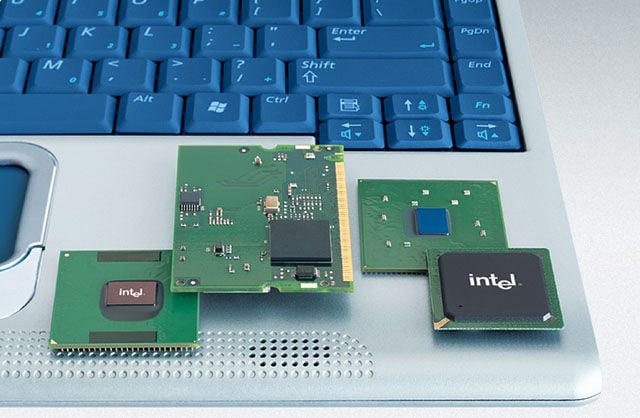 Centrino inside, kind of
Not only the components but systems based upon them were ready to buy at the time of Centrino's launch. "Intel Centrino mobile technology-based notebook PCs are available immediately from leading computer makers worldwide," the chip maker said. "System pricing will start as low as $1399, comparable to today's mainstream notebooks."
Buying a Centrino laptop was easy. So was getting a base-station for the home or office. Getting online when out and about was rather harder back then. To help changed that, Intel said it would provide a list of Centrino-compatible public wireless hotspots - reckoned back then to be moving toward a world total of 118,000 by 2005, according to market watcher IDC.
Sponsored: Minds Mastering Machines - Call for papers now open