Dell's having a fiddle with Violin Memory - but will it flash the cash?
It makes sense to El Reg's storage desk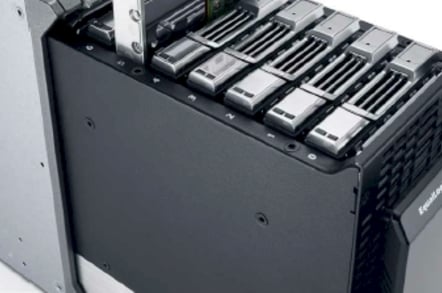 Blocks and Files Last week was all about the flash - with Plextor, Violin Memory, EMC, Samsung and Seagate all involved in the action. But what do you think about Dell making its dalliance with Violin Memory into something a little more permanent?

Let's construct a staircase and see where it takes us.
Step 1:
In November 2012, Dell's then storage business general manager Darren Thomas said Dell was looking to
add an all-flash array
to its storage portfolio.
Step 2: Right now Dell doesn't have an all-flash array in its portfolio. Its mainstream competitors all have them in their product strategy and are busy developing them.
For example:
EMC - has just announced new flash strategy based on bought-in XtremIO tech.
IBM - has just bought TMS and sees transaction data migrating from disk to flash.
HP - has dumped Violin as a partner and is developing its own all-flash array inside the StoreServe - 3PAR - architecture.
NetApp - has announced its FlashRay strategy and was, we understand, part of the feeding frenzy trying to get at XtremeIO.
HDS - has its own flash array strategy and controller.
Dell - has no all-flash array.
Step 3:
Dell has an OEM agreement with Violin and, we understand, was also involved in the XtremeIO feeding frenzy.
Step 4: All-flash array maker Violin Memory was going to publicise going for an IPO but held back and raised $96m in February. One line of thinking was that this money has been raised to keep things ticking over after a serious expression of interest in buying the company had been received.
Step 5: David Floyer of Wikibon said in a note:
Dell has a collaboration project which allows the Dell Compellent storage array to see a Violin all-flash array as an integrated tier of storage. This enables the Compellent Data Progression software to be used very effectively to control the all-flash part of the storage array. It is a strong mid-market offering with good integration.
We got in touch about this and Floyer claimed he'd spoken to an engineer who shed a bit more light on the subject: "At Dell World there was a Violin system in the same rack as a Compellent system. It was not actually hooked up (via 10GbE), but one of the engineers said there is a project to do that. There are three tiers in Compellent's Data Progression - the Violin would take the top tier. [But it's] not yet officially announced."
The project would hypothetically make a Violin Memory all-flash array a virtual part of a Compellent array, where Violin's array would be a top data storage tier, with data automatically moved to and from it using Compellent's data progression technology. We have contacted Dell and Violin sources about this but haven't heard anything back.
A Dell storage spokesperson said: "We do have a go-to-market collaboration with Violin. They are building solutions that complement Compellent and EqualLogic, which is great.
"On a separate note, we do see flash as a strategic opportunity for our customers and for us. Without specifically pre-announcing anything, you will see our products integrate flash. It would be safe to assume this would include tiering, snapshot and all of the things that customers expect from Dell storage. More to come on this."
Now we take a step into the unknown...
Step 6:
Dell might become interested in buying Violin. All it would need is around $2bn - and Dell could afford that. However the company is also busy trying to take itself private and fighting off
Carl "Corporate Raider" Icahn
and Dell (the man) might be too busy with that to deal with a $2bn storage acquisition by Dell the company.
Step 7:
We'll just have to wait and see...®
Sponsored: Minds Mastering Machines - Call for papers now open