Dear Facebook: I heard the news today, oh boy
A lucky man who hoped to catch the ad gravy train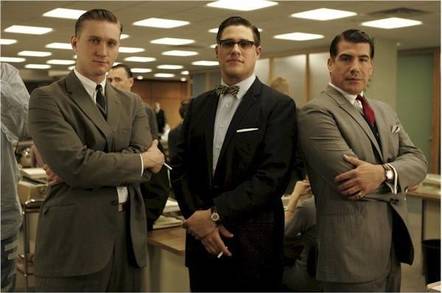 Comment Facebook has been tugging apart and putting back together its website over the past year, trying to make more cash out of its network and hopefully see its stock rocket now that it has Wall Street to answer to.
The revamp has been a bit like watching a petulant child yank off the arms, legs, and head of a Barbie Doll, then reassembling the parts to make the whole thing frankly look a lot uglier for its userbase, who have already become tired of competing with so much ad noise on the site.
There's no point in repeating the now very exhausted notion that if you're using a free service on the internet, you are the product. But it is clear that Mark Zuckerberg is taking his free-content ad network to the next level by getting his developers to categorise the clutter.
With its rebooted News Feed, Facebook has split up the content that is shared on the site so that it can eventually derive more money from better-targeted adverts. In theory, it sounds like a good idea: give users a layout where they can pick and choose what "news" they want to tune into, and then eventually wrap lots of relevant ads around what they are sharing.
Better still: make the pictures bigger, improve how videos are embedded, and ultimately hope to get more people to hang around longer on the site.
It seems to be that every major ad outfit out there that enjoys the popular conceit of being – first and foremost – a tech company is trying to work out how to make this stickability, well, stick.
Yahoo! and AOL are war veterans of that particular movement. MySpace arguably also temporarily filled that vacuum. Now Google and Facebook are attempting to achieve the same feat while the original buzz around social networking doing that *buzzword alert* "disrupt" thing has begun to fade.
This probably explains why Zuck is now positioning his website as a newspaper tailor-made for every one of the billion users supposedly engaged with Facebook.
"It should have high-quality public content and socially relevant content, and to drill into any topic," he said on Thursday as the revamped News Feed, which is one of three pillars of Facebook (the others being Graph Search and Timeline), began to be very slowly deployed to users of the site.
He wants to make it a destination site akin to what Google is developing with Google+. The difference is that both companies are running towards the same finishing line, but from different points.
Google has a mature online-ad network that has been built up over more than a decade around the company's ubiquitous search engine. It has crudely been sucking its users into sharing more content by layering its popular services such as Gmail and YouTube with Google+.
Facebook, on the other hand, already has an enviable userbase and a massive data farm that is largely closed off from the rest of the web. But, having floated the company onto Nasdaq last year, it quickly became clear that for Zuck to ensure that his network could be a sustainable banker over the long term, many more ads needed to be juiced on the site and not just on the desktop version – mobile is increasingly becoming the de facto place to satisfy the consumer.
The end goal for both companies is clearly better ad targeting. And although Facebook – whose company philosophy is to move fast and break things – was keen to claim that it had listened to its users by categorising the content shared on the site, it's really a lot simpler than that. If we push Zuck's personalised newspaper analogy to the limit – assuming he is truly likening it to the old Fleet Street way of doing things – then can we expect to eventually see a cover price added to the site? And might that be introduced for users who want to completely drown out ads, or could it simply be that pay-based subscriptions and ads will eventually coexist on Facebook?
The answers to those questions come all the way full circle back to everyone's willingness to continue to share tons of personal content on Facebook even as adverts become bigger and brighter. That crusty, grumpy newspaper doyen Rupert Murdoch – who probably knows more than most about keeping eyeballs on a page – failed to apply his business acumen to MySpace.
Anyway, Zuck's idea is quite different – and that's because his "newspaper" is being run by admen who hold the front page. ®
Sponsored: Minds Mastering Machines - Call for papers now open