Flash, bang, wallop: LSI stumbles in quest for PCIe card crown
Lost its EMC contract? Bah, only a flesh wound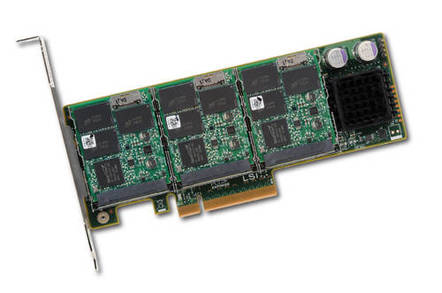 Analysis LSI claimed at the end of August that it was going to be number two in the PCIe server flash business - then its revenues declined in the final three months of 2012. What's going on?
The semiconductor biz's sales from the fourth quarter of 2012 were $600m, down four per cent on Q3 that year. Net income fell 27 per cent on Q3 to $29.1m. Both figures were up compared to the same period a year ago, though: revenue was up 15 per cent and net profit up 165 per cent. But LSI is now in its second quarter of declining revenues and profits and faces a third weak period.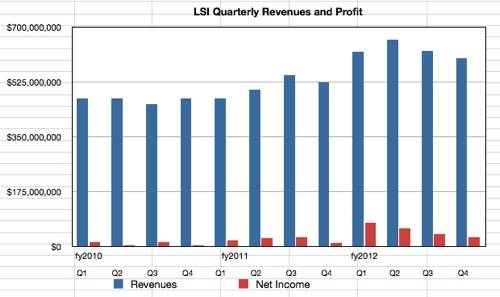 Up, up and aw… oh
The company now boasts that NetApp has validated its PCIe flash cards - a new way of gluing non-volatile memory tight against a server's backbone; the kit is apparently hot to trot with NetApp's Flash Accel software that caches active data on the cards. But that news pales besides the loss of its EMC supply deal. LSI was one of two suppliers to EMC. With NetApp's Flash Accel, LSI is one of seven or more suppliers.
LSI saw its flash chip business decline in the fourth quarter. Its chief financial officer Bryon Look declared as much in the earnings call: "In the quarter, we saw growth in our server-related businesses, offset by expected declines in our flash business."
Chief exec Abhi Talwalkar indicated that his corp did $72m of business in flash storage processors and PCIe flash in the dying months of 2013. Those processors are mostly the acquired SandForce line. He also said: "We achieved the goal of growing our aggregate flash revenues by over 200 per cent year-over-year."
LSI sells its Nytro PCIe flash cards to Oracle, IBM, Cisco and others. During the call, it emerged there had been latency issues with accessing data on the Nytro hardware, a problem that was overcome by optimising the card's firmware.
There are more than 15 other PCIe flash card suppliers and LSI has no strong flash foundry relationship to assure it of a constant supply of chips. But Talwalkar claimed: "In 2013, we should grow our aggregate flash revenues in excess of market growth rates, which are projected to be at least 40 per cent."
He mentioned a forthcoming new generation of SandForce processors, and added: "We are now shipping in 13 different Ultrabook and notebook platforms. We have secured a design win with PNY, who is shipping flash storage processors into the retail channel under both PNY and another tier-one PC OEM brand. We have secured another design win with Intel [with its] 335 series of solid-state disks, which utilises Intel's 20-nanometer flash. Kingston is shipping SandForce-enabled SSDs supporting 19-nanometer NAND flash. We're excited about the Intel Haswell platform launch."
Turning to PCIe flash Talwalkar said: "We believe LSI has emerged as the number 2 provider of merchant PCIe flash solutions. At IBM, Nytro WarpDrive has begun shipping in multiple platforms, including System x volume servers, BladeCenter and Flex System. We are now in production with Oracle and Cisco, and expect to begin shipping at a very large web cloud company in the first half of this year."
So who is the web cloud company? LSI isn't saying.
The Reg storage desk thinks Fusion-io is the number one player and LSI wants to overtake it.
The PCIe flash market was described by Talwalkar as being "in its infancy".
"As a result, there's not a lot of transactional business on a quarter-to-quarter basis, so it's still lumpy in nature, probably 20 to 25 large customers across the web cloud, as well as financial services. And then the broader enterprise is still in that evaluation low-unit space," he said.
On the outlook he said there was market-related softness in the second half of last year that is "continuing into the first quarter of this year. Our Q1 guidance reflects a cautious outlook. We believe that Q1 should be the trough for our revenues, with growth expected as we move forward".
Vulture Central's storage desk reckons LSI has a Nytro PCIe card refresh coming later this year, perhaps using the new SandForce silicon, and needs it to sustain its business growth in the face of competition from Micron, Samsung, Violin, Virident and others.
Software support is going to be important. Perhaps LSI should sign up with GreenBytes pretty darn quick. ®
Sponsored: Minds Mastering Machines - Call for papers now open