Pirate Bay to world: We're not really off to NORKS
TPB slams those who cheered its non-move (in NSWFW language)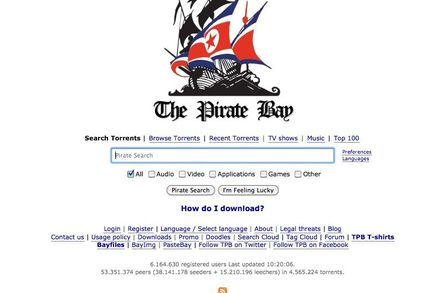 The Pirate Bay has admitted that its claim to have relocated its servers to North Korea was a hoax, and then had a pop at those who believed the file-sharing site the first time around.
TPB surprised many when it claimed in a statement released earlier this week that it had been granted "virtual asylum" in the secretive Asian state, not least because of the poor internet infrastructure on offer there and the country's dubious human rights record.
In a new statement posted to TPB's Facebook page alongside a doctored photo of co-founder Peter Sunde and Kim Jong-un, it appears The Reg was right to be sceptical of its claims.
TPB said it had sprung the hoax in a bid to ridicule its critics and prove its disinterest in making money.
It added:
We've hopefully made clear (once again) that we don't run TPB to make money. A profit hungry idiot (points at MAFIAA with a retractable baton) doesn't tell the world that they have partnered with the most hated dictatorship in the world. We can play that stunt though, cause we're still only in it for the fuckin lulz and it doesn't matter to us if thousands of users disband the ship.
Whilst taking a swipe at nemesis the Music And Film Industry Association of America (MAFIAA), TPB also had a go at those who fell for the prank and urged them to be more critical - "even towards us".
You can't seriously cheer the "fact" that we moved our servers to bloody North Korea. Applauds to you who told us to fuck off. Always stay critical. Towards everyone!
It's been a busy few days for North Korea, after former NBA star Dennis Rodman made an unofficial diplomatic visit to see number one fan Kim Jong-un in a bizarre trip then made headlines around the world.
Displaying a mastery of understatement, US Secretary of State John Kerry opined: "As a diplomat, he was a great basketball player." ®
Sponsored: Minds Mastering Machines - Call for papers now open