PC market to spend ANOTHER year soaked in blood, warns IDC
Downed by tabs, economy and lack of Windows 8 demand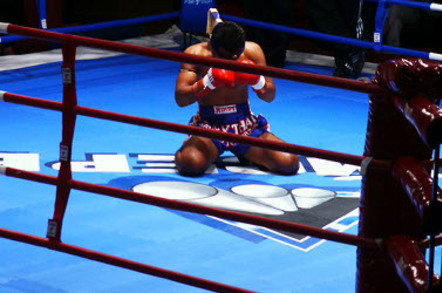 The invasion of tablets, a lack of momentum for Windows 8 and tight household and business budgets will ensure the global PC market bleeds for another year.
According to IDC estimates, as a result of falling demand, shipments into the technology distribution channel will decline in 2013 for the second consecutive year, falling 1.3 per cent year-on-year compared to a drop of 3.7 per cent in 2012 on 2011.
"The PC market is still looking for updated models to gain traction and demonstrate sufficient appeal to drive growth in a very competitive market," said Loren Loverde, a veep at the bean counter.
The industry only has itself to blame: innovation went stale among personal-computer makers as they relied on Microsoft and Intel to spur demand with new operating system and chips, respectively. And PC adoption in the emerging markets - a boon for vendors in the last decade or so - also slowed, according to IDC: those markets declined last year for the first time, and a one per cent rise is forecasted for 2013.
"Growth in emerging regions has slowed considerably, and we continue to see constrained PC demand as buyers favour other devices for their mobility and convenience features," Loverde declared. That said, it is the mature markets that will cause the biggest dent in sales this year: 5.8 million fewer desktops and notebooks are expected to be shipped.
Loverde claimed IDC still does not view tablet computers as "functional competitors" to the classic notebook due to their limited storage and file system access and scant focus on productivity.
"But they are winning consumer dollars with mobility and consumer appeal nevertheless," the IDC veep added. "Market saturation, a tough economic environment and weakness across the board, and lack of momentum for Windows 8, which led to contraction in 2012, are expected to persist at least during the first half of 2013."
A "rubber band effect" that could snap some life back into the market may come about in H2 2013, thanks to industry restructuring, greater channel involvement, businesses refreshing some systems at the end of support for Windows XP and "potentially greater acceptance" of Microsoft's latest OS, the touch-friendly Windows 8.
Last week, HP CEO Meg Whitman told the Morgan Stanley Technology, Media and Telecoms conference "there's no question that we've got a lot of work to do to get these new form factors and new OSes [to market] as fast as we can". The world's largest PC maker missed the first, second and third boats on tablets and smartphones, and is trying to play catch up quickly by launching the Elite Pad for businesses and a Chromebook for punters.
Whitman said HP is not "incrementally investing" in these two areas but is "shifting resources from PCs to tablets, from one operating system to another, from one kind of chipset to another so we're reallocating where we're putting our people and our energy and resources". ®
Sponsored: Minds Mastering Machines - Call for papers now open