Honk if the car in front is connected
The networked car is coming sooner than you think
Selecting the right network
The most obvious conduit to use for connecting cars is the cellular network, but this is wholly unsuitable, say car makers, because of its non-deterministic nature.
Imagine yourself in a queue of cars on a greasy road. A car you can't see because there's a big white van between the two of you performs an emergency stop 100 metres ahead. Within milliseconds it informs every other car within a 300 metre radius, and your car is able to warn you in enough time to stop safely without fuss.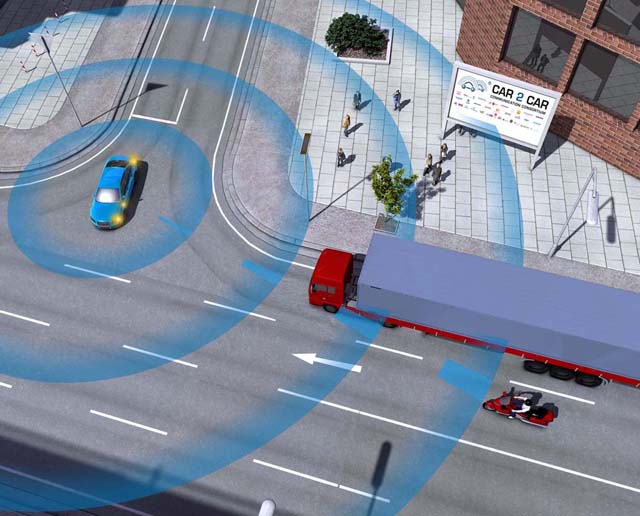 Hidden hazard warning: the truck warns the car about the overtaking motorbike
Source: Car-2-Car Consortium
Or you're trying to pull out into a busy road with parked cars blocking your view - and there's a motorbike coming, which you can't see. The bike's systems warn your car of its presence, the car warns you and an accident is averted.
The cellular network can't deliver the necessary speed of response. Messages from cars can't be prioritised and would be subject to delays, depending both on the number of connections to and the distance from the cell's base station.
So instead the CAR-2-CAR Communication Consortium has developed a 5.9GHz radio network protocol, known as DSRC (Dedicated Short Range Communications), with a reach of around 500 metres in clear air. Between 30MHz and 75MHz of the 5.9GHz band has been officially assigned to transportation systems by the US and European regulators.
Banding together
"The network is a global standard," says van der Jagt. "The current system has a short range but even on four-lane motorway, there could be thousands of cars in an area. If you used the mobile network, the radius would increase so you would get information from 5km away, which is not as useful. Instead, the car needs to analyse information from 3000 cars in a few milliseconds. I need to be able to reject cars that are not in my path and narrow the data down to cars that could be a threat."
Each car can send messages - which are about the car and its environment, not the driver - at between one and ten times a second, depending on circumstances and urgency. The cost of these souped-up car radios is expected to be low, adding around £65 or $100 to the cost of a car.
Honda's Sergeys reckons that historically, technology innovators have viewed the car as "an isolated metal box". But now, hje says, "with this technology, the inputs won't just be the driver peering through the windscreen and getting information from the wheel and seat. They will be part of a network where cars talk to each other without the driver needing to know, until they need to be warned."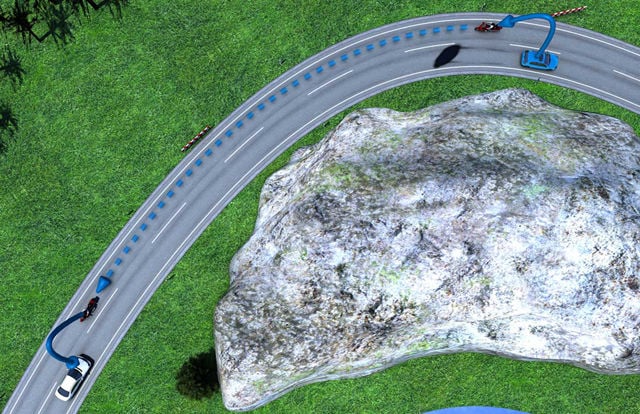 Hidden hazard warning: beware, fast moving Fireblade coming in your direction
Source: Car-2-Car Consortium
The legal basis to permit the use of what the EU calls Intelligent Transport Systems (ITS) is already in place. According to Sergeys, ITS has over 100 stakeholder groups in Europe, including government bodies, standards organisations, automotive industry OEMs, suppliers and service providers.
All this technology doesn't come without disadvantages. Ford's Van der Jagt reckons that, eventually, like electronic stability control in modern cars, you won't be able to turn ITS off - and it could even become a legal requirement. Although, as was the case seat belts and emissions control equipment, owners of older cars are unlikely to be forced to retro-fit, the insurance industry is likely to levy lower premiums on cars perceived as safer.