Plastic Logic shows off bendy 'leccy posters: Anyone? Anyone? Bueller?
It's great tech, surely there's a niche for it somewhere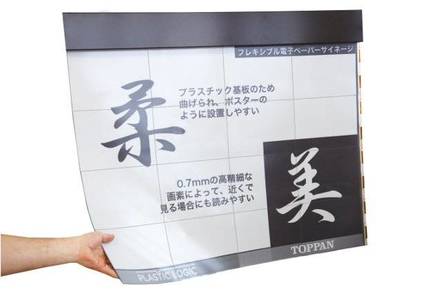 Still searching for an application for its innovative printed-on-plastic screen technology, Plastic Logic has teamed up with TOPPAN to showcase a 42-inch screen built for posters and displays.
Forty-two inches (just over a metre) might not be the biggest of screens, but the prototype being shown off at RetailTECH Japan is 3mm thick, readable in full sunlight, and only consumes power when being updated. Essentially, it's more of an electronic poster than a video screen and thus should be a better fit for Plastic Logic's technology - which has been struggling to find an application for years.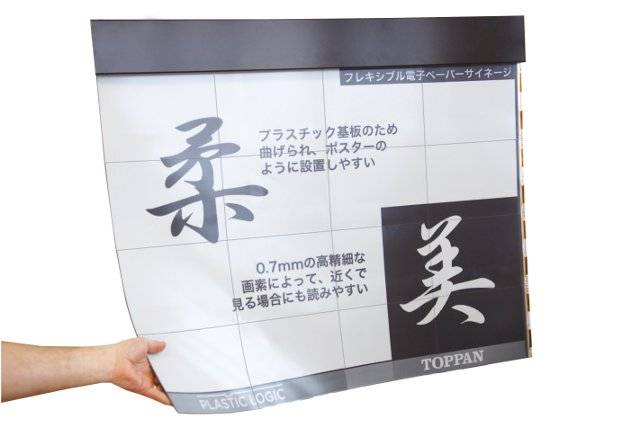 It is, of course, several smaller displays stuck together, and still not in colour
Plastic Logic sprung from Silicon Fen (or "Cambridge" as it used to be known) over a decade ago with a technique for printing transistors onto a flexible plastic substrate. The obvious application was flexible screens, utilising e-ink technology, and the company initially raised money on the back of bendy screens, then on the grounds they were more robust (plastic screens bend, not break) and finally by weight (glass is heavy).
Sadly none of those pitches was very compelling and just over a year ago the company was bailed out with $700m in Russian cash which it has been spending to tool up a production run of unremarkable e-readers to Russian schools while it tries to push itself into any other market it can find.
Last month we were back to bendy screens again, then screens on credit cards and now billboards, all of which smacks of a company with a really cool solution desperately looking for a problem that only it can solve. ®
Sponsored: Minds Mastering Machines - Call for papers now open