Pricey mainframes, hyperscale boxes boost Q4 server sales
Unix machinery, er, not so much
Chasing biz in growth markets like a border collie
One of the interesting set of statistics that IDC cooked up for this round of the quarterly server report card is one comparing and contrasting server revenue market share by vendor in the developed and emerging markets. As you can see below, IBM and HP perform better in the emerging markets in terms of share of revenue than Fujitsu and Cisco, which see their shares shrink in these fast-growing areas.
Oracle does about the same, oddly enough, with around 4 per cent share in the fourth quarter. IBM, meanwhile, has a 41.3 per cent share of sales in the emerging markets, where revenues are still growing at a fast pace and where its mainframe and Power Systems platforms are popular, compared to a 34.8 per cent share in the stodgy North American and Western European markets.
IBM said when it reported its fourth quarter results that mainframe sales were up 50 per cent in the developed markets. But they're up a whopping 65 per cent in the 30 growth markets it is chasing like a mad border collie.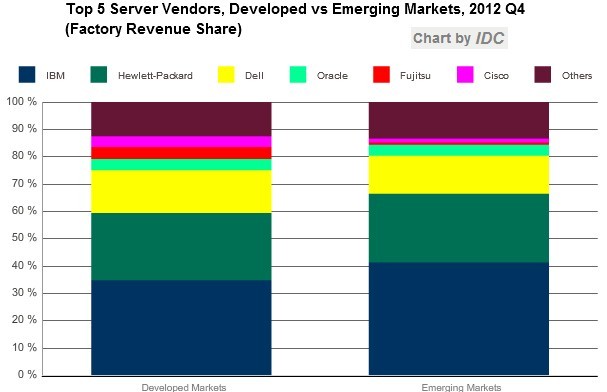 IBM, Hewlett-Packard, and Others have slightly higher share of the server pie in emerging markets
HP also does a bit better in the emerging markets, but not to the same degree. HP has 24.6 per cent share in the developed markets but 25.2 per cent share in the emerging markets. Other vendors, as a group, do a little bit better in the emerging markets than they do in the developed ones, thanks in large part to Lenovo, Inspur, and the ODMs in Asian markets.
One of the more interesting things that IDC does – and which causes a certain amount of grousing out there – is take a stab at projecting how the major operating systems are distributed on various iron. Yes, many machines ship barebones and companies put their own operating systems on them. Yes, the increase in server virtualization means some machines are actually running multiple flavors of operating system. But still, it is reasonable to make some assumptions about the way companies use servers and reckon what the OS distribution might be for the machines sold during the quarter.
To that end, Microsoft's Windows continued its dominance, with servers configured with that operating system accounting for $6.7bn in sales during the fourth quarter - up 3.2 per cent from the year-ago period.
The Unix collective - dominated by IBM, Oracle, and HP with a smattering from Fujitsu and Bull - generated $2.6bn, falling 24.8 per cent year-on-year. Linux, driven by burgeoning mainframe sales and hyperscale data centers on both ends of the system spectrum, jumped 12.7 per cent to account for $3bn in revenues. IBM said in its fourth quarter results that so-called specialty engines, variants of the System z motors that are only allowed to run Linux or to accelerate Java or DB2 routines, accounted for around half of the mainframe capacity shipped and helped boost Linux server revenues.
If you want to be generous and call Linux and Unix a hybrid Unix-oid platform, which is reasonable since Linux has been the logical successor in many cases to Unix, then this combined Unilinux market was down 8.5 per cent to $5.6bn.
If you do the math, then other servers accounted for $2.34bn, and if you subtract out the System z mainframes, then other platforms – so-called proprietary environments like IBM i on Power and OpenVMS and NonStop on Itanium, Unisys mainframes, and others – rose 27 per cent to $539m. This is the best quarter for other systems in a long, long time. ®
Sponsored: Minds Mastering Machines - Call for papers now open